Sky Bet Championship: Leeds owner Massimo Cellino reveals alarming financial mess
Leeds owner Massimo Cellino has revealed the full extent of the "alarming" situation he has inherited at Elland Road.
Last Updated: 14/05/14 2:59pm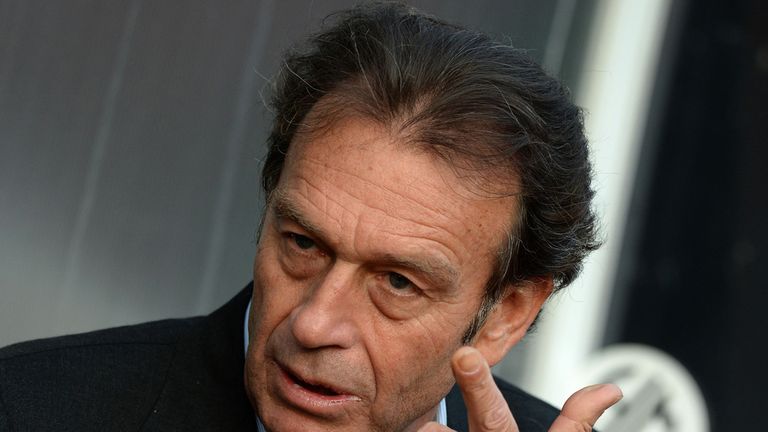 The 57-year-old Italian businessman, whose deal to buy 75 per cent of the club's shares was completed on April 8, detailed the debts taken on from previous owner Gulf Finance House Capital at a meeting with fans' group Leeds United Supporters Trust.
The club's accounts announced last month for 2012/13 showed a loss of 9.5 million for the year and Cellino, who has described his first weeks in charge as "unbelievable, impossible", said daily running costs were "well over £100,000".
It is understood the club is losing more than one million a month and after its Thorp Arch training complex was closed last Friday until pre-season training begins in July, staff are expecting redundancies in the coming weeks.
LUST board members met with Cellino on Monday and said in a statement: "Mr Cellino pulled no punches when he explained to us that he had taken on huge debts from the GFH era and an operating deficit of alarming proportions.
"He went into substantial detail and provided supporting documentation on expenditure.
"While it is not sensible or practical to list all the sums given, Mr Cellino left us in no doubt about to the size of the task and the seriousness of the position the club is in.
"There are, however, two examples given that can be relayed to illustrate the gravity of the situation.
"Firstly, Mr Cellino told us the club is spending well over £100,000 a day on operating.
"Secondly, he informed us that the upcoming season ticket sales had been mortgaged prior to his arrival, but since taking over he had settled the loan in question."
Previous owner GFH Capital, a Bahrain-based investment bank, has denied season-ticket money for the 2014/15 season was mortgaged before Cellino's takeover.
While non-playing staff throughout the club are braced for redundancies, Leeds are expected to announce which players will be leaving Elland Road this summer when their retained list is revealed later this week.
Cellino has targeted a return to the Premier League in 2016. Leeds were relegated from the top flight in 2004 and have not returned since.