Massimo Cellino disqualified from owning Leeds United by Football League
Last Updated: 01/12/14 5:43pm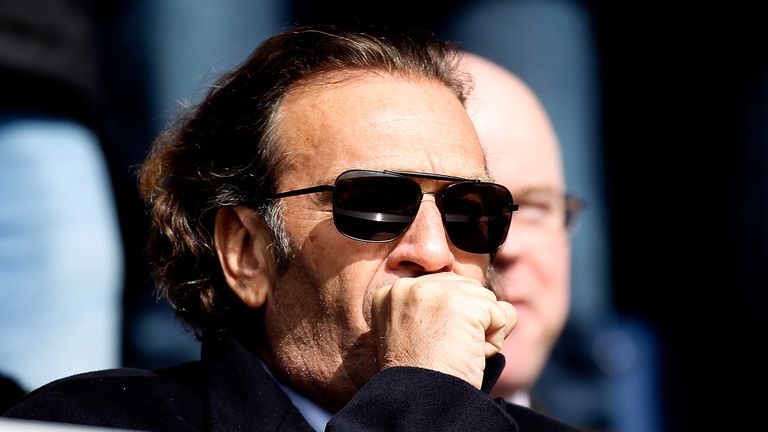 Massimo Cellino has been disqualified from owning Leeds United after the Football League announced he had failed its Owners' and Directors' Test.
The Italian won an appeal against the League's decision to block his takeover of the club in April, but after receiving the detailed evidence from the Italian court that convicted him of tax evasion, the governing body has ruled he is not fit to continue as the club's president and he could now be forced to sell the club.
The League's board of directors agreed unanimously at a meeting last week, after finally receiving the judge's written report on Cellino's conviction for failing to pay tax on his yacht, that Cellino is "subject to a disqualifying condition under the terms of the Test".
Conviction
Cellino has been told he must resign from his position immediately and has 14 days in which to lodge any appeal, but should the decision be upheld, the sanction will apply until March 18, 2015, when under UK law the conviction is deemed to be spent.
The League has also asked an independent disciplinary commission to consider whether Cellino and/or Leeds breached League regulations by not disclosing relevant information in a timely manner.
The Football League said in a statement: "At its meeting last week, the board considered the reasoned judgment of the Italian court against Mr Cellino, having successfully applied to the Italian courts for its full disclosure.
"The board considered detailed legal advice and agreed unanimously... that Mr Cellino is subject to a disqualifying condition under the terms of the (Owners' and Directors') Test.
"As the judgment of the Italian court has not been published in Italy, the Football League will not make any of its contents public."
Cellino told Sky Sports News HQ: "I am currently abroad and have agreed to raise £20m of fresh money with GFH. That's important. Tomorrow I will be back in Leeds and I will look after the Football League's problems with my lawyers."
In a club statement, Leeds United said: "We have today received a notice from the Football League disqualifying Mr Cellino from being a director of Leeds United Football Club until 18 March 2015.
"The club is in the process of taking legal advice on the reasoning of the decision. In the interim, the club notes that nothing has changed since the decision of the Football League's Professional Conduct Committee in April 2014.
"The steps that the League wishes the club to take - to remove Mr Cellino only to re-appoint him in three months' time -  will be destabilising for the club, its supporters and sponsors and cannot be in the best interests of any party."