Chris Hughton hails Manchester United's Paul Pogba but not making special plan
Paul Pogba will captain Manchester United against Brighton on Sunday, live on Sky Sports
Last Updated: 18/08/18 12:00pm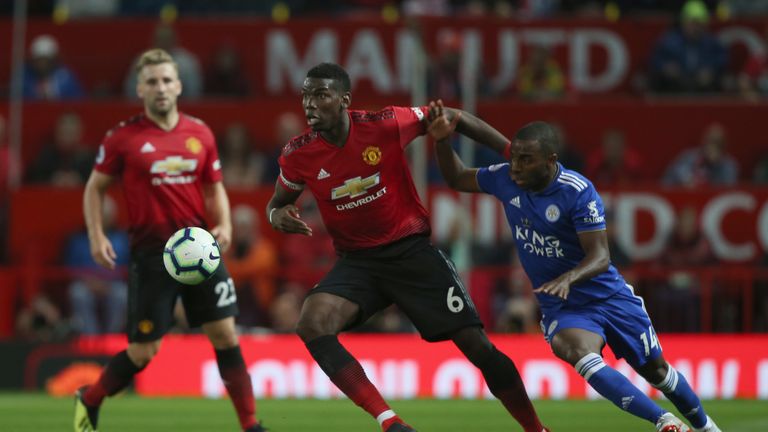 Brighton boss Chris Hughton will not be making any special plans to counter "wonderful" Paul Pogba when his side faces Manchester United on Sunday.
Surprisingly given the captain's armband, Pogba starred in United's opening Premier League game of the season when they held off the challenge of Leicester 2-1 at Old Trafford earlier this month.
Pogba's supposedly rocky relationship with manager Jose Mourinho has dominated headlines since, but Hughton is only concerned by what the France midfielder can do on the pitch.
However the Albion boss says he will not focus on Pogba when he plots his tactics for a game in which his side will look to bounce back from an opening 2-0 defeat at Watford.
"He's a very, very good player, there's no doubt so we have to be guarded against that tactically," said Hughton.
"But no special measures.
"He's capable of having a very good season. I think he showed that in the summer, I think he's showed that in good periods at United.
"I think he's a wonderful athlete, can certainly break very, very well from midfield and I think what he has shown is a passing ability that he's got.
"He's a wonderful all-round footballer."
Hughton also continued his defence of Jose Mourinho and says disagreements between managers and players are more commonplace than outsiders might think.
"It's just part and parcel of a manager's role," he said.
"Our main responsibility is to win football matches but around that you have to manage a team of players and there are good moments, bad moments, tough moments, easier moments.
"It just happens that some are highlighted more than others."