Premier League great John Barnes has described Brighton's decision to sack manager Chris Hughton as "ridiculous".
Barnes thinks Hughton was the victim of unrealistic expectations, having led Brighton into the top flight and then kept them up two seasons running.
The Seagulls only stayed up by one place and two points this season, having really struggled since the new year.
Announcing the decision to sack Hughton, chairman Tony Bloom said: "Undoubtedly this has been one of the most difficult decisions I have had to make as chairman of Brighton, but ultimately one I have made due to how we struggled in the second half of the season."
But Barnes told Sky Sports: "Chris did a fantastic job, to keep Brighton in the Premier League as he did.
"I don't know what Brighton fans or the Brighton board expect.
"For a team like Brighton, just being in the Premier League is important. That is the name of the game.
"Yes, everybody talks about trying to push on and finish in the top 10, but what he has done is fantastic.
"It shows the unrealistic expectations that football fans have generally - because for me that is a ridiculous decision."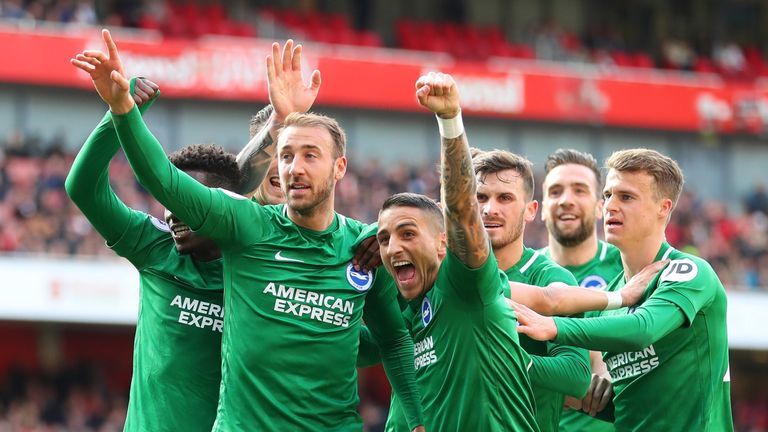 Hughton's sacking means there is now just one BAME manager in the Premier League - Wolves' Nuno Espirito Santo - while there are just three in the EFL.
Barnes believes that greater understanding and awareness is needed in society with regards to the biases - overt or subtle - that affect representation.
Barnes said: "I am no more frustrated than I have been for the last 10 years.
"Not just looking at what goes on in football but what goes in life.
"Until we get rid of racial bias, sexism, homophobia in society, it will exist in all walks of society.
"The solution is not to give more black people jobs in football, the solution is to give black people, women, homosexuals more respect in life, then that will filter up.
"Until we change our perception of a BAME person's capabilities, in all walks of life, we will be given less opportunities and less time to succeed."