Ryan Fraser targets Bournemouth's best Premier League points total
By Josh Frankland
Last Updated: 04/04/18 12:51pm
Ryan Fraser says Bournemouth are aiming to beat their record Premier League points tally rather than looking over their shoulder at relegation.
Last season Eddie Howe's side secured their record Premier League total, finishing in ninth place on 46 points.
It was only Bournemouth's second season in the top flight of English football and now Fraser says the club "need to be positive" and aim for an improvement for a third consecutive year, rather worrying about the relegation places.
"From day one, our target has been to beat our tally from last season and we can still do that," Fraser told Sky Sports News
"The gaffer does it in five-game sections, giving us targets to achieve and we're on our course to beat last season's.
"Sometimes you do need to look over your shoulder but at the same time you need to be positive and try and beat that tally from last season.
"People say that 40 points is going to be enough and we're nearly there, but as a team you can't settle for that until you're mathematically safe - then you can go forward."
Jermaine Defoe scored a 92nd-minute equaliser for Bournemouth against Watford at the weekend and Fraser says it comes as no surprise to see his side fighting until the end.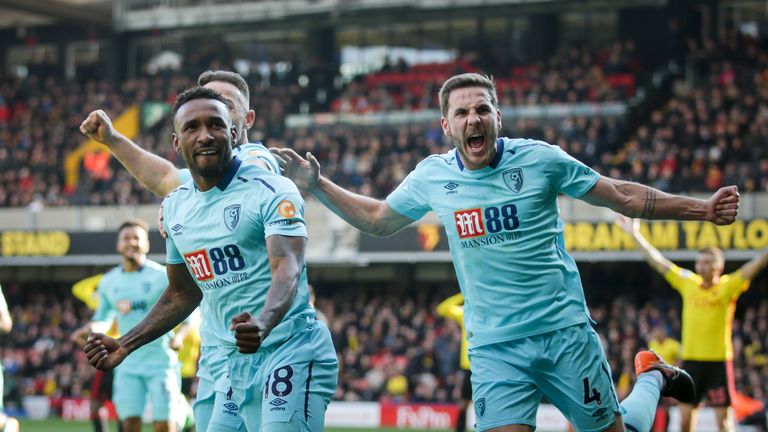 "At this club we're a really right unit - we are like a family." Fraser added.
"One thing that really helps is our fitness, we're fitter than everyone else.
"If you look at the stats we're up there with the likes of Manchester City and Liverpool when pressing and putting pressure on at the end of games.
"That's massive for us when the other teams become fatigued. We start passing the ball about and we come into our own when other teams are tired - then we get goals and we've scored a lot of important late goals.
"We do keep going behind and it's a big mountain to climb, so we need to sort it out."