Bournemouth goalkeeper Asmir Begovic admits the game has changed when it comes to his own position.
Begovic began his professional career at Portsmouth in 2005, and has gone on to feature for Stoke City and Chelsea.
The 31-year-old is now the first choice at Bournemouth, who have enjoyed a terrific start to the Premier League season - winning three of their five games.
Speaking on Goals on Sunday, Begovic reflected on how his role has changed during his time in England.
"People expect you to be a more complete goalkeeper now. When I first came to England it was about shot-stopping and a little bit about distribution, maybe more [kicking it] long," he said.
"Now every single part of your game is important; stop-stopping, cross-taking - high and low, and of course distribution as well, starting attacks.
"Everything is so important to how fast the game is being played. The goalkeeper's game has changed completely in the years I have been here.
"A lot of the goalkeepers are a lot more skilful now. You have to really manage the risk. People label long ball as a long pass, but everyone has their own style. That's what makes it beautiful."
The world-record fee for goalkeepers was broken twice over the summer, with Chelsea going on to spend £71.6m for Kepa Arrizabalaga after Liverpool signed Alisson Becker for £67m.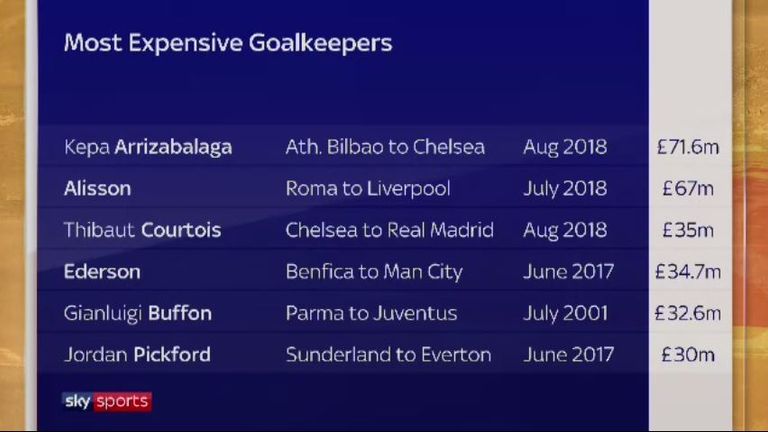 The increase in a goalkeeper's price tag reflects their new-found importance, according to Begovic, though he says inflation must also be taken into account.
He said: "It's great to see goalkeepers valued more and more. A little bit, of course, is inflation in the market, players in general are a lot more expensive - not just goalkeepers.
"You have to take that into account, but it's great for us goalkeepers to get the recognition. We always feel like we are an important part of the team, and it seems everybody else feels the same now.
"There aren't hundreds of goalkeepers for the top teams to choose from.
"There may be a specific one that fits the manager's style of play, and if it's that player, the price will be dictated by that.
"The level of goalkeeping, especially in the Premier League, is really high. We are hard workers so we will try to keep it that way."