David Hopkin confident of Bradford City turnaround
Watch the full interview with David Hopkin on Soccer Saturday on Sky Sports News from 2pm
Last Updated: 16/11/18 5:03pm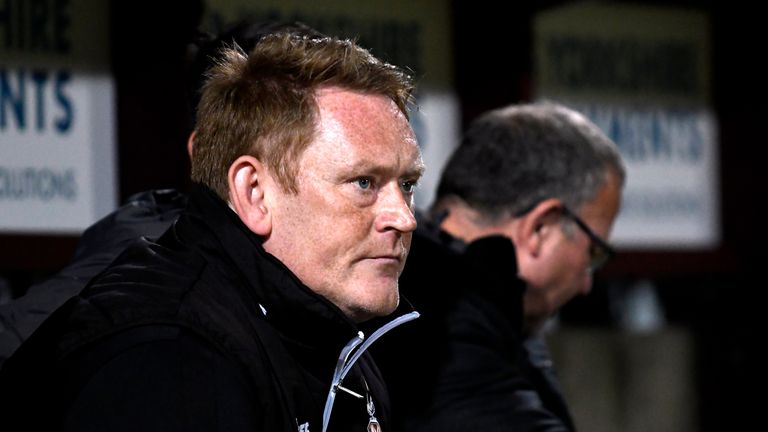 David Hopkin admits managing Bradford City has been a far tougher job than he was expecting when he took the position.
The Bantams have won just one of their 11 games in League One since Hopkin took charge, and they have lost their past six in a row to slump to the bottom of the table.
"I think circumstances have been [difficult] since I came in," admitted Hopkin in an interview with Soccer Saturday. "There have been injuries, suspensions and other different things that have gone against what I have been trying to do.
"It has been tougher than I thought it was going to be, but it's my job and I'm really enjoying it. It has probably taken a bit longer than I thought to sort things out behind the scenes but the players have bought into it and we are starting to see it turn around."
Bradford have had a wretched 2018 and Hopkin is their third permanent manager since Stuart McCall was sacked in February. Simon Grayson failed to steer them to the play-offs last season, while Michael Collins was given just six games at the start of this campaign before being dismissed.
There was a huge turnaround of players in the summer, including a massive reduction in the average age of the squad, and Hopkin says it has been a big task to try and turn the situation around.
"Every time you come into a job there are different things you have to face and there aren't many jobs where you come in and everything is rosy," he said.
"There are things at the club I wanted to change, because everyone has their own different ways of working behind the scenes. We are getting there, but the results are the biggest thing and they are what I hope can change very soon.
"In the summer the club brought in a lot of young players who they wanted to develop and maybe sell on for a profit or build for the future. It was a brave decision and sometimes these things work and other times they don't.
"They have done really well the last few weeks to get back to being competitive in games, but sometimes that bit of naivety has cost us. Playing in front of 17,000 fans every week can sometimes affect the younger players. There are three or four who have excelled but if you look about there aren't many 18, 19 or 20 year-olds playing in League One.
"I have probably had to change my style of management a bit because we have got so many young players, but all of them are working really hard to get there.
"It's a results business and hopefully as soon as we get one win we can go on a run and get away from where we are. We just need to stay positive and for everyone in Bradford to stick together."