Bradford's Rory McArdle says Aston Villa remain favourites in their Capital One Cup semi
Bradford's Rory McArdle believes Aston Villa remain favourites to take victory in their Capital One Cup semi-final.
Last Updated: 09/01/13 4:12pm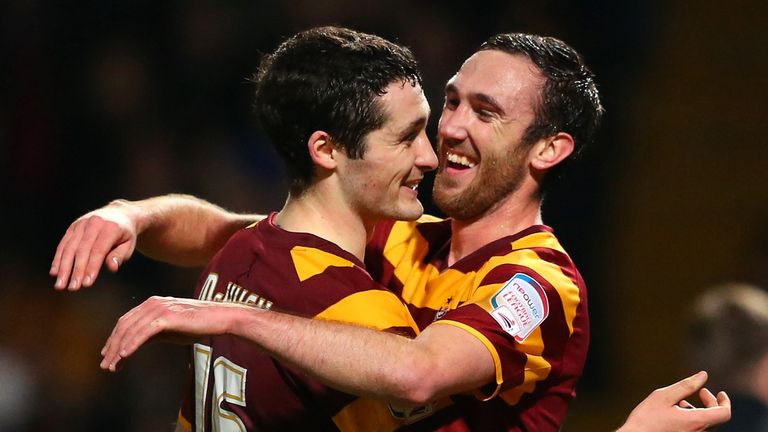 The 25-year-old scored the second of Bradford's goals at the Coral Windows Stadium, and helped the League Two side to come within reach of a Cup showdown with Chelsea or Swansea.
While McArdle believes Villa are still firm favourites to win the semi-final tie in two weeks, he said his Bradford side will be looking to add to their goal tally at Villa Park.
"They're still probably favourites in footballing terms but all the pressure will be on them, we can go down and enjoy the day," he said.
"We know we can create chances and if we can nick a goal down there it makes their task even bigger.
"If you go down with a defensive set-up, you invite pressure. We know they'll have spells where they get the ball so it's important we get up the field and get the ball in the box."
With Carl McHugh also on the scoresheet, and goalkeeper Matt Duke again earning plaudits with a number of fine saves on Tuesday, McArdle savoured a fine team effort.
"We know we can always score goals and last night me and Carl both managed to get a goal to take the pressure off the boys who've been doing well in front of us," he said.
"We passed the ball great, especially switching it through the midfield, but we know if that's not working we've got a good aerial threat and the delivery was great from (Gary Jones).
"I thought we deserved the win, we created chances. They had chances as well but Dukey was in fine form, as he always is, and kept us in it.
"He seems to be doing it more often than not, especially in the cup, he's had some magnificent games."