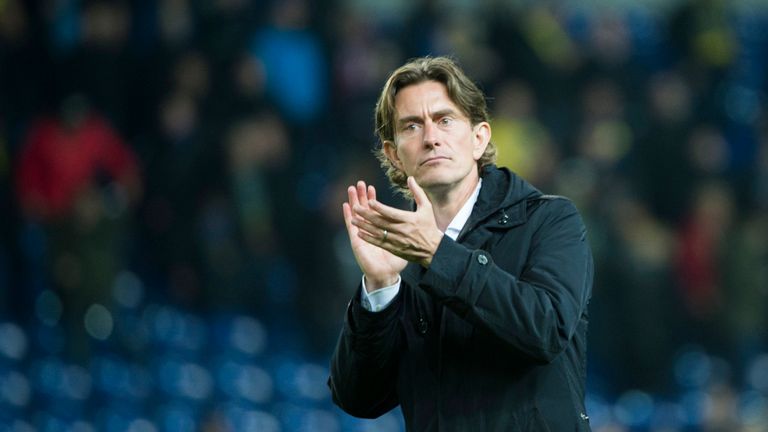 Thomas Frank believes Brentford are back on the up following a difficult start to his tenure at Griffin Park.
The Dane succeeded Dean Smith after he left for Aston Villa in October, but he lost eight of his first 10 Sky Bet Championship games at the helm.
Brentford have since switched to a new system, playing three at the back, and an upturn over the festive season saw them pick up a win and three draws, before beating Oxford in the third round of the FA Cup.
And Frank, who appeared as a guest on EFL Matters on Thursday night, believes his calm approach to their poor run has helped turn things around.
"We performed quite well between the two 18-yard boxes but the problem was where we needed to do better," he said. "We still scored a lot of goals but we also conceded way too many and I think that's been a problem for a long time. It's something we need to work on but of course it is tough.
"We had a good start [to the season] followed by a bumpy run, but we needed to dig deep, stick together, work hard and be cool-headed in how we analyse our performances."
It was a 2-0 defeat to Hull in mid-December that made Frank realise he had to do something differently, and he believes his squad options suit their new formation, as long as the mindset is there as well.
"After that game we thought we needed to change something dramatically, and from that day the focus has been on standards, basics and defensive mindset," he said.
"Regardless of the system the mindset has to be spot on, but the system is helping. We have three or four centre-backs and good wing-backs and our front three can also play wide or in the pockets."
Despite the poor form, Frank reckons that stepping up from his assistant role after Smith left was a smoother transition for the club than if Brentford had made an external appointment.
"Every head coach or manager has their own small ideas, but I was aligned with the style of play with Dean [Smith] and [other assistant] Richard Kelly," he said. "We built that style over the last couple of years so it was easy to continue that way.
"Maybe there were slightly different drills or focuses, but I think that was the easier part to do, rather than just throwing everything up in the air and changing things."