Evans takes Rotherham reins
Steve Evans has left Crawley Town to become manager of Rotherham United and has set his sights on the Championship.
Last Updated: 09/04/12 12:45pm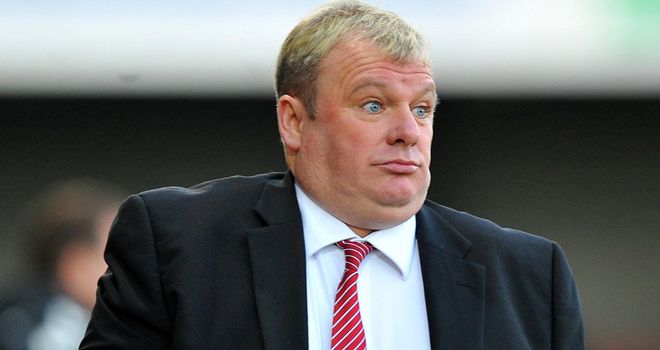 Steve Evans has left Crawley Town to become manager of Rotherham United and has set his sights on gaining promotion all the way to the Championship.
The 49-year-old has beaten Mark Robins to the job after the former Millers boss was linked with a return.
Evans had led Crawley since 2007 and last season guided them to promotion to the Football League, where they have been contesting at the top of League Two.
But he has decided to move to Rotherham, who presently sit 10th in the League Two table and last week made an approach for the coach.
Evans and his assistant, Paul Raynor, had in February 2011 signed new contracts at Crawley that were not due to expire until the end of the 2014 campaign.
Ambitious
But he was attracted by the potential at Rotherham, who will soon move into their New York Stadium, as he told his new club's official website: "It's a massive challenge.
"You only have to look at the vision of the chairman and the vision of the board to see where they want to take the football club.
"If it wasn't for that, then I wouldn't be here. I'm ambitious myself and I'm really looking forward to it."
Evans continued: "I got a call from the chief executive at Crawley Town to say that Rotherham United had made an approach to have a chat with me.
"I came to have a meeting with some members of the board and the chairman, and it's easy to say that it didn't take too long for my head to be thinking about Rotherham and not Crawley.
Extraordinary
"That had to be some meeting, because I certainly wasn't thinking like that on the way up. I saw the passion of the people here and that meeting was quite extraordinary."
Evans added: "In my opinion, how far can I take Crawley Town? League One certainly, but beyond that I was not so sure.
"Where can I take Rotherham United? The Championship. The roller coaster starts today and we're going to have some great times ahead.
"I'll be honest with the fans, and if they want Championship football, then get behind me."
Rotherham on Monday afternoon host Cheltenham, while Crawley travel to Barnet.