MK Dons' Samir Carruthers sorry for conduct at Cheltenham Festival
By Sky Sports News HQ
Last Updated: 17/03/16 11:56am
MK Dons midfielder Samir Carruthers has apologised for his behaviour at the Cheltenham Festival on Tuesday.
The 22-year-old, who has been fined two weeks' wages and banned for one match by the Championship club, was photographed alongside Northampton striker James Collins and Bristol City defender Luke Ayling.
Other images appear to show a glass of liquid being poured over the railing by Collins as Carruthers, wearing a grey flat cap and waistcoat, grins.  
The Republic of Ireland U21 international told Sky Sports News HQ: "I just want to say I'm sorry to everyone, my family, the club, chairman, the gaffer. I've not been raised up to do something like that and I've let everyone down. 
"I've let the community down and I've let Milton Keynes down and I have to take the criticism that comes with it. It's not something that should be laughed about.
"It's not an example I should be giving to kids either. I'm meant to be a role model and I have to live by my actions now and I really am hurt by what I've done. It was a silly mistake and I just have to take everything that comes with it.
"The manager and chairman are obviously very let down and I'm being disciplined for it. They had faith in me not to do something like that so I feel like I've let them down massively.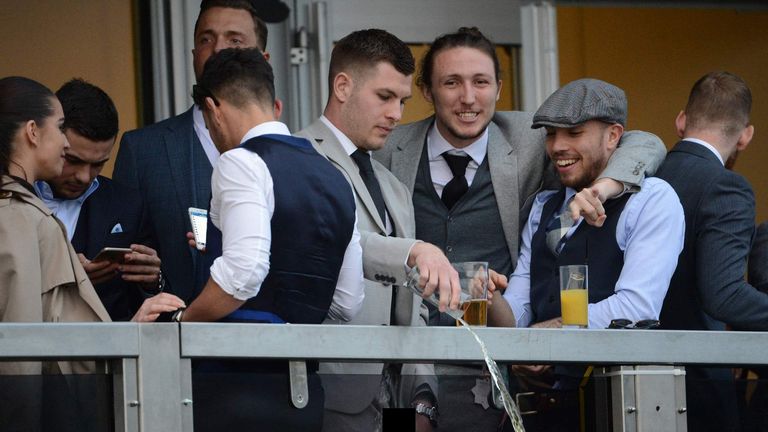 "But it's not just them, I've let down the whole team, my team-mates, everyone. And I'm really sorry to Cheltenham as well because they let me in and stuff and I obviously embarrassed everyone."
After conducting an investigation into the incident, MK Dons chairman Pete Winkelman said Carruthers' behaviour had been 'unacceptable'.
In a statement, he said: "I have today met with Samir Carruthers, the executive management team and Karl (Robinson) at stadiummk. I came to the meeting very angry and concerned as we have put huge effort into building a family-friendly reputation at MK Dons.
"However, it was clear Samir was sincere, contrite and all-encompassing with his apology. He has also taken full responsibility for his behaviour and understands the damage he has caused to his own and the club's reputation.
"Obviously, his actions are still unacceptable and, as a result, he has been disciplined. Samir has received a warning, been fined two weeks' wages and handed a suspension by the club, which is inclusive of this Saturday's Sky Bet Championship fixture with Brighton & Hove Albion.
"As a young man, Samir will learn from the incident and we hope, now, everyone can move on from this."
Carruthers, who has made 100 appearances for the Dons since joining from Aston Villa in 2014, has accepted the punishment and will not be appealing.
Collins, who is on loan from Shrewsbury, has been fined two weeks' wages and warned about his future conduct by his parent club.
In a statement, released by the League One side, he said: "I cannot apologise enough for my actions and the pictures from my visit to Cheltenham Races yesterday. I have completely let myself, my family, the fans, and the two clubs that I represent down and I am sorry to everyone involved.
"My actions are not excusable and while the pictures are rather misleading in that there were not people below this balcony and it was only a grassed area there is still no defence to what happened."
While there is no suggestion of any wrongdoing from Ayling, Bristol City said in a statement: "We are aware of the disappointing images from the Cheltenham Festival that have been printed in various national newspapers this morning.
"We will be speaking to the players concerned and will take appropriate action where necessary."