Hampden Park officials have moved to allay fears about the state of the pitch ahead of this weekend's Scottish Cup semi-finals.
The playing surface at Scotland's national stadium has been relaid since last Sunday's Petrofac Training Cup final but Peter Dallas, managing director of Hampden Park Ltd, believes it will cope with Saturday's match between Hibernian and Dundee United and the Celtic and Rangers showdown on Sunday.
Live Scottish Cup Football


Dallas told Sky Sports News HQ on Thursday: "The pitch is looking excellent. We are very pleased with the installation. The installation was completed on Tuesday night at 8pm. The process started on Sunday immediately after the Petrofac Cup final.
"We are very pleased with the surface, it's been cut this morning and it's looking good. We are looking forward to an excellent weekend of football.
Live Scottish Cup Football


"It's been well documented that there were certain areas where the grass was not developing as well as we expected. We had professional analysis taken on the pitch and therefore we had a decision to make.
"The overriding factors were that the pitch may have developed over the next few weeks or so, however there was a chance that the pitch may go backwards and might regress.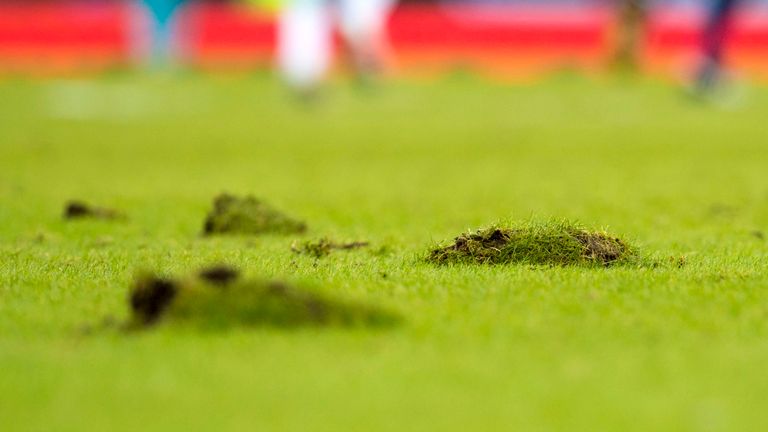 "A big decision was made that we should relay the turf - that was a tall order for the installation company. We've worked very closely with our supply chain and I'm delighted to say that all parties came round the table and you can see the magnificent results over 48 hours work.
"The cost is cost neutral to Hampden Park Ltd. All parties have come together we have a good amicable relationship and we have installed the pitch at no cost to Hampden Park Ltd.
"We expect that this pitch will play well over the next few weeks and for time to come."