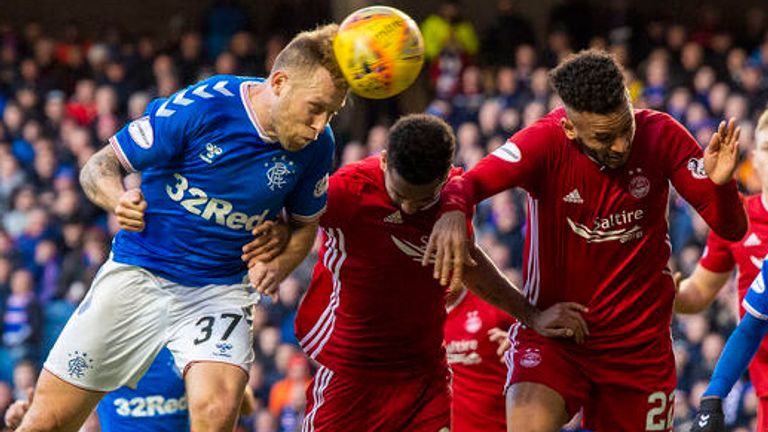 The Scottish football season at all levels of the game has been suspended further until June 10 at the earliest due to the coronavirus pandemic.
Football has been suspended in the country, from the professional game down to recreational level, since March 13.
An SFA statement read: "[The board] has unanimously agreed to extend the suspension at all levels of the game from professional to recreational until at least 10 June.
"The board had initially suspended football until further notice and with a stipulation of April 30 at the earliest, in order to give member clubs greater certainty on player welfare and wellbeing, as well as financial clarity.
"Since the announcement on 19 March, the Joint Response Group has received daily updates from the Scottish FA's Medical Consultant, Dr John MacLean, based on his discussions with medical colleagues in Scotland and the United Kingdom, as well as within UEFA and the World Health Organisation."
What next for the Scottish football season?
The extension follows a video conference call on Thursday to assess the latest government medical advice and discuss potential next steps for the game in Scotland.
It comes as SPFL clubs are set to vote on whether to end the season below the Premiership now, a proposal that has been questioned in some quarters.
Rangers and Hearts have stated they have reservations about that potential outcome, while Kelty Hearts manager Barry Ferguson has gone further and called for a restructure of the pyramid itself.
This announcement is likely to put more pressure on the SPFL to find a resolution that suits its member clubs, with uncertainty remaining as to whether the campaign's proposed return date will be pushed back again.
But as football is being guided by government advice, Scottish FA President Rod Petrie reiterated it will only return when it is deemed safe to do so.
"We are grateful to Dr John MacLean for his input to the Joint Response Group and to the Scottish FA board," Petrie said.
"The message is very clear: the government restrictions introduced to save lives must be adhered to and there is no prospect of an early resumption of training let alone organised football in Scotland for several weeks.
"The decision to suspend all football until at least 10 June is to help clubs ensure the safety and wellbeing of players, staff and supporters as well as take steps to mitigate their costs.
"Scottish football applauds everyone working within NHS Scotland and the care sector and should place no additional burden at a time when their resources are being tested to the limit because of COVID-19."
SPFL clubs set to vote on ending 2019/20 season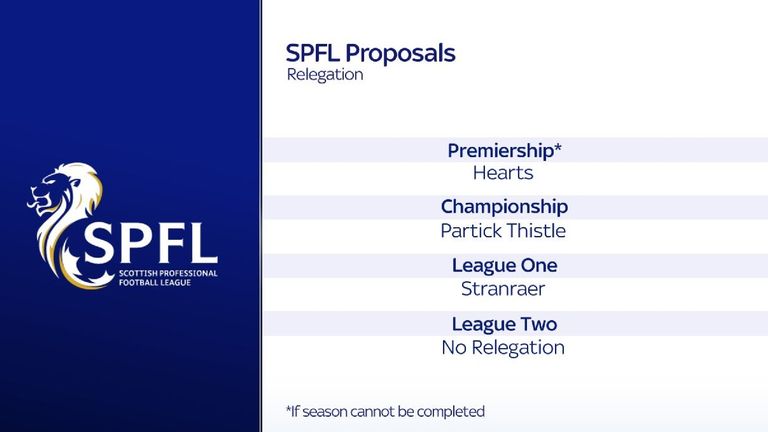 SPFL clubs are to vote on a resolution recommending the immediate termination of the 2019/20 season in all divisions below the Premiership.
The vote, which could be finalised next week, would see Premiership games remain in their postponed state to allow for the opportunity to play the remaining games when the threat of coronavirus has diminished enough to allow a restart.
Tables in the Championship, League One and League Two would be final based on positions when the leagues were suspended, on a points-per-game basis to allow for previous postponements because of bad weather.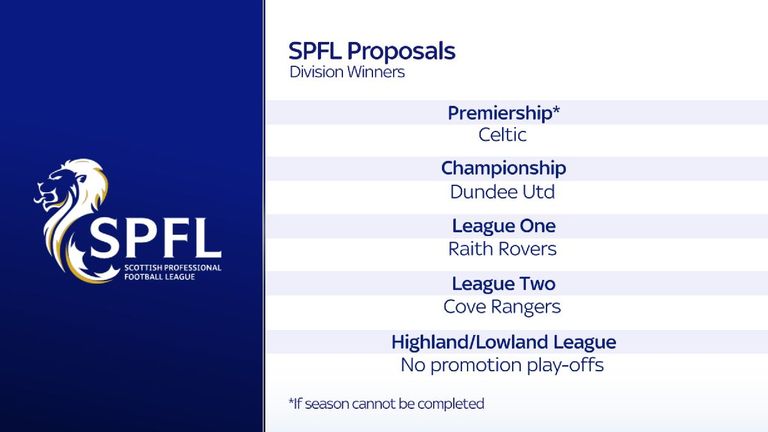 The Premiership table will also be finalised on the same basis if it proves impossible to restart the season after Scotland's lockdown period comes to an end - currently scheduled for June 10 at the earliest.
Clubs were sent a written resolution outlining the proposals on Wednesday.
If approved, Dundee United would be promoted to the Scottish Premiership with League One and Two leaders Raith Rovers and Cove Rangers also moving up a division. Partick Thistle and Stranraer would suffer relegation.
Sky Sports News understands a 75 per cent vote is required from each league to pass the resolution, nine teams from the Premiership and eight from the other three divisions.
Analysis from Sky Sports News' Charles Paterson:
"If a club needs extra time then they will be given extra time, but they've been encouraged to display their intentions by the end of today.
"The 42 SPFL clubs were given these proposals by the board on Wednesday and they've had a couple of days to chew it over and many clubs have held board meetings over the past 24 hours to discuss the resolutions.
"On Thursday, there was the added blow of the Scottish FA announcing there would be no football in Scotland until June 10, with the added caveat of there needing to be six weeks of training required, so you're looking at no competitive football until July.
"The feeling among many clubs is that this season is pretty much finished and there is a real financial need from many clubs to get the end-of-season payments.
"There are agendas all over the place, and it looks like there are enough clubs out there who are unhappy with the proposals that it may well be that this resolution fails at the first hurdle. The ball would then be back in the court of the SPFL board.
"They would then have to look at amendments being proposed by clubs, and one such amendment was proposed by Rangers on Wednesday saying that finance should be released immediately to clubs, saying that it would be very unfair for clubs to be relegated in this scenario.
"That amendment has now been rejected and they're unhappy with that and are now proposing a new amendment. It's a constantly moving situation but the final decision will not be made official until the start of next week."