Brits abroad - John Collins
Former Scotland international John Collins enjoyed a successful playing career with the likes of Celtic, Everton and Fulham. But it is his time at Monaco that provides some of his happiest memories. As part of our Brits Abroad series, we find out more about his time on the continent...
By Adam Bate - Follow @GhostGoal
Last Updated: 30/06/14 11:52pm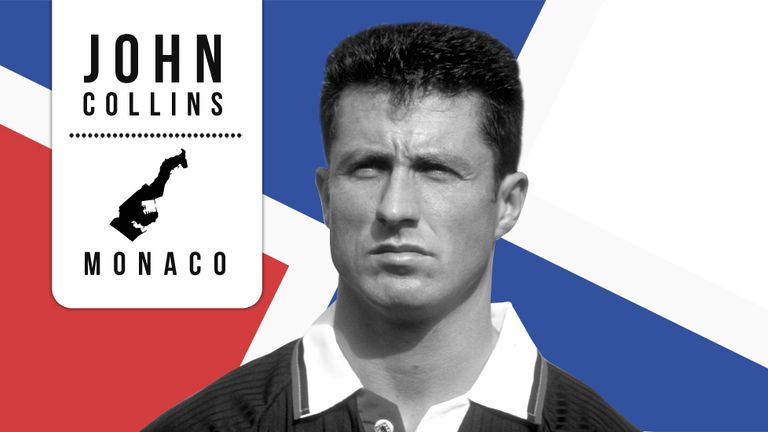 John Collins became Celtic's club record signing in 1990 and spent six seasons with the Scottish club before making a free transfer move to Monaco in the summer of 1996. In his first season at the club, he won the Ligue 1 title and then enjoyed a run to the last four of the UEFA Champions League in his second and final campaign under Jean Tigana. Adam Bate caught up with him to discuss his experiences in the millionaires' playground of Monte Carlo...
How did the move to Monaco come about?
I was coming to the end of my contract and the Bosman ruling had just come in for players. I was with Scotland at the end of the season preparing for an international when I got the call from my agent. Monaco wanted me to fly over at the weekend and discuss a move there. Needless to say I was absolutely delighted. I went over with my lawyer, my agent and my wife and met the manager Jean Tigana. I liked what he had to say and that was that.
Was going abroad something you really wanted to do?
I'd spent my whole career in Scotland and I was 28 so I was at a good age. I'd had offers from clubs in England but I had two young children and I wanted to learn a new language, a new culture and a new way of playing. I wanted to go and take my game on by stretching myself and that's exactly what I did. I enjoyed every minute of it and it was a great experience on and off the pitch.
Did you enjoy the lifestyle?
It was a fabulous place to be and I enjoyed my two seasons there. In fact, I went back to Monaco to live there for three years when I retired from playing. I've got good friends there. Obviously, there are two sides to Monaco. There are the Ferraris, the Grand Prix and the casino but there's a village life too and that's what we fitted into. The kids went to school there and we had our picnics on the beach with the kids at lunchtime. We loved it very much.
Celtic are a bigger club than Monaco in lots of ways but this was a step up...
Yeah, Celtic are a much bigger club in terms of history, stadium and support. But at Monaco, the team I was joining was full of international players throughout the team. In our first season we won the French title and got to the semi-finals of the UEFA Cup. The following year we reached the semi-finals of the Champions League so we had a good side.
We had Sonny Anderson, the Brazilian striker. There was Thierry Henry and David Trezeguet, Willy Sagnol and Enzo Scifo. Any footballer will tell you, the more good players you have around you, the better team you become and the easier the game becomes. That was certainly the case for me at Monaco.
Was the style of play different from what you were used to?
It was very similar to the way Barcelona play just now. It was short passes, dominating possession, building from the back with quick strikers. We were constantly trying to entertain and score goals. It was a very offensive style of football. We managed to dominate most games wherever we went because of the quality of our players.
And lots of highlights...
In my first season, we beat Newcastle 4-0 on aggregate. That was quite a Newcastle team as well. But the best win was probably at Old Trafford with everyone thinking that they would beat us like they beat most teams who went there at that time. But we gave them a little fright because we had skill, we could tackle and we had speed in our team. We got the result and we deserved the result so that was probably the highlight for me as a Scotsman coming back to beat the mighty Manchester United.
And Juventus with Alessandro Del Piero just had a bit too much in the semis...
Yeah, I missed the first leg of the semi-final. Unfortunately, I was suspended for a tackle on David Beckham. It was a soft booking. We gave ourselves a bit too much to do from the first leg after losing 4-1. We gave them a fright in the second leg but we lost 6-4 on aggregate. It was a wet night in Monaco, slippy conditions and although we got a few goals it was a good Juventus team with Zinedine Zidane and the rest so there was no disgrace in losing there.
You decided to leave in the summer of 1998. Why was that?
Well, I was 30 years of age and I'd just been to France '98 to play in the World Cup in front of packed stadiums. I felt this was my last opportunity to go and play in England and I was missing the full houses. That's the one thing that I did miss at Monaco. We did have 12,000+ for the games in the Champions League but it was never quite the same as the atmosphere at Celtic Park. So I thought I had to walk away with my great memories to go and play in the Premier League.
Did you return to the UK as a better player?
I think I did. There's no doubt about it. I was more mature as a player. As you get older, you get wiser and smarter. You become mentally stronger and more composed as a player. Of course, once you're 30 you don't have the same sharpness in your legs.
So no regrets about the move to Monaco?
None whatsoever. It was a fantastic move and I'd do it all over again. In fact, I'd do it sooner if I could. I probably should have gone two or three years earlier.
And would you recommend British players make the move abroad?
I would. Obviously the Premier League is a fantastic place to play football but if you get the chance to play for a top club in a nice country, it's a different challenge. Not just a challenge on the pitch but the opportunity to learn a new language and a new culture. I'd recommend it because it worked for me. But you've got to go for the whole package, not just the money. You have to embrace the whole lifestyle and integrate. That's the message I would give players.