Leigh Griffiths benefits Celtic with attacking intensity, says Brendan Rodgers
By Shona Duthie
Last Updated: 28/09/18 4:13pm
Celtic manager Brendan Rodgers has said a "fit and intense" Leigh Griffiths is good for his team.
Griffiths scored the only goal of the game against St Johnstone on Wednesday to send them through to the Scottish League Cup semi-final to face Craig Levein's Hearts.
The 28-year-old has scored five goals so far this season and has made 14 appearances for the current Scottish Champions, while his performance on Wednesday night was praised by his manager.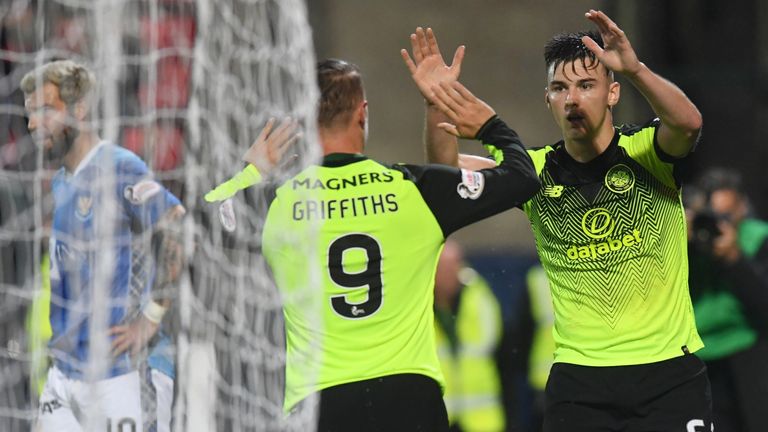 "Leigh did what he does best, in and around the box, if you look at his three goals all predatory in their own different ways," Rodgers said.
"So to get three goals in three games [is great], and he will tell you himself, he could have had a hat-trick [in the league cup match], but he is always there.
"That is why he has the goal record that he has. He has an incredible goals to games ratio that he has here at Celtic.
"And if he can keep up that level of fitness and keep up that intensity, that work and movement, everything else follow and it really benefits the team."
Celtic will play their semi-final on October 28 at Hampden with a 7:45pm kick-off after the SPFL confirmed both games would be played on the same day.
Rodgers admitted the schedule looked like it would pose a "major challenge".
He added: "I only assume that it had been anticipated, what may happen, and I'm only assuming it is the best solution that they thought before it would have happened.
"From the outside, it looks operationally and logistically a major challenge, but the organisers and police must feel that it will be under control. So we have to accept that it's been organised in what they feel is the best way."
When asked about concerns over the pitch cutting up in wet weather, Rodgers said: "It would be good for Hearts.
"It could go into extra-time, it could go into penalties. It really could operationally be a real push. But listen, we see the issues around it, both on the pitch and off the pitch. We can only control how we prepare for the game now."