Champions League: Legia Warsaw's appeal to CAS to be reinstated is rejected
Last Updated: 18/08/14 6:18pm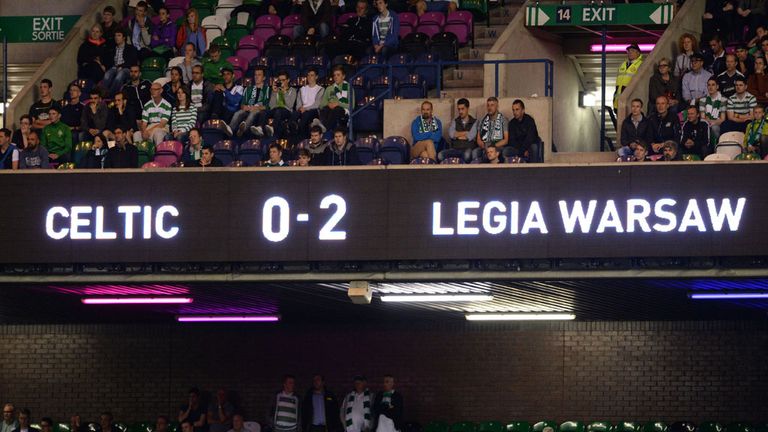 Legia Warsaw have had their appeal to the Court of Arbitration for Sport to be reinstated to the Champions League qualifiers rejected.
The Polish champions were eliminated from the competition by virtue of a 3-0 forfeit as punishment for fielding an ineligible player during their 2-0 victory at Murrayfield, allowing Celtic to advance on the away goals rule.
Legia, who won the first leg 4-1, played defender Bartosz Bereszyński for the final three minutes of the match in Edinburgh.
It later transpired he had not been registered in Legia's squad for two games against St Patrick's of Ireland and the first leg against Celtic and had therefore not served the three-match ban imposed on him for a sending off in last season's Europa League.
Legia appealed the decision and after UEFA rejected their claim they turned to CAS as a last resort.
Celtic will now play Maribor in the play-offs for a place in the group stages of the Champions League while Legia face Aktobe of Kazakhstan in the Europa League. 
In a statement CAS said: "The Court of Arbitration for Sport has denied the urgent request for provisional measures filed by the Legia Warszawa SA in thecourse of its appeal against the UEFA Appeals Body decision of 13 August 2014.
"The UEFA Appeals Body had confirmed the result 3-0 (forfeit) in favour of Celtic FC against Legia in the second leg of the third qualifying round of the UEFA Champions League. The UEFA considered that Legia had fielded an ineligible player (Bartosz Bereszynski) during the match.
"Legia Warszawa filed an appeal to the CAS at 17:30 on 15 August 2014 together with an urgent application for provisional measures requesting that it be provisionally admitted to participate in UEFA Champions League matches until the CAS renders its final arbitral award.
"The President of the CAS Appeals Arbitration Division considered the parties' written submissions and has denied Legia Warszawa's request. Accordingly, Celtic FC remains qualified to participate in the UEFA Champion's League 2014/2015 and will play its next match against NK Maribor on 20 August 2014.
"The CAS arbitration will now continue and a panel of arbitrators will be constituted to examine this case within the next weeks. On the merits, Legia has requested that no sanctions be imposed on either the club or the player
Bereszynski and that UEFA be ordered to pay a financial compensation to the Polish club."
Commenting on the decision, Legia Warsaw co-owner Dariusz Mioduski told Sky Sports News HQ: "It is no longer a disappointment for us.
It is no longer a disappointment for us. We expected this decision but felt we had to file for provisional measures as this was our last chance to get reinstated.
Legia Warsaw co-owner Dariusz Mioduski
"We expected this decision but felt we had to file for provisional measures as this was our last chance to get reinstated.
"But knowing that Celtic would be filing documents and arguing against us we didn't expect a different decision at this point. 
"The process we are starting now is that we will be playing in the Europa League and we accept that.
"But at the same time we will not give up on our pursuit of what we believe is justice for football which is making sure no-one makes that mistake again and that the rules are not as unfair as they were against us.
"Timing clearly played role in this and UEFA probably used that argument as well... and this is why we didn't have much hope that we would get a positive result." 
Watch Celtic take on Maribor in Slovenia live from 7.30pm this Wednesday on Sky Sports 5