Rangers midfielder Greg Docherty says he is eager to learn from Steven Gerrard and Gary McAllister as the club continue pre-season training in Malaga.
Gerrard's first league campaign as Rangers boss does not start until August 5 at Aberdeen, but the club are busy preparing in Spain as they bid to reach the Europa League group stage.
Rangers will discover their first-round opponents in qualifying on Wednesday, and Docherty is confident the players will be ready to go after a high-intensity training camp.
"Everyone is really excited, training has been really high. The enthusiasm is there to see from the players and the coaching staff as well," Docherty said.
"Everybody is raring to go. The second day in and the standard is already a very high level. If it can continue to rise then it's looking good.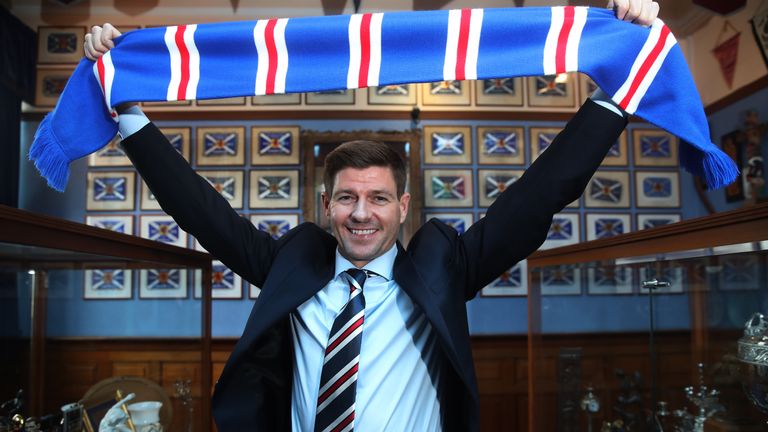 "For the standard to be so high already, then fantastic, it's only going to stand us in good stead. We're really looking forward to the Europa League, and I'll be watching intently to see who we've got in the draw."
Gerrard's appointment has led to a fresh wave of optimism at Rangers, with defender Connor Goldson saying it feels as though there is a "little bit of a revolution going on".
On a personal note, 21-year-old Docherty is looking to benefit from playing under the former Liverpool captain, and assistant manager McAllister.
"I'm hugely excited. For a young midfielder like myself, I've obviously looked up to him as a player and now he's a manager," Docherty said.
"I can learn off him and Gary McAllister as well - two legends of the game. If I listen to them and take on board what they say, then hopefully I can improve."
On Gerrard's appointment, Docherty added: "It's bizarre. I think everybody was the same - the guy has been there and done it, won the Champions League and played in the Premier League for so long.
"You're not captain of Liverpool unless you're a top player. He was, and if I can benefit from playing under him, it's great for me.
"He was a goalscoring midfielder, that's what I want to be - an all-rounder as well. Hopefully I can learn off him and be part of his plans."