Coupe de la Ligue final: Lyon face Paris Saint-Germain
Remi Garde has defended Lyon's celebrations after their win over PSG ahead of the Coupe de la Ligue final.
Last Updated: 18/04/14 5:59pm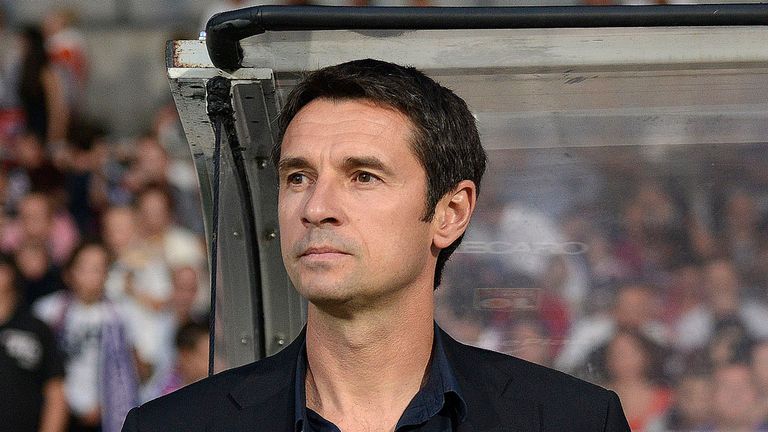 A 1-0 home win on Sunday lifted Lyon firmly into contention for a Europa League place next season and served as a timely reminder of the quality in Garde's team ahead of Saturday's silverware showdown at the Stade de France in Saint-Denis.
Lyon enjoyed their moment and when asked on Friday about the euphoria that gripped his team, amid suggestions it might have riled and therefore fire up PSG, Garde responded: "If there is something I don't want to apologise for, it is the happiness of my players.
"They didn't want to be provocative. My team are very young and they want to share this moment of communion and joy with the fans. I can't criticise them."
Garde added: "The two matches shouldn't be compared. We were at home and on Saturday we're away from home. We're closer to Paris than Lyon. They are two competitions with different ingredients. I'm not worried that we'll relax after our win. We'll start from scratch."
Former Lyon and Arsenal midfielder Garde has been in charge at Lyon since 2011 and led the club to the Coupe de France title in 2012.
However they lost to Marseille in the Coupe de la Ligue final in the same year, suffering extra-time anguish as Brandao earned the south-coast side a 1-0 win, with Lyon having Dejan Lovren sent off.
Asked about that day, Garde said: "I want to see a different Lyon team. That defeat against Marseille left some bitterness. I've changed things in preparation in order to have no regrets. I love the cups. When we go into a competition, it is to win it. I prefer to play in a final than to watch it on television."
While the Parisians are on the brink of landing the Ligue 1 title, coach Laurent Blanc wants them to make it a domestic double with a touch of swagger.
The setback at Lyon followed a loss to Chelsea in the Champions League quarter-finals, leaving PSG in the unfamiliar position of looking to avoid a third straight defeat.
Blanc complimented Lyon, saying: "I think Lyon are one of the best teams in France with the level of the quality of their play and their players."
But the former France boss, appointed last summer, is hungry for the first trophy of his Parc des Princes tenure.
"Every teams wants to win trophies. Tomorrow we have the opportunity to win one," he said. "It's down to us now to do it.
"I hope that tomorrow we'll rediscover the great Paris Saint-Germain from the start of the season, We're ready."