No PSG move for Beckham
David Beckham will not be joining Paris Saint Germain, according to the French club.
Last Updated: 03/01/12 7:15pm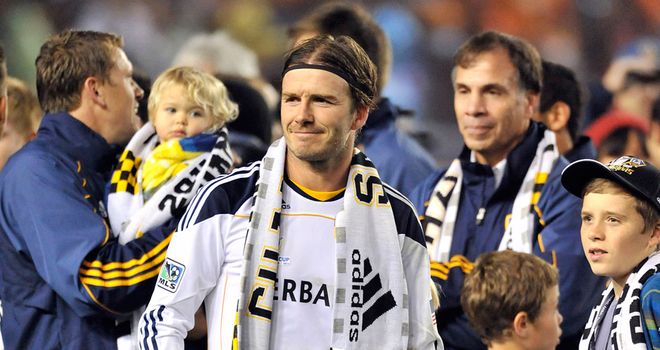 David Beckham will not be joining Paris Saint Germain, according to the French club.
The former England captain was wanted by the Ligue 1 outfit's wealthy and ambitious Qatari owners, who were well aware of the publicity benefits.
But Beckham, whose contract with LA Galaxy expired at the end of December, does not want to relocate his family from their home in America.
"It's over," PSG sporting director Leonardo was quoted as saying by L'Equipe. "It's a shame.
Watchful
"But the welfare of his family in Los Angeles, the wish not to change everything in his life, weighed heavily."
PSG on Wednesday play Milan in a friendly in Dubai and on Tuesday morning they trained under the watchful eye of new owner, Qatar's Crown Prince Sheikh Tamim bin Hamad al-Thani, and club president Nasser al-Khelaifi.
And Al-Khelaifi expects Beckham, who will also be keen to play regular football ahead of the summer's Olympics, when he could represent Team GB, to sign a new deal with Galaxy.
When asked if he thought the midfielder would be staying in LA, the PSG president said: "Yes, I think so. David Beckham is in Los Angeles and will stay there.
Change of heart
"He will not come, it's clear."
But Al-Khelaifi has not ruled out an attempt to sign Beckham in coming years, as he also said: "We feel a little disappointed.
"But both sides agreed it would be better that we not do the deal today. Maybe in the future."
Reports in French media had also suggested new PSG boss Carlo Ancelotti was not keen to sign an ageing player after working with Beckham for a brief time at AC Milan.
But Leonardo denied the former Milan and Chelsea boss has had anything to do with the 36-year-old's apparent change of heart.
"It is not the arrival of Carlo Ancelotti that has changed everything," said Leonardo.
Keep up to date with all the latest transfer news on Sky Sports News Radio. Listen live here or via the Sky Sports app on your phone.