Zlatan Ibrahimovic happy at Paris St Germain but also wants to play outside Europe
Zlatan Ibrahimovic 'could not be happier' at PSG, but has stopped short of confirming he will finish his career there.
By Simone Bargellini
Last Updated: 12/11/13 3:52pm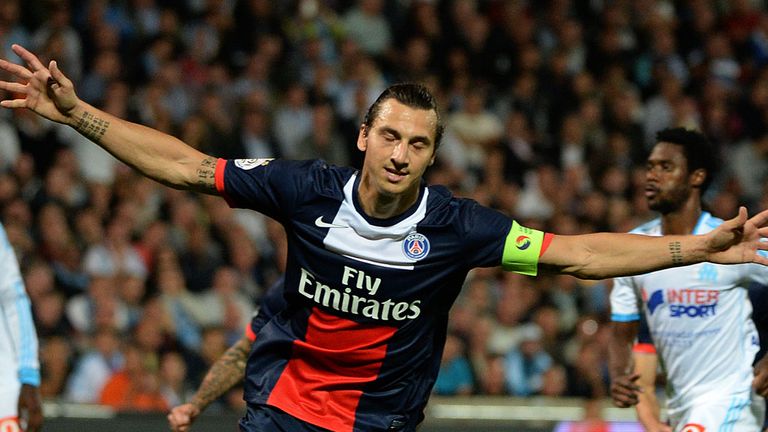 The Sweden international joined PSG in 2012 from AC Milan and helped the club to win the Ligue 1 title during his first season at the Parc des Princes.
He considered leaving PSG during the summer before deciding to stay and he signed a one-year contract extension in September to bind him to the club until 2016.
PSG president Nasser Al-Khelaifi recently expressed his belief that Ibrahimovic will retire in the French capital, but the striker is not ruling out one last move.
"In June, I didn't know if I would stay at PSG, but then I met with president Nasser Al-Khelaifi and he told me that I am the most important player for the PSG project," Ibrahimovic told Aftonbladet.
"'You must take us to where we dream of going'. It was a nice thing to hear and then we made an agreement. I extended my contract for one more year and now I could not be happier than in Paris.
"Day after day we feel stronger, everyone is talking about us, the opponents have a different respect for us, it's gaining the interest of the media and also increasing the sponsors.
"We are a great team now. Or, rather, we are becoming one because to be a really great team you have to win, not only the championship, as we have already done, but everything. We're working on it, we're getting there.
"Going to Paris a year ago was a risk, but I thought 'PSG is the future'. Now, I know that I did well.
"A future in the United States? I don't like to make too many plans, but one day, when my contract expires, I would like to play outside Europe, even if I don't know where."