Real Madrid president Florentino Perez claims Manchester United made bid for Gareth Bale
Real Madrid president Florentino Perez has claimed that Manchester United made a bid for Wales winger Gareth Bale.
Last Updated: 24/09/13 5:15pm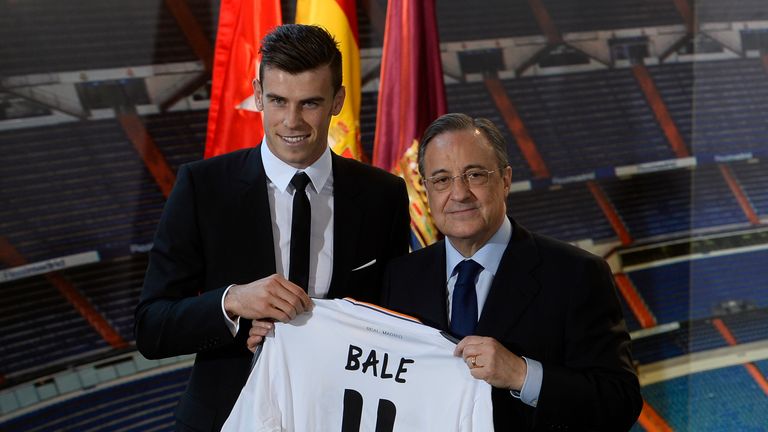 The 24-year-old left Tottenham earlier this month for £86m and scored on his Real debut against Villarreal 10 days ago.
Bale was forced to miss his home debut against Getafe on Sunday, pulling out of the starting XI after injuring his thigh in the pre-match warm-up. He has been passed fit to face Atletico Madrid live on Sky Sports this weekend.
Perez told SER radio that he believed he had secured a bargain on the conclusion of the record-breaking deal.
He said: "Bale has come cheaply.
"Signing the best players out there is Madrid's philosophy and Bale was the best available player on the market this summer. We had been following him for two years.
"Tottenham did not want to sell. We learned that Manchester United had made an offer and we made one ourselves.
"Since childhood he had had the dream of playing for Real Madrid and he asked us to make it possible for him to come."
United boss David Moyes was asked about the story of his interest in Bale at his Tuesday press conference, but said only: "If I was I wouldn't tell you. We don't talk about it.
"We only talk about the players we think there is a reason to talk about and I wouldn't comment on that."
Shortly after Bale's move to Madrid, Cristiano Ronaldo signed a three-year contract extension and stated he wished to finish his career with Real after a period when he was linked with a move away - and a possible return to Manchester United.
Perez said: "The renewal of Cristiano Ronaldo has been easy - he is determined to finish his career at Real Madrid. Cristiano never spoke of money with me."
Mesut Ozil left Madrid at the end of the transfer window - joining Arsenal for £42m - in a move that caused some raised eyebrows across Europe.
However, Perez refuted suggestions that the player had been forced out, adding: "It was the father of the player who made contact with Arsenal. No-one leaves Real Madrid if they don't want to go."
Don't forget you can watch the Madrid derby live on Sky Sports 2 on Saturday 28 September from 21.00