"The goalkeeper feels humiliated, there is no need to do that."
That was the view of former Queens Park Rangers and Blackpool manager Ian Holloway after Barcelona's 'Cruyff' penalty on Sunday, when Lionel Messi rolled the ball forward for Luis Suarez to score.
While some lauded the penalty, which was similar to one scored by former Barcelona player and head coach Johan Cruyff in 1982, there were questions over whether it was disrespectful to opponents Celta Vigo.
We take a look at some of the opinions, from those who say it was genius to others who say it made them uncomfortable...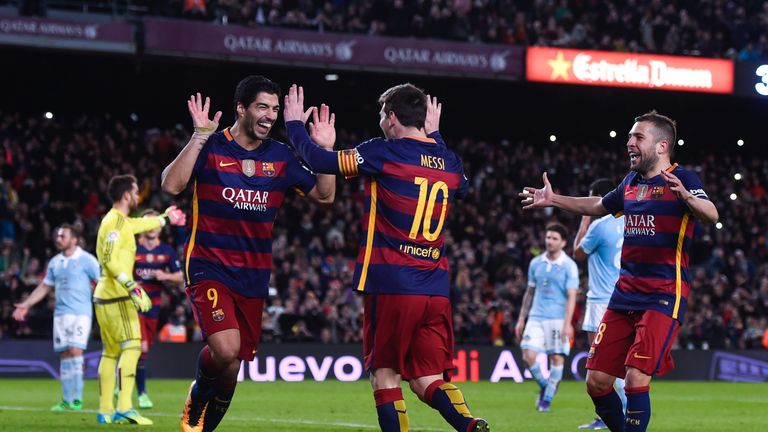 Barcelona head coach Luis Enrique
"There will be those who like it and those who don't. As well as winning titles, here we try to entertain people and win in a spectacular and sporting manner. You can take a penalty like that, it's legal and there's a Cruyff penalty we all know.
"In this country, a kick (at an opponent) is more readily accepted than anything fancy. We don't care about that. What we have to do is enjoy our football, respect our opponents, try to show we're better through football.
"I'm sorry but I don't think anything special happened. I'm used to seeing them train and there they are even better."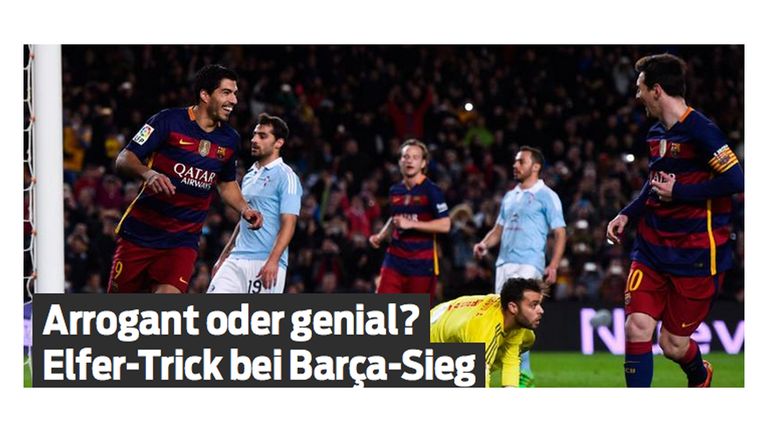 Celta Vigo head coach Eduardo Berizzo
"The penalty was taken in a different way, there's nothing more to it. I am hurt by the number of goals we let in, not by how they scored. Their players are respectful with the rival: they score goals as they can, as they want to and as they are allowed to."
Barcelona vice-president Jordi Mestre
"My personal opinion is that at this point, if we see this show and talk about disrespect, that's not so good.
"I don't know if they rehearsed the penalty. I think they talked about it and it went well for the level of football they're at."


Sky Sports Spanish football expert Guillem Balague
"Straight away the debate in Spain started, was it disrespectful or not? Football, especially in England, is made up of controversies and personalities whereas in Spain it is tactics and personalities, with controversies only recently growing into the game.
"Those characteristics didn't bring any of us into football, instead it was moments of magic and Barca's penalty will have evoked memories of Cruyff's penalty from 1982 - a moment which is historic and not viewed as disrespectful in any way.
"In Spain there is a lot of talk about whether this is disrespectful or not. That is a view that has been used by many to criticise Barcelona. Most of the discontent comes from Madrid and it is a media strategy to please the Madrid fans who want to hear that, it has nothing to do with people thinking about football and is more to do with the business side of things - ie selling newspapers.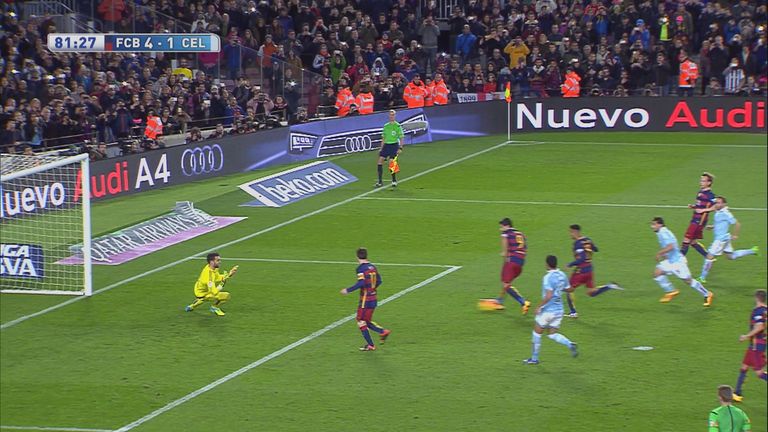 "To those who claim that this was out of order and would like to see none of this in football then I implore you to go and find another game because I wish there were more moments like this.
"You cannot label everything in the same way, there are things that players do when the game is over that do feel disrespectful. A tactical gesture or a skill perhaps, something that would be done when playing with friends and not when your four or five goals to the good.
"But that goal doesn't fall into that bracket for me. What would the opinion be if Ronaldo and Karim Benzema or Juan Mata and Wayne Rooney tried something similar? Everyone is talking about this goal so, for me, that must be for a good reason."
Barcelona forward Neymar
"That play had been rehearsed and it was supposed to be for me. The most important thing is that the play worked."
Barcelona midfielder Andres Iniesta
"My reaction to the penalty was one of surprise because of the way they ran it, but I'm happy it was a goal. You can take them like that too.
"We are the first ones to try to respect our opponents and the way they play. I do not think that the penalty was disrespectful."
Ian Holloway on Sky Sports Now
"If I was the opposition manager I would be fuming, if I was the manager of the player who scored I would be saying if you want him to score a hat-trick then he can take the penalty. The goalkeeper feels humiliated, there is no need to do that; a classy club and classy team don't need to do that."
Sky Sports Spanish football commentator Terry Gibson
"I do understand why it would be accused of being disrespectful, but we are going to remember it for a long time. The game was quite tight, it wasn't the kind of game you thought they would do this."
"It's indicative of how those front three are playing and enjoying their football."
Marca journalist Tomas Guasch
"If Ronaldo and Benzema did it they would be sent to Afghanistan."
Ex-Arsenal defender Nigel Winterburn on Sky Sports Now
"If I was playing and it was my team I would be uncomfortable with my team-mates doing that, but the rules state you don't have to directly strike the ball."
"If it was my team-mates I would be uncomfortable because you have to show some respect to the opposition and, as an ex-player, that says we are not giving them the respect they deserve. I am uncomfortable with it."
Sky Sports Now guest and former Norwich striker Iwan Roberts
"It's genius but it shows a lack of respect. If you tried that in a practice match your manager would be ripping your head off, even if you scored. They don't need to be doing it."
Brighton manager Chris Hughton
"I think most people will see it for the quality it is. It was probably planned, although it didn't look like the manager knew it was going to happen. It's not disrespectful, but it's easier to do that when you are 3-1 up."
Rangers boss Mark Warburton
"Whether you call it showboating and take it the wrong way or just admire the fact they have so much skill and creativity that you stand back and applaud, I don't know.
"It could be seen as disrespectful and showboating but you see the reaction from the guys at the Nou Camp and it's different. You are looking at some of the finest players in world football and for me it is a joy to watch them play."
Celta defender Gustavo Cabral
"It's annoying that it ended up being a goal. But not because of the way they took it."
What did you make of Barcelona's penalty? Have your say by leaving a comment or tweeting @SkyFootball...