Barcelona have learned their lesson after Alaves defeat, says Terry Gibson
Last Updated: 13/09/16 1:25pm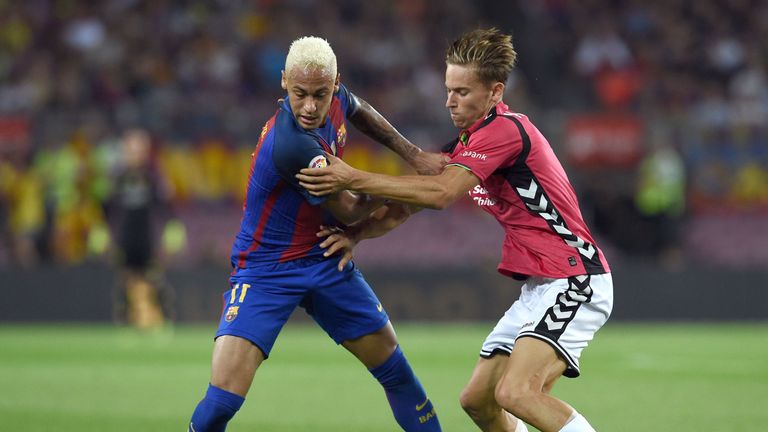 Sky Sports' Spanish football expert Terry Gibson believes Luis Enrique has learned his lesson after making seven changes for Barcelona's shock 2-1 defeat to Alaves on Saturday.
The Barca boss left the likes of Lionel Messi, Luis Suarez and Andres Iniesta out of his starting eleven for the weekend's match at the Nou Camp, and despite the introduction of all three in the second half, the defending champions could not prevent a surprise first loss of the season.
Gibson believes Enrique was right to rotate, but went too far with the number of changes made.
"He has to rotate, but maybe he won't to the same extent because he's been caught out a couple of times now," Gibson said on the La Liga Weekly podcast.
"It would have been ideal for [Paco] Alcacer to make his debut alongside Neymar and Suarez, or Neymar and Messi, rather than wholesale changes.
"At the weekend, you had a new back four from the week before, he kept the midfield, and a new front three.
"In my opinion, there were only three players that would play if they were facing Real Madrid next week. I make it Neymar, Sergio Busquets and Ivan Rakitic would be in the eleven.
"Do you remember the year they won the treble, he [Enrique] left out Neymar, Messi and Suarez for the game at Real Sociedad.
"I raised my eyebrows when I saw the amount of changes but I think they still should have had enough to beat Alaves even with that starting eleven."
"It's a lesson learned. He needs to make the changes, the squad is bigger and better, but not do seven or eight in one go."
But Gibson does not believe Barcelona should be accused of showing a lack of respect to their newly-promoted opposition.
"I don't think that was the issue [a lack of respect]," he added. "They had a new goalkeeper, two full-backs who were not regular, Javier Mascherano and Jeremy Mathieu, who don't often play together, and it just looked disjointed.
"It looked like a new team thrown together. I wouldn't go as far as to say it looked a mess, but it was a very unfamiliar Barcelona."
Watch Chelsea v Liverpool on Friday Night Football, the Ryder Cup and the EFL Cup as part of our three months' half-price offer.