Barcelona hopeful that Spanish star Victor Valdes will remain
Barcelona president Sandro Rosell is hopeful that Victor Valdes will sign a new contract with the club.
By Francisco Acedo
Last Updated: 24/03/13 1:13pm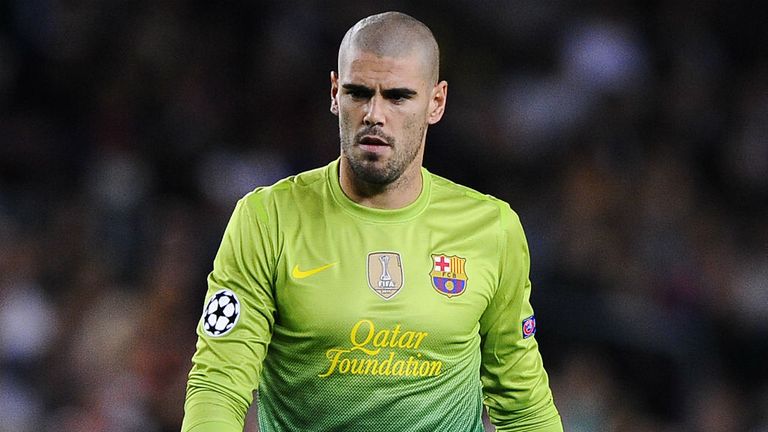 Valdes's current deal expires in 2014 and his representatives have told the club he will look to leave at that point.
Rosell, though, is confident that once coach Tito Vilanova returns to the club following his cancer treatment, Valdes will be persuaded to sign a new deal.
Asked if the Spanish international keeper would stay, speaking to El Mundo Deportivo, Rosell said: "I hope so.
"We said at the time, it is best to wait until the summer when the club has won everything we can.
"With Tito well, we'll be talking to Victor, when all this is over I think he will reconsider his position.
"We are hoping that there is some reflection for Victor and he will talk quietly with the club, but I have always said whoever does not want to be at the club, then the door is opened for them to leave."
Talking about Vilanova, Rosell insists the club have not thought about replacing him and are looking forward to his return this summer after treatment in America.
"For the club, there is no question he will return, the only reason he would not would be down to him," said Rosell.
"But if the choice is ours, then of course he will be back."
Asked if he thought about replacing him, he said: "Never, we put the human above sport."
Neymar
He was again asked about Brazilian superstar Neymar, with Barcelona widely regarded as favourites to sign.
"Neymar's a Santos player until 2014 and therefore there is nothing to say," he said.
"As fan, it is clear, he is a different player. A type like Romario, Ronaldinho, Maradona, Messi. In other clubs they might not like so much, but Neymar is a style that pleases the fans of Barca."
Neymar is already regarded as a superstar and is very much a celebrity in his homeland, but Rosell insists that is not the player's fault.
"I've lived in Brazil and that has to be understood within the culture of the Brazilians in Brazil," he said.
"He a is Santos player until 2014 but if one day comes to Europe - Barcelona, Madrid, Munich or Manchester, I have no doubt that he can change and adapt to the local culture. But it is nothing strange if you live there."
Should Barca confirm a move for Neymar, Rosell says that they do not rely on pure finances so they are not concerned about being outbid.
He added: "I'm not worried because we want players to come not only for economics but also a commitment of club sports project, and historical presence. If your priority is money, this club is not the club where you should come."