Barcelona striker Luis Suarez has been presented with the Golden Shoe trophy by his former Liverpool boss Kenny Dalglish - and says he is ready for his El Clasico debut.
Suarez won the award  - for scoring the most league goals in Europe - after netting 31 times for Liverpool last season, the same tally Cristiano Ronaldo managed at Real Madrid.
The Uruguayan later moved to Barca and is coming to the end of a four-month ban for biting Italy defender Giorgio Chiellini at the World Cup.
His debut could come in 10 days time, when he will be eligible to face Barca's rivals Real Madrid in the Spanish season's first Clasico, a game you can watch live on Sky Sports 5.
Suarez has emphasised he is fit and raring to go for the game after featuring in two friendlies for his country over the past few days.
Asked if he was 100 per cent ready for the Real match, he said: "If you had asked me that a week ago, before the two games with Uruguay, I may have had doubts.


"But I have played in those two games and I am probably in better condition than I thought I was. So I think I can say now, yes, 100 per cent, I am ready to play."
Suarez hand-picked Dalglish to present his award, and speaking at the ceremony he said: "I want to thank all the most important people in my life, my wife and my children.
"And of course everyone at Liverpool - all my colleagues, not just last year but over the whole three-and-a-half years I was at the club.
"They were spectacular years and it was thanks to this man here (Dalglish) that they signed me, that they noticed me.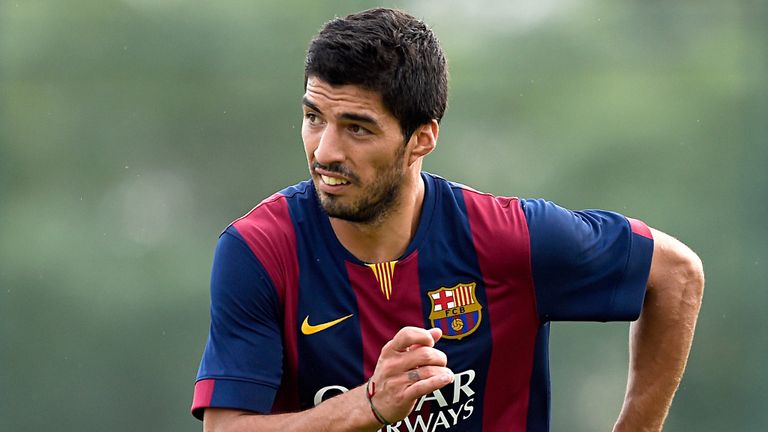 I think I can say now, yes, 100 per cent, I am ready to play.
"Now I am moving on to a new period, and I have to enjoy this next stage of my life - it is a dream come true.
"On a personal and individual level it is always welcome to win these titles.
"But you would not win them if it was not for the whole of the team and for your colleagues and for the joint effort that everyone makes every day to achieve results."
A message from Liverpool captain Steven Gerrard was played during the event in which the midfielder had nothing but kind words for his former team-mate Suarez.
"Huge congratulations from myself, Luis' ex-team-mates and everyone connected to Liverpool Football Club," the midfielder said.
"This is a very special award and it is thoroughly deserved. You were unbelievable all season for us, a magical player, and Barcelona are very lucky to have your services moving forward.
"I'm sure there are many more individual awards to come. Good luck for the future mate, we miss you very much."
Meanwhile, when Dalglish - the man who signed Suarez for Liverpool - was asked how he thinks Suarez will fare at Barcelona, the Scot said: "I don't think there will be anybody who will be able to stop him.
"He has been fantastic everywhere he has been - a huge success and fabulously entertaining. There is no reason why he won't continue that for Barcelona.
"But if he does hit a problem, I'm sure we can take him back on loan!"
Find out if Luis Suarez makes his Barcelona debut against Real Madrid - watch live on Sky Sports 5 on October 25 from 5pm.