Transfer News: Sevilla's Ivan Rakitic set for contract talks
Sevilla star Ivan Rakitic is set to open talks with the club over a new deal, but he is in no hurry to sign.
By Jure Bohoric, Francisco Acedo & Mark Kendall
Last Updated: 06/02/14 2:55pm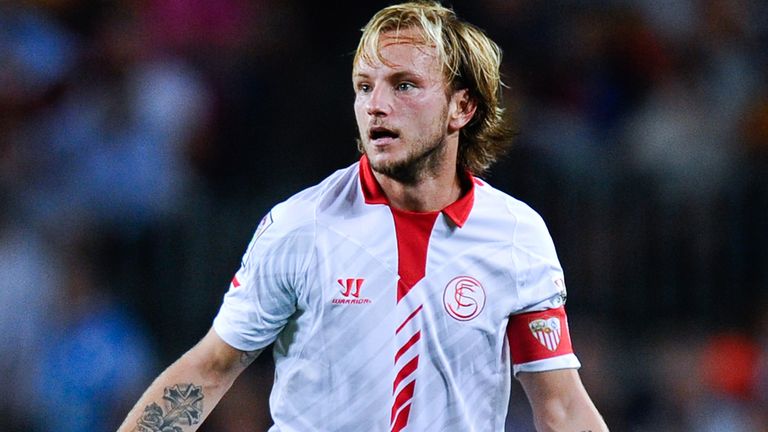 The Croatian midfielder, who is also captain of the club, has had an outstanding campaign for the club thus far and was voted La Liga Player of the Month in January.
He has long been linked with a move away from the club and a host of Premier League clubs are known to be monitoring his situation.
But 25-year-old Rakitic is calm and is going to let his brother, also his agent, sort out talks.
"Very soon my brother is going to come here and we will sit down again to see if we can say anything more," Rakitic told Diario de Sevilla.
"We are getting closer, but I'm not in a hurry as I still have a year and a half (on my contract) left and there's nothing to worry about. We are both working towards the same thing, we're both happy with each other and we'll see what happens."
Rakitic refused to go into details about the size of the offer, with reports suggesting Sevilla are pushing hard to keep him.
"I saw the other day, I don't know how many millions they were supposed to be offering me," he said.
"The club's budget is not the same as it was five years ago, I understand this, I do not want nor could I get up to what Kanoute and Negredo were earning as that was a different time.
"It's not about money, if I feel good I assure you that the number one (option) is Sevilla. There are players who have gone to places that they don't know about, or even where they are in order to get the contract they want and that is not important to me.
"The most important thing is the sporting side, we may have lost ground on fourth place, but personally I am calm because the Levante game was a game we'd only lose once in a hundred times.
"The group is working very well, we have put in an enormous amount of work and the most important thing is to play in Europe."
Manchester United, Liverpool and even Paris Saint Germain are set to be keen, but Rakitic is far from sure leaving Sevilla would be best for him.
"Is it better to be playing there than at Sevilla? You think so? They are teams you can dream of playing for, but the important thing is to feel happy," he continued.
"For me the most important thing is that the club is happy, if one day they come to me and say 'Ivan, now is the moment (to leave)' it would be different. Here everybody is happy, supporting me and in the end we will decide together."