Real Madrid president Florentino Perez has confirmed under-fire manager Rafa Benitez has the full support and confidence of the club.
Real were thrashed 4-0 at home by Barcelona in Saturday's El Clasico, to leave Benitez's side six points behind leaders Barca.
They then slipped to third place in the La Liga table on Sunday when city rivals Atletico won 1-0 at Real Betis.
Perez faced the media on Monday evening to clarify the position surrounding his manager, after earlier holding a board meeting, and he said: "We analysed the sporting situation and I want to inform you that our coach Rafa Benitez has our full support and our full confidence.
"He was picked for his professionalism, his achievements, his experience and his ability. Rafa has just started his job here, let him keep working and he will achieve his objective.
"He has a good relationship with the players and he has a good relationship with the board and with me.
"But I only talk about this moment. I cannot say what will happen in the future. No-one can say what will happen in six months."
Spanish football expert Guillem Balague had earlier told Sky Sports News HQ he believed Perez would offer his support to Benitez and after the vote of confidence, Balague questioned whether the vote of confidence was as concrete as it might have sounded, given the lack of long-term guarantees.
He said: "It's interesting for starters that he needs to say that. Even though he (Perez) says it was the board that was actually offering it's backing, it's quite clear this is a club run by one person - Florentino Perez - and he decided the thing to say now is Rafa Benitez has got the full backing of the club.
"He did exactly the same two months before he sacked [Carlo] Ancelotti, backed him. And at that point he was quite clear that Ancelotti was about to leave.
"What it looks like, is that he has to say that, as he said in his press conference, Rafa Benitez has just started his job.
"He's added something, a line that is a bit mysterious, which is that Real Madrid have been on a downward spiral since January, suggesting that some of the problems started with Ancelotti.
"Real Madrid have got an easy calendar in the next three games, and it's a good time to get points, to get the unity of the club which is something Florentino Perez has asked of the fans of Real Madrid.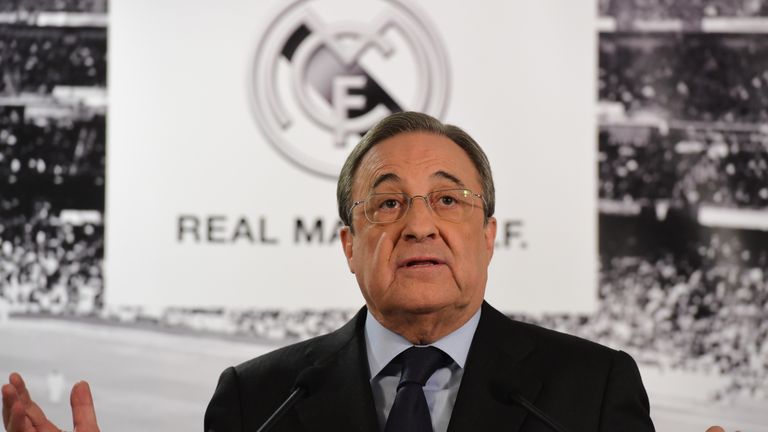 "Why hasn't he said drastically, actually we want Rafa Benitez to stay for the three years of his contract - he hasn't said any of that as no one knows what will happen six months down the line."
Real face a tough trip to Ukraine to face Shakhtar Donetsk in the Champions League on Wednesday before they take on Eibar - live on Sky Sports - on Sunday.
Watch Eibar v Real Madrid on Sunday. Coverage begins on Sky Sports 2 at 2:55pm.