It was not supposed to be like this.
Zinedine Zidane's return to Real Madrid in March, just nine months after his departure, was supposed to signal the end of an alarming slide.
The man who masterminded an unprecedented run of three consecutive Champions League triumphs was back. The hope, the expectation, was that the real Real Madrid would follow him.
Last season finished on a sour note, with Madrid winning only one of their final five games. But there was an understanding that the squad needed work and another round of lavish investment followed. Paul Pogba did not arrive. Nor did Kylian Mbappe or Neymar. But the money spent still topped £250m, with Eden Hazard - long coveted by Zidane - the headline addition.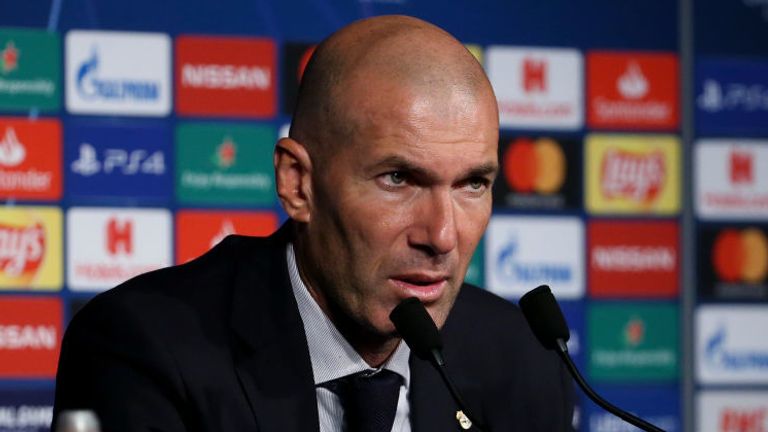 On Wednesday night in Paris, though, a season that had started awkwardly descended into full-blown crisis.
Real Madrid were not just beaten, they were humiliated.
Paris Saint-Germain, without Neymar, Mbappe or even Edinson Cavani, ran out 3-0 winners at the Parc des Princes and it could easily have been worse. For the first time in a Champions League game since Opta started taking records in 2003/04, Real Madrid did not even muster a shot on target.
Zidane pulled no punches on his team afterwards - "Clearly," he said, "they were better than us in every department" - and nor did the Spanish press.
"You can't go through Europe like this," read the front cover of Marca, adding that PSG had "slaughtered" a Madrid side "made of glass". "Without soul," screamed AS, beneath an image of Karim Benzema with his head in his hands. Real Madrid had been "run over," according to Sport.
Their decorated former midfielder Rafael Martin Vazquez, speaking on Spanish radio show Radioestadio, went further.
"El Real Madrid está muerto," he said.
Real Madrid is dead.
A future full of worry?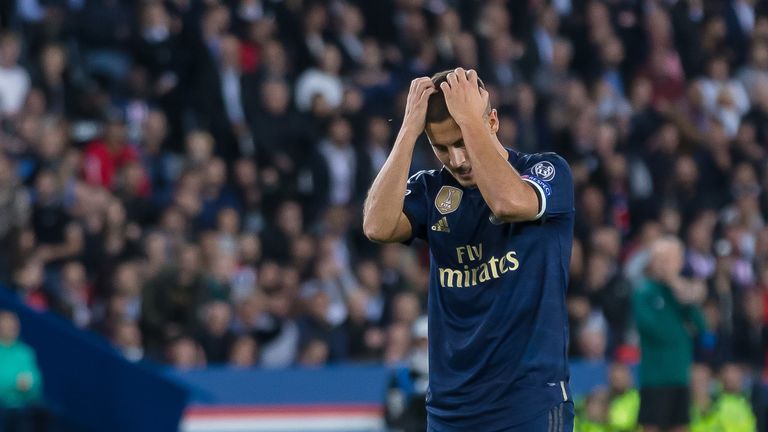 It is, perhaps, a little early for the last rites.
There are still five Champions League group games left to play, plenty of points still to be won and plenty of opportunities to rectify what happened on Wednesday night. But there is no escaping that Zidane's position suddenly looks vulnerable, or that Real Madrid's future is full of worry.
Did the summer rebuilding job go far enough? On this evidence, the answer is no. Real Madrid's squad is a blend of new signings struggling to adjust to their new surroundings and old heads who look jaded, their legs heavy after years - in some cases more than a decade - of service.
Clearly, they were better than us in every department. What upset me is that we did not put enough intensity in the game and at that level of competition, that's not possible.
Sergio Ramos and Marcelo remain pillars of the defence, but at 33 and 31 respectively, they are showing their age. Real Madrid are yet to keep a clean sheet in five games this season and the run stretches to 10 when you factor in last season. PSG put three past them and so did Real Sociedad. Levante, Real Betis and Villarreal have all netted twice.
The same issues are apparent in midfield. Zidane allowed Dani Ceballos and Marcos Llorente to leave for Arsenal and Atletico Madrid respectively in the summer, but Luka Modric has just turned 34 and Wednesday night was a stark reminder of Madrid's lack of bite in the centre of the pitch. Toni Kroos, James Rodriguez and Casemiro were overrun and it was not the first time.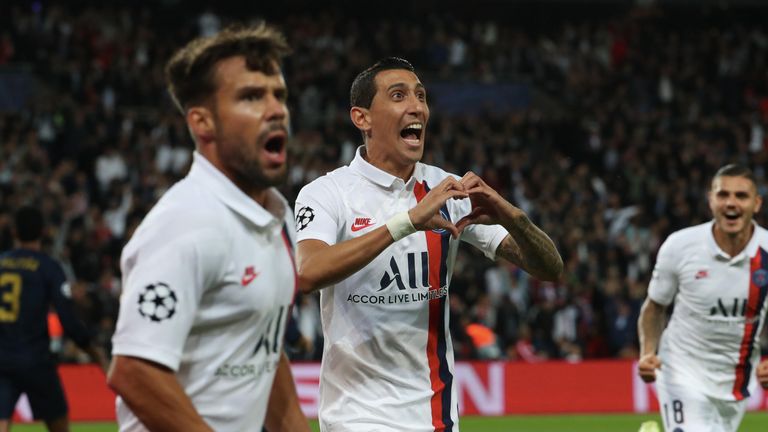 In front of them, the shadow of Cristiano Ronaldo still looms. The feeling at the time was that his departure suited all parties, but Real Madrid miss him badly - not just for his goals but for his gargantuan presence in the side. As it stands, there is not a match-winner close to his level.
It does not help that Hazard has made a muted start to life at the Bernabeu. The Belgian began pre-season training amid accusations that he was out of shape and duly suffered a thigh injury before Madrid's opening game against Celta Vigo. On the evidence of his full debut on Wednesday night, he still has work to do to get up to speed.
Another worry is that the young players chosen to succeed Real Madrid's fading stars elsewhere in the team appear to be struggling with the step up. Left-back Ferland Mendy, a £43m signing from Lyon, has earned praise for some of his performances in La Liga, but he struggled badly against PSG and so too did Eder Militao, the £45m centre-back from Porto.
Rodrygo's £40m arrival from Santos prompted predictable comparisons with Neymar but it is unrealistic to expect an immediate impact from an 18-year-old, while the £54m Luka Jovic, who scored freely for Eintracht Frankfurt last season, is yet to convince. In his only start, against Villarreal, he was hauled off for Modric when Madrid still needed a goal.
Gareth Bale and an uncertain summer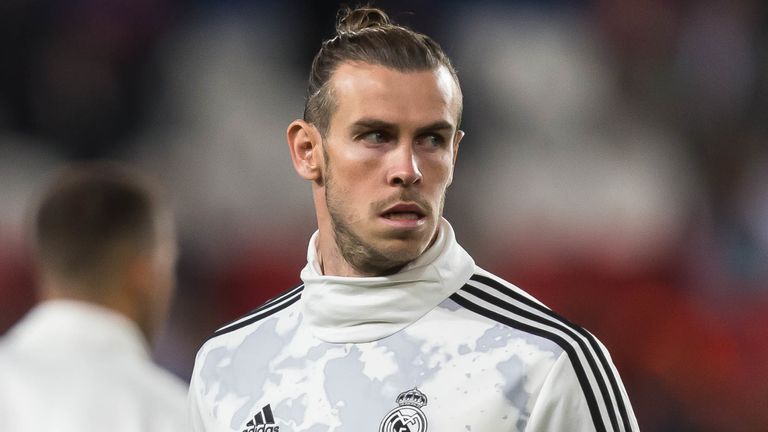 Zidane's success during his first spell in charge was built on strong relationships with his players. "Managing a group is not easy but it's a part of the job I like," he told Sky Sports during a visit to their Valdebebas training base in March 2017. The Real Madrid dressing room is in infamously difficult place to master, but Zidane was careful to keep everyone happy.
Well, almost everyone.
Zidane's departure was seen as good news for Gareth Bale, who made his frustrations with the manager clear after his two-goal heroics in the 2018 Champions League final win over Liverpool in Kiev, but the bad blood returned this summer, when the Frenchman went public in his efforts to force Bale out of the club.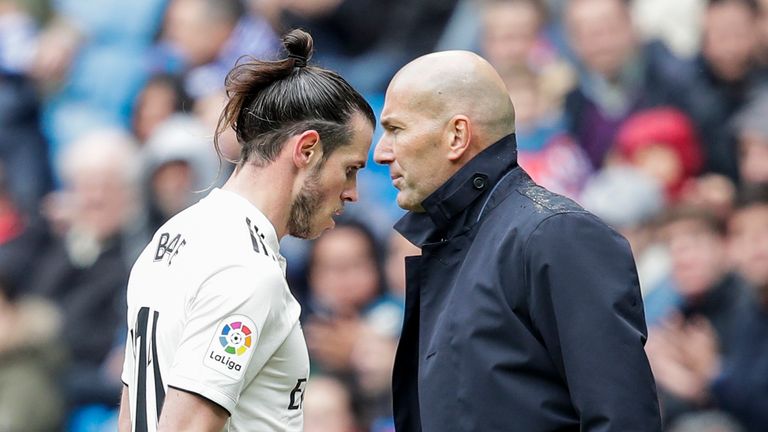 "Let's hope, for everyone's sake, that it happens soon," he said in July.
The comments sparked a furious reaction from Bale's agent, Jonathan Barnett, who branded Zidane a "disgrace", but when a proposed move to China collapsed and no other forwards arrived, Zidane was forced into an about turn. He has since described Bale as an "important player". Bale, though, has admitted he is "not playing happy".
It is far from ideal for a manager who places chemistry and cohesion near the top of his managerial priorities. And while it may have seemed unthinkable only a couple of months ago, there is now a distinct possibility that Bale could outlast the man in the Bernabeu dugout.
Real Madrid's humiliation in Paris continued a worrying slide.