Real Madrid president Florentino Perez praises new signing Isco
Real Madrid president Florentino Perez has hailed new signing Isco as one of the best players in the world.
Last Updated: 03/07/13 1:32pm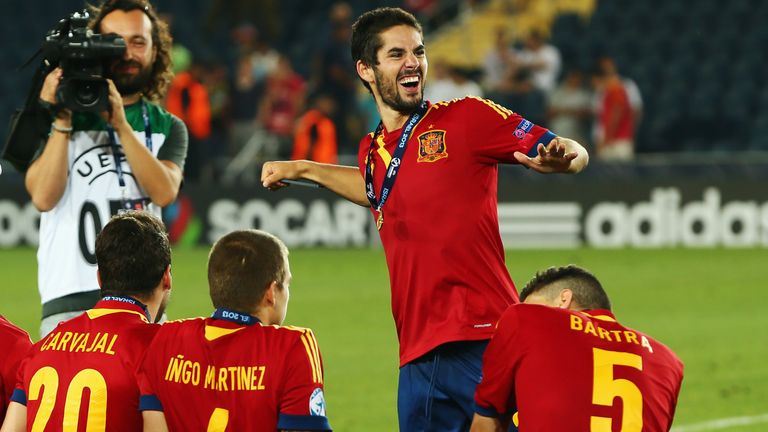 The former Malaga playmaker was unveiled on Wednesday in front of thousands of fans at the Santiago Bernabeu stadium.
The midfielder, who joins Madrid for a reported 27million euros (£23m), is the club's third signing of the summer, after the returning Dani Carvajal from Bayer Leverkusen, and Casemiro from Sao Paulo.
Perez declared the 21-year-old was signed because he fits in with new coach Carlo Ancelotti's plan to "offer the best football possible".
He said: "We always look to bring the best players in the world to this club.
"We need players that respond to the very high level that this club demands and who are conscious of the large responsibility that comes with wearing this shirt.
"Therefore we are glad to present Isco as our player. We have signed a player who at just 21 years of age has already amassed a loyal following of fans due to his high quality. He's still a young player but he has shown he is prepared to compete at this level.
"He was named the Golden Boy in 2012, and has played for the Spain first team. He showed us what he was made of at the Under-21 European Championships, which he and his team-mates won for Spain, and he was a key player in Malaga's historic Champions League campaign last season."
The Golden Boy award is for the best young player in Europe. It was established by Italian newspaper Tuttosport and is voted on by sport journalists.
Perez added: "Isco, you arrive at a club which doesn't accept the word impossible, but we believe in you, your talent and your class. Here you are going to find unique footballers but also excellent team-mates."
Isco, who has signed a six-year contract with Madrid, declared: "I want to thank the efforts of the president in bringing me here. I have to say that for a player there is nothing bigger than being at Madrid, it is the best feeling, and I hope to enjoy myself here and make everyone happy here."