Barcelona chief Sandro Rosell anger at voting for Ballon d'Or
Barcelona president Sandro Rosell has lambasted FIFA's decision to change the voting rules for the Ballon d'Or.
By Lucas Brown
Last Updated: 21/11/13 7:53am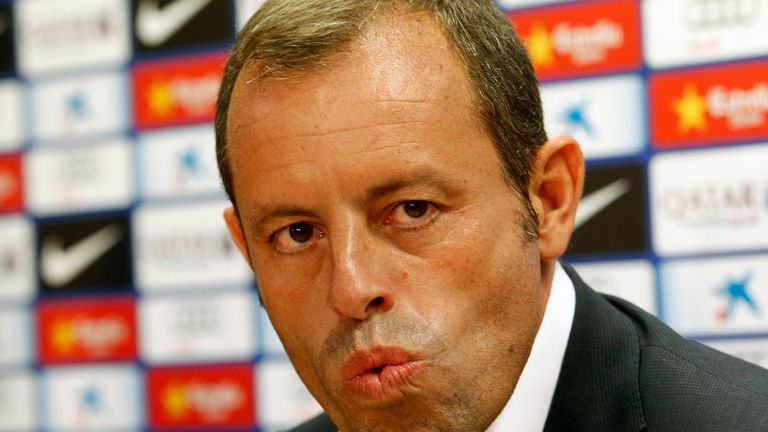 The Barcelona president is unhappy that football's governing body not only extended the voting period, but also allowed votes to be changed for the first time ever.
The original deadline was November 15th, but this has now been extended to November 29th.
Messi was level-pegging as favourite to win the gong along with Real Madrid star Cristiano Ronaldo, but the new rules were announced on the same day that the Portugal star netted a vital hat-trick for his country in a World Cup play-off tie with Sweden.
"If all the lobbying is ignored, the Ballon d'Or will go to Messi," Rosell said at the Golden Shoe presentation.
"First I would vote for Messi. Second would be Messi and third, Messi. Then I would vote for Xavi and [Andres] Iniesta, and in sixth place, [Sergio] Busquets."
FIFA have been accused of backtracking in some quarters after president Sepp Blatter stated that he would prefer to see Messi win again ahead of Ronaldo.
"One has more expenses for the hairdresser than the other," Blatter joked last month.
"But this is the other side of football and it is good to have commanders on the field also. So I cannot say who is the best. The public will make the choice.
"I like both of them, but I prefer Messi."
Messi won the Golden Shoe after scoring 46 goals in 32 Spanish league games last season, but will have some way to go if he is to win the trophy again this season after tearing a muscle in his thigh.
"He is happy and still smiling," Rosell added, when asked about Messi's progress.
"He will return to action the same, if not better. He will, though, only return when he feels right and we are not setting a date for his return."