Manchester United forward Alexis Sanchez has completed a loan move to Inter Milan until the end of the season.
Sanchez arrived in Milan on Wednesday and underwent medical tests ahead of sealing a loan move to the 18-time Serie A winners.
United will cover £6m of the former Udinese, Barcelona and Arsenal player's wages, Sky Sports News has been told.
The deal does not include an option to buy, which means, if Sanchez were to rediscover his form in Italy, United could demand a bigger fee for the Chile international at the end of his loan.
Sanchez, who joined United from Arsenal in a swap deal involving Henrikh Mkhitaryan in January 2018, has scored five goals in 45 appearances since moving to Old Trafford.
United were without Sanchez during pre-season because he was representing Chile at the Copa America. He scored twice in six games at the tournament held in Brazil as his country secured a fourth-placed finish.
With Alexis Sanchez joining Inter on loan after an unsuccessful spell at Manchester United, Adam Bate drills down into the numbers to work out where and why it all went wrong for the Chilean forward who many tipped to succeed at Old Trafford after impressing at Arsenal.
The best-paid player in the Premier League departs having scored only three goals in the competition since his transfer in January of last year. Supporters had long accepted that this was a move doomed to fail but there is still confusion as to why.
Sanchez got more goals than assists in each of his seasons at Arsenal but that statistic was reversed in both of his campaigns with United.
At Arsenal, he had a shot more often than he created a chance for a team-mate. At United, he created a chance for a team-mate more often than he had a shot. It was an inversion of what had made him such a good player.
Hope faded long ago. Last season, Sanchez actually lost possession less often than ever before. In part, that's because he stopped dribbling.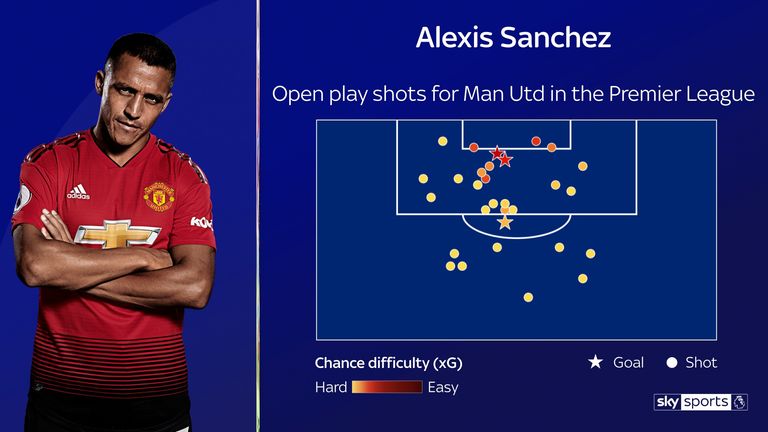 The man who had built his game on being the man to make things happen abdicated that responsibility. Wenger, the coach who trusted him more than anyone, identified a lack of belief as leading to him becoming cowed.
At United, he will not be mourned. He departs as just another disappointment - albeit an expensive one. Another example of the malaise that has gripped the club. Inexplicable?
There were reasons, clues why this was not a good fit, and more could have been done to make it work. But nobody could have foreseen quite how badly Sanchez's move would go.