Joe Hart to Torino: British players in Serie A share their memories of Italy
By Adam Bate
Last Updated: 30/08/16 4:35pm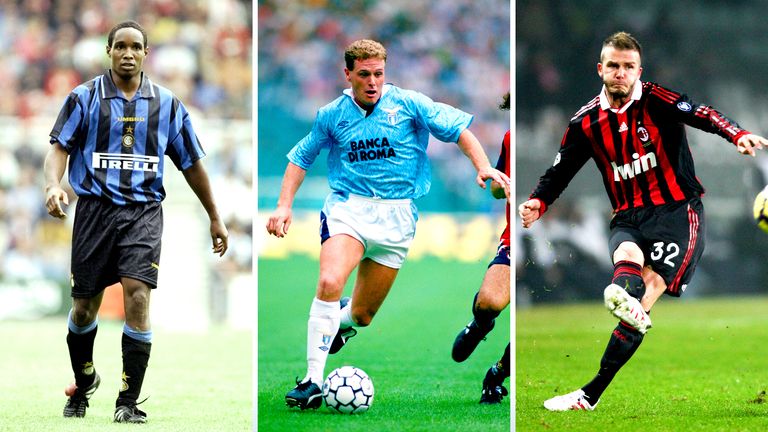 It's a familiar complaint that top British players do not test themselves abroad and it's telling that Joe Hart will become the first English goalkeeper to appear in Serie A since the league began in 1929/30.
However, having introduced the game to the world, the history of British influence in Italian football is extensive. From James Richardson Spensley and Willy Garbutt's early achievements with Genoa, it's a rich tradition.
Welsh great John Charles became a footballing icon in Italy as a result of his performances for Juventus from the late 1950s, while Jimmy Greaves and Denis Law both had spells in Serie A during the early 1960s.
Another wave of big names made the trip out to Italy in the 1980s with the likes of Ray Wilkins, Trevor Francis, Graeme Souness and others taking their talents to what was then the strongest league in the world.
The ban on English clubs in Europe also proved a catalyst with Ian Rush, David Platt and Paul Gascoigne all making the move. More recently, Hart's former England team-mates David Beckham and Ashley Cole have played for Milan and Roma respectively.
So what can Hart learn from the experiences of his predecessors? Here, we pick out some choice advice for the England goalkeeper ahead of his season-long loan with Torino…
Ray Wilkins (AC Milan)
"You have to fend for yourself a hell of a lot. I think 27 was a good age to go because I had all the experience on the planet having played around 50 times for my country at that time. So I wasn't walking into something that was totally new to me, instead it was something that I could embrace."
Ian Rush (Juventus)
"Without doubt I would recommend the experience to any young player. It was the best thing that happened to me. People say it was a disappointing year but it wasn't. I was top scorer for Juventus; I learned so much about football; I learned about the culture of Italy. It was the best thing I ever did."
Trevor Francis (Sampdoria & Atalanta)
"Having already been there in Italy with Juventus, Liam Brady could speak Italian which was helpful. Liam moved on after two years and I took over his role then with Graeme Souness in terms of helping Graeme. It was good to have an English-speaking person there as the other foreigner."
Gordon Cowans (Bari)
"When we landed at the airport there were around 5,000 Bari supporters there. It was absolutely potty. We couldn't walk through the airport because there were people grabbing us and kissing us. It was a huge shock just how much it meant to them that we were coming to join the club."
Lee Sharpe (Sampdoria)
"I absolutely loved it. Both the city and the training ground were fantastic. I was in an apartment for a couple of months but unfortunately not many of the players spoke much English. So the language barrier was a bit of a problem."
Luther Blissett (AC Milan)
"I've got no regrets whatsoever about going to Italy. None. For your football education it's great and whatever happens you will learn from it and come back a better person and a stronger person. You learn from it whether you do well or not."