FIGC investigates Lazio 'ultras' flyers wanting women banned from Curva Nord
Last Updated: 23/08/18 2:02pm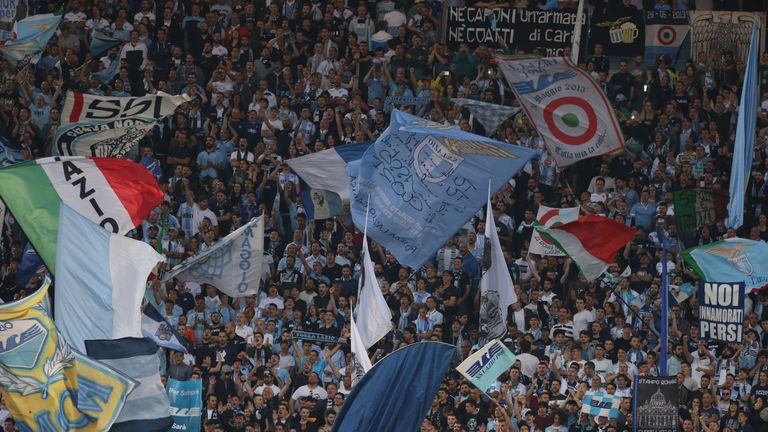 The Italian Football Federation (FIGC) has opened an investigation into leaflets handed out by a group of Lazio fans seeking to ban women from a section of the Stadio Olimpico.
Lazio's "ultra" fans handed out the controversial leaflets at the gates of the stadium ahead of the club's opening Serie A game last weekend against Napoli.
The flyers said the Curva Nord section of the stadium, where the Ultras congregate, "represents for us a sacred space" and asked women to avoid using the first ten rows.
"The first few rows, as always, have been experienced like the trenches," the flyers read.
"In the trenches, we do not allow women, wives and girlfriends, so we invite them to position themselves from the 10th row back."
The flyers concluded that "those who choose the stadium as an alternative to the carefree and romantic day at the Villa Borghese [one of the main parks in Rome], should go to other parts".
Lazio distanced themselves from the latest incident of discrimination by fans, which has been a persistent problem in recent seasons.
Club spokesman Arturo Diaconale told Italian news agency Ansa on Sunday that "it is not the position of the club, we are against any discrimination".
He added: "Moreover, there is an enormous number of Lazio fans, this instead is an initiative from a few fans. We can't always intervene to avoid politically incorrect displays like this."
Some Lazio fans caused outrage last season when they littered the Stadio Olimpico in Rome with images of Anne Frank - one of the most discussed Jewish victims of the Holocaust - wearing a jersey of city rival Roma.
Lazio were fined €50,000 (then £44,916) by the FIGC because of the anti-Semitism displayed by the team's fans.