Bayern Munich captain Philipp Lahm feels they are better side after final defeat
Bayern Munich captain Philipp Lahm is convinced they are a better team since losing last year's Champions League final.
Last Updated: 22/04/13 4:58pm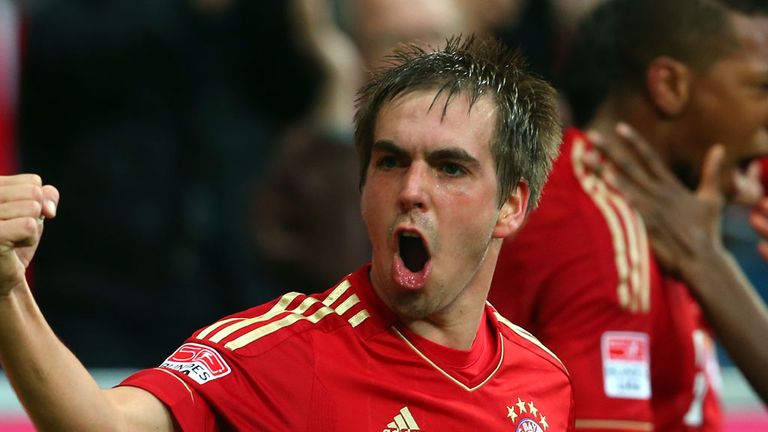 Chelsea won the penalty shoot-out 4-3 after the match had finished 1-1 after extra-time but Bayern have bounced back and will face Barcelona in the semi-final of this year's competition.
The first leg takes place in Germany on Tuesday and with Bayern having already won 26 of their 30 home games as they romped to the Bundesliga title, confidence in the camp is high.
Arsenal proved they are not infallible at home though, after they secured a 2-0 victory at the Allianz Arena to draw 3-3 on aggregate in the last-16 of the competition, although the Gunners were knocked out of the Champions League on away goals.
"It was a huge disappointment to lose the final at home, but we see we have learnt from that and come back much better, especially in this season's Champions League," said Lahm.
"We have just developed further and strengthened our squad over the summer.
"Everyone in the squad can come in and give a performance. I think that is what has helped us."
Bayern are still waiting to see if Barcelona talisman Lionel Messi will be fit to play as he continues to struggle with a hamstring injury that saw him miss Saturday's 1-0 win over Levante in La Liga.
The Argentina international galvanised the team after coming off the bench as they drew 1-1 with Paris Saint-Germain in the second leg of their quarter-finals to advance on away goals but Lahm insists they will respect Barca whether Messi plays or not.
"Messi is the best player in the world, with him Barcelona play better and we saw that when he came on against PSG, you could see his involvement," added Lahm.
"When he's on, the standard goes up, but Barcelona aren't just about Messi. I don't really care who we face, they are all top players.
"We have to prove ourselves and show what we can do, we want to win here and go on the attack. We have the right types of players who can take on Barcelona and hurt them."