The next Arjen Robben? Better than his dad? A soon-to-be Premier League player? Justin Kluivert has been making a name for himself at Ajax. James Walker-Roberts looks at what the future might hold for the 18-year-old...
What's in a name? For Justin Kluivert, a lot. There's a lot of history - it is not that long ago that his father Patrick was a prolific striker for Ajax, Barcelona and the Netherlands - and a lot of expectation. There's also potentially a lot of pressure, although perhaps not in this case.
Read any interview with Justin Kluivert where he is asked about his father and the tone of his answers are always the same - he's proud of the name, he's motivated by it, and he wants to live up to it.
"I want to keep the Kluivert name high. I'm going to the top like my father," he told Dutch newspaper Algemeen Dagblad earlier this year. "Maybe it will be a bit less, maybe better."
A bit less would be impressive. Better would be remarkable. But expectations are high not only because of the Kluivert name, but because of the 18-year-old's positive start to his career.
Justin Kluivert's Eredivisie career
| | | | |
| --- | --- | --- | --- |
| 2017/18 | 19 (3) | 6 | 4 |
| 2016/17 | 14 (7) | 2 | 4 |
A graduate of the Ajax academy, Justin has broken into the first team at an early age, just like his father. He made his Eredivisie debut in January 2017, aged 17, and featured in the Europa League as Ajax reached the final last season. He did not play in the final against Manchester United, but tongues were wagging after he was pictured in a conversation with Jose Mourinho after the final whistle.
While apparently it was innocent - Mourinho was an assistant at Barcelona when Patrick Kluivert played there, so there is a connection - it has been reported this year that Manchester United are interested in Justin, who has started 16 of Ajax's 23 Eredivisie fixtures this season. But it appears a move may have to wait. "I have heard the rumours but I haven't spoken to Mourinho," Kluivert told Algemeen Dagblad in early February. "A move to Manchester United wouldn't make sense, for now."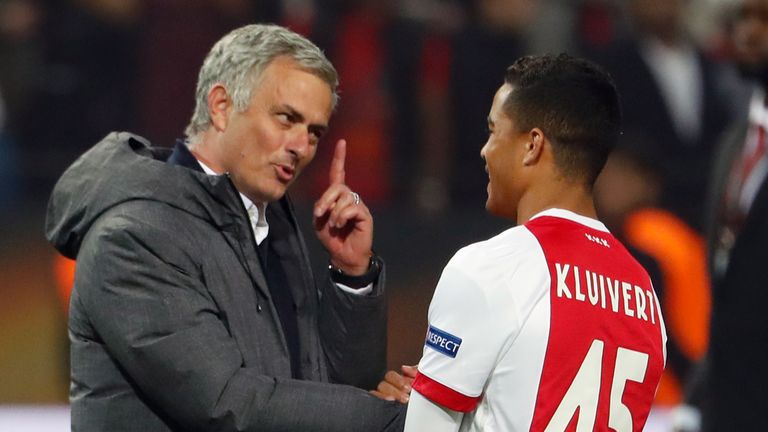 Just this week, Kluivert was asked about his future again by Dutch publication Helden. "England appeals to me. Arsenal, Tottenham, Chelsea or Manchester United are nice clubs where I can see myself playing in a few years' time." He added that Barcelona are also in his "heart" due to his father's links with the club.
He might carry the same name, but Justin is not the same player as his father. While Patrick was a physically-imposing striker, his son is much shorter, slighter, and a winger. Former Ajax boss Peter Bosz said last season: "At the moment, and he is still really young, I think his best position will be the wide positions. He can play both sides, which is also interesting. But, for the moment, not as a number nine."
Kluivert told The Independent that his best qualities are that he is "quick" and "flexible". Watch him in action and it is his pace and skill that first come to the attention. His first goal in his hat-trick against Roda JC in November showcases his strengths as his first touch takes him inside a defender and then he bursts around another player before finishing into the bottom corner. Kluivert has scored six goals this season in the Eredivisie, including the hat-trick against Roda, and created four assists.
Former Ajax academy coach Ruben Jongkind worked with Kluivert as a youngster and explains how his game has developed. "I started working with him as a coach when he was nine or 10 and he was already very talented and a good dribbler," he told Sky Sports.
"However, when he was playing in the U14s and U15s he was quite late to mature so myself and Wim Jonk [then as managers of the academy] convinced our coaches to put him in the squad although they wanted to keep him out too often. His play then was a bit too predictable so we worked on this through an individual plan and individual sessions through which he not only went to the inside but also could go on the outside and practised his finishing with both feet.
"He had to play both on the left side, the right side and on the midfield. Furthermore we gave him a tough physical programme conducted by our performance coaches to help him to understand what it means to be a professional player."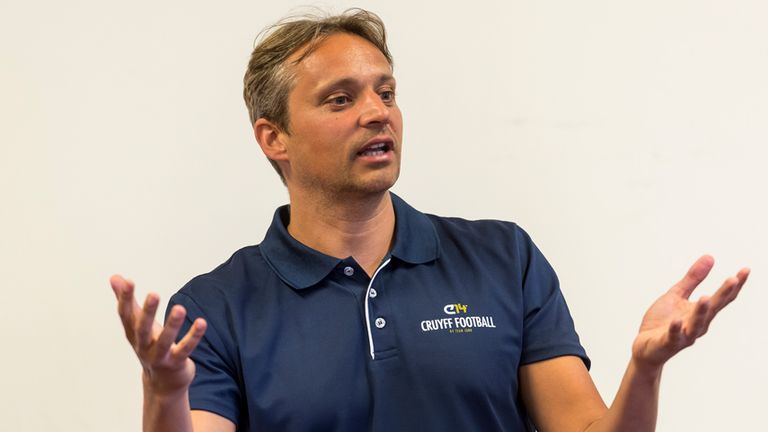 He is not an average kid who likes to be told what to do, he has his own ways
Kluivert's rise from youth team to first team at Ajax has been quick. He signed his first professional contract at the age of 16 and was soon moving up through the youth teams before making his first-team debut in 2017.
"He has developed very well," says Jongkind. "He is a player who needs to be challenged. In my experience, if he doesn't get a challenge he gets bored. I always liked his character, because he is not an average kid who likes to be told what to do, he has his own ways and that is good.
"It is up to the coach to use his strengths and offer him enough challenges to keep progressing."
He has faced challenges this season. In October, for example, he was dropped to the bench as new head coach Marcel Keizer preferred to start Kasper Dolberg.
"The coach chose Dolberg, I must respect that," Kluivert told Ajax1. "I had a conversation with him and he indicated that he wanted to try Dolberg on the left. If the coach wants it, that's his decision. It is up to me to work even harder so that he chooses me next time."
When Kluivert was restored to the team he grabbed an assist in an 8-0 thrashing of NAC Breda and followed up with a hat-trick against Roda and a goal against Twente in the next two games.
While Kluivert has progressed quickly at Ajax, it still looks be the ideal place for him to develop further. It is a club that is renowned for producing and developing young players. A club that has, in the last few seasons alone, nurtured and sold the likes of Davinson Sanchez, Davy Klaassen, Daley Blind and Christian Eriksen.
So how does Kluivert compare to Ajax's promising youngsters over the last decade?
"He is a special one," Dutch journalist Milan van Dongen told Sky Sports. "People have said he could be the next Arjen Robben. He has something special. He is definitely among one of Ajax's top youth players of the last 15 years."
He is a special one. People have said he could be the next Arjen Robben. He has something special.
Other players to come through the Ajax youth system in the last 15 years include Wesley Sneijder, Rafael van der Vaart, Eriksen and Blind.
Former Dutch international Youri Mulder told Ziggo Sport: "Kluivert can be just as good as Arjen Robben. He has amazing acceleration and can make things happen when he's on the ball. That makes him difficult to stop."
Whereas once Ajax might have had to sell their promising young talents to raise funds, now they have no financial requirement to sell. If they do, it is likely Kluivert would command a large fee. But Van Dongen thinks he will be better served by staying where he is for at least another season.
"It's not the right time, if he went to a top Premier League side now he would not make the starting XI," he says. "He is too young for that and he won't get a real chance. He needs to stay at Ajax for at least one more year then he might be able to compete in the Premier League, but he will not make it if he goes now. Maybe in a few years."


Kluivert is currently under contract with Ajax until 2019, and it is expected he will renew, although nothing has yet been signed. It's also worth noting that he is also managed by the agency of Mino Raiola, who has overseen several transfers involving Manchester United in the last few years, including Paul Pogba's move from Juventus and the recent swap deal involving Henrikh Mkhitaryan and Alexis Sanchez.
Van Dongen thinks Ajax will try to keep Kluivert for "as long as possible", which might be beneficial for both parties. While some, like Timothy Fosu-Mensah, who was signed by Manchester United from Ajax as a 16-year-old, do get opportunities in the Premier League, there are numerous of others who move too young and don't make the grade.
Even Patrick Kluivert's first move did not work out as he spent just one season with AC Milan after leaving Ajax in 1997. Then came Barcelona and the rest is history. After a positive start to his young career, Justin now has a chance to make his own history.