Violent clashes between West Ham and Chelsea fans at the London Stadium on Wednesday night will be investigated by the Football Association.
The Metropolitan Police made seven arrests after West Ham's 2-1 EFL Cup win and said they would "work tirelessly to identify people involved and bring them to justice", while the Hammers vowed to ban any fan implicated in the disorder.
Both sets of fans threw missiles across a segregated area of the ground before breaking through security and clashing along a walkway at the top of the Sir Trevor Brooking Stand. Police in riot gear managed to quell the disorder as the match concluded.
The FA will ask both clubs for their observations before assessing evidence and deciding whether to bring any charges.
A West Ham statement read: "West Ham United and London Stadium partners unreservedly condemn the behaviour of individuals involved in incidents during this evening's fixture with Chelsea.
"Whilst quickly brought under control, the club, in line with its clear zero tolerance policy, will work closely with London Stadium 185, the Metropolitan Police Service and Chelsea to identify the individuals involved.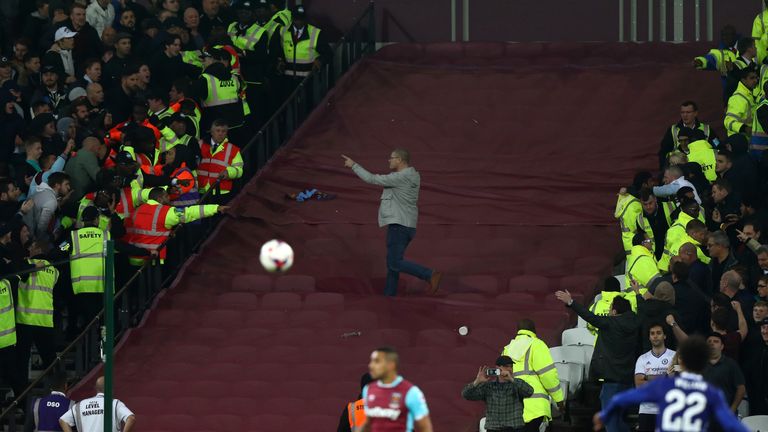 "Once identified, those found to have acted improperly will be banned from attending any West Ham United fixtures for life and we will request the courts serve banning orders to prevent these individuals attending any other football."
A Chelsea spokesman added on Wednesday night: "The club is extremely disappointed to see disturbances at the end of tonight's game and we condemn such behaviour.
"It would be inappropriate to comment further until tonight's incidents have been investigated properly."
West Ham manager Slaven Bilic described the scenes as "unacceptable" and Chelsea head coach Antonio Conte expressed his disappointment.
Commander BJ Harrington of the Metropolitan Police said: "Although the vast majority of people left the stadium peacefully and were well behaved, there were a minority of people who attended the match that were clearly intent on being involved in confrontation and violence.
"We welcome the condemnation from partners and have already started a post match investigation."
Sky Sports News HQ's chief news reporter Bryan Swanson was at the game, deemed high risk by the police due to the history of violence between both sets of fans.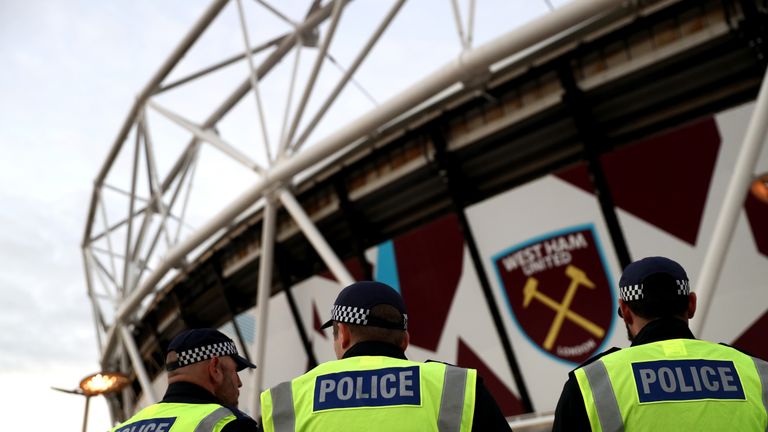 He said: "What this did is quite graphically illustrate that the segregation promised at this match will be questioned by the authorities, the clubs and police.
"For whatever reason, there seemed to be a slow response and that's why it escalated so quickly.
"This was always billed a high-risk match. The police said there would be robust policing inside the stadium and West Ham were at pains to say they wanted this game to be trouble-free. They urged every supporter to be an ambassador. It will raise questions about why there was that coming together of supporters on the walkway."
There has already been violence involving West Ham supporters outside their new stadium at Stratford following the recent Premier League games against Watford and Middlesbrough.
Nine arrests have been made outside the ground since the beginning of the season, while West Ham have issued 23 banning orders for offences ranging from drinking in view of the pitch to breaking the line of segregation.
You can watch Premier League football, plus England's tour of Bangladesh and the Mexican Grand Prix on Sky Sports. Upgrade now and enjoy six months at half price!