Lack of tempo and cohesion sees Manchester United exit Champions League
By Will Unwin
Last Updated: 14/03/18 2:20pm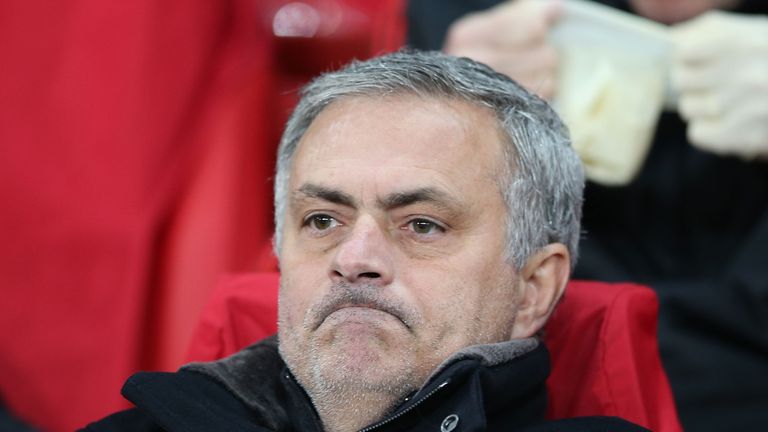 Jose Mourinho has made a career out of being pragmatic but on Tuesday against Sevilla, his selection of Marouane Fellaini looked like a case of overthinking the occasion and set his team's downfall on a miserable night for Manchester United.
The Belgian started his first game for Manchester United since the end of November, something which looked evident in the opening stages. Fellaini's cameo against Liverpool on Saturday will have convinced his manager he could be the man to add discipline to his team in an evenly-poised Champions League game, although it was a ruse.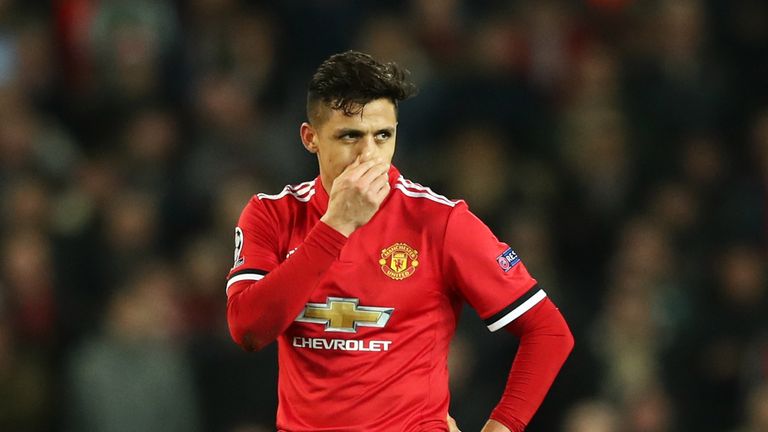 Fellaini set the tempo, unfortunately for United, it was a slow one. The home team offered Sevilla as much space as they liked early on, rarely closing down Ever Banega and Steven N'Zonzi, allowing the Argentine to make 49 successful passes in the first half alone, 21 more than any United player.
United struggled to get hold of the ball and when they did gain possession the intention was to send long passes to Fellaini or his compatriot Romelu Lukaku to challenge for headers or hold it up, although as they were playing at such a slow pace Sevilla were rarely tested by this style.
In theory, Fellaini being alongside Nemanja Matic would allow the front four of Jesse Lingard, Marcus Rashford, Alexis Sanchez and Lukaku the freedom to do the damage required to send United through at the expense of a Sevilla team short on confidence.
The problem United had in midfield was not having a player who could utilise the ball in key areas. Without Paul Pogba or Ander Herrera, there was a lack of impetus for a team who must have felt they would not be troubled by their Spanish opponents.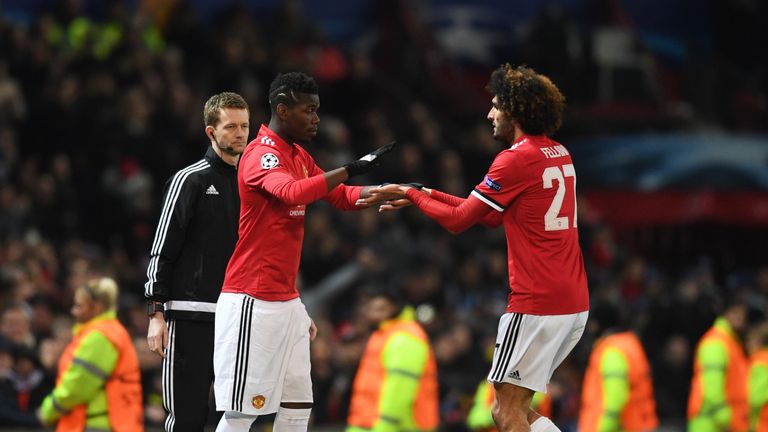 There were faults all over the pitch for United, as Lingard failed to make an impact, Rashford looked uncomfortable being moved from the left where he devastated Liverpool to the right, Sanchez is not yet a cohesive part of the United team and gave the impression of making up his own role, while Lukaku struggled with a lack of service, caused by what has been previously mentioned. Over the two legs, United had just four shots on target, a sign of their lack of ambition throughout the 180 minutes.
Sky Sports pundit Charlie Nicholas said: "Sanchez, at the moment, does not deserve to be in the team. It's too individual. He is giving the ball away too often.
"I'm sure a lot of Manchester United fans must be looking and saying 'when is he going to do something for us?'
"He looks as though he is trying hard, but this is Manchester United and you've got to deliver on a game-by-game basis and he is not."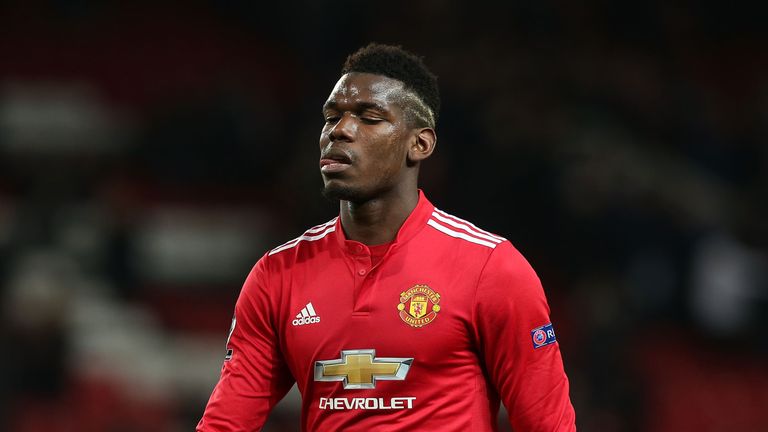 Banega's use of the ball allowed him to set his team away on counter-attacks with the space they were afforded. A saving grace for United was that Luis Muriel was the man who received the ball in the danger zones and the Sevilla winger lacked the composure to give his team the lead, instead hitting a number of tame shots that did not trouble David de Gea, although it was a sign of things to come and United failed to adapt.
It did not help United that N'Zonzi was putting in the sort of performance Mourinho would dream of; the France international held his position to protect his defence, broke up play regularly and used the ball intelligently when he needed to, aided by the Banega's passing range next to him.
The former Blackburn midfielder made the most passes in the game, 94, and 51 of those were in United's half, showing how much freedom he was allowed in a game when he could have expected to spend the night on the back foot. United's left-back Ashley Young was their most prolific passer, making 63 over the 90 minutes.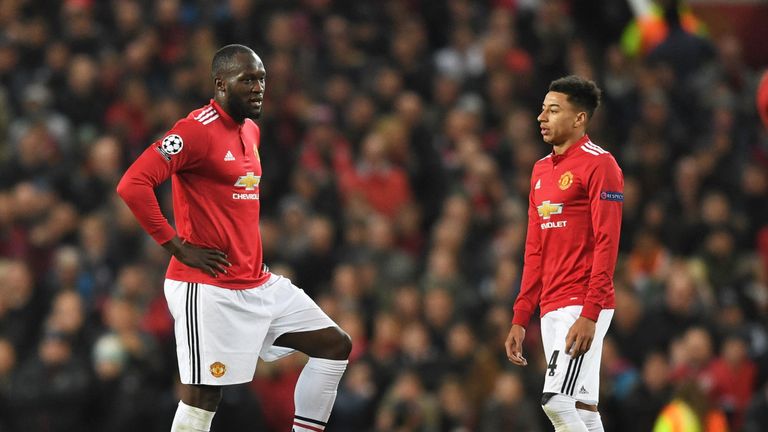 Pogba was brought on to bring some dynamism and quality on the ball with half an hour to go, instead he provided neither, accumulating a passing accuracy of 74.1 per cent.
The France international's arrival was 25 minutes after the fans had begun chants of "Attack! Attack! Attack!" and the proactive style they demanded was not delivered until it was too late, leaving the majority of the 74,909 inside Old Trafford frustrated about the amount of respect shown to a team who lost 5-1 against Eibar in front of 5,311 six weeks ago.
The former Juventus man did not up the tempo upon and the relaxed United team were about to see what a substitution could do to change a game. Wissam Ben Yedder replaced Muriel in the 72nd minute and by the 78th he had two goals and United were heading out of Europe.
The first was a misplaced pass from Antonio Valencia, allowing Joaquin Correa to slide a pass between the United centre-backs for Ben Yedder to latch onto and calmly angle the ball into the corner beyond De Gea. Four minutes later it was the same combination who caused the damage as Correa sent a cross to the back post where his team-mate directed a tame header at goal which De Gea failed to palm over the bar and instead only succeeded in pushing into his own net.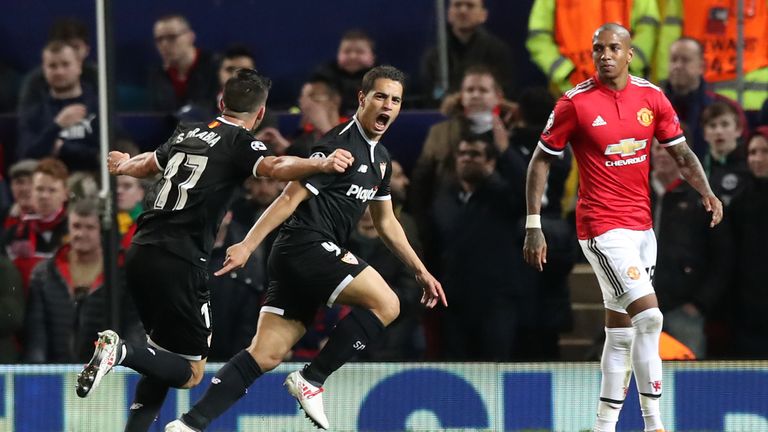 Lukaku pulled one back as desperation set in but United never looked like making sufficient inroads to make it interesting in the closing stages, as fans spilled out of Old Trafford and their team exited the Champions League.
In David Moyes' brief stint as Old Trafford boss his Champions League dream was ended in the quarter-final stage by a rampant Bayern Munich team, four years on Mourinho is left to reflect on being deservedly dumped out by the fifth best team in Spain.
United were not beaten by a better team but they did their best to make it look like they were.