Barcelona boss Ernesto Valverde thinks his side merited the three-goal advantage they will take into the second leg of their Champions League semi-final against Roma.
The Nou Camp has witnessed far more memorable European nights but Valverde's side seem certain to qualify for the last four of the competition for the first time in three seasons after a 4-1 victory.
Own goals from Daniele De Rossi and Kostas Manolas set Barca on their way, with Gerard Pique adding a third. Edin Dzeko appeared to have kept Roma in the tie when he pulled one back late on but they could not prevent Luis Suarez netting his first Champions League goal of the season.
"Football is a game of errors," Valverde said on uefa.com. "You want to make your rivals commit them and to avoid them yourself. We all want our players to be perfect and never make errors but we all do. Even coaches.
"During the season there are all types of games. Ones where you merit more than you get and ones were you get more than you merit. We scored the goals we merited, they attacked us and got the goal they were looking for, which made our fourth very important."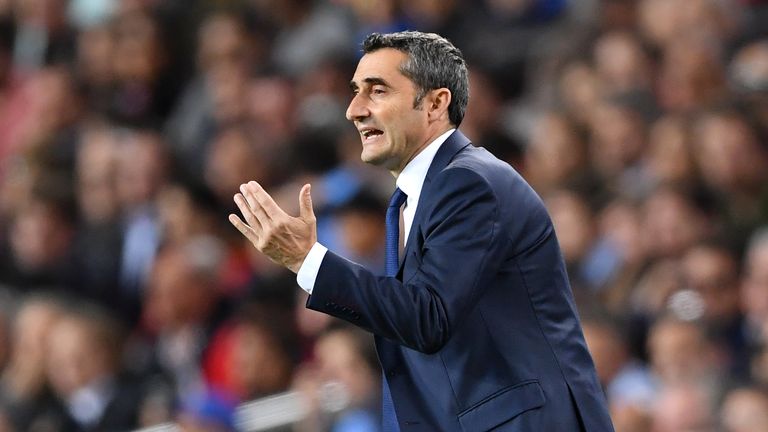 Barcelona have now benefited from five own goals this season, more than any other team in Champions League history, but Pique insisted it is not just good fortune.
He said: "It's not just luck that we get own goals in our favour. Things happen for a reason. I think that if these goals go our way it's because we press high, we push up in attack - the ball is in the opposition area more than usual in other teams' matches.
"We played a terrific game. Probably we'd feel better if we hadn't conceded but we take a decent advantage to Rome."
Roma boss Eusebio Di Francesco felt his side paid heavily for their errors and was disappointed they could not make more of the chances they created.
"I think the result is too harsh given our performance, considering who we were up against," he said.
"We committed small mistakes inside our area and were a bit slow dealing with some situations.
"It's a pity, but we didn't do ourselves justice. We needed to be a bit more clinical because you don't get many chances against Barcelona."
The second leg will take place at the Stadio Olimpico next Tuesday.