Tottenham's Champions League heroics against Ajax reward Mauricio Pochettino's project
Tottenham came from three down to beat Ajax on away goals and progress to a Champions League final against Liverpool
Last Updated: 09/05/19 2:17pm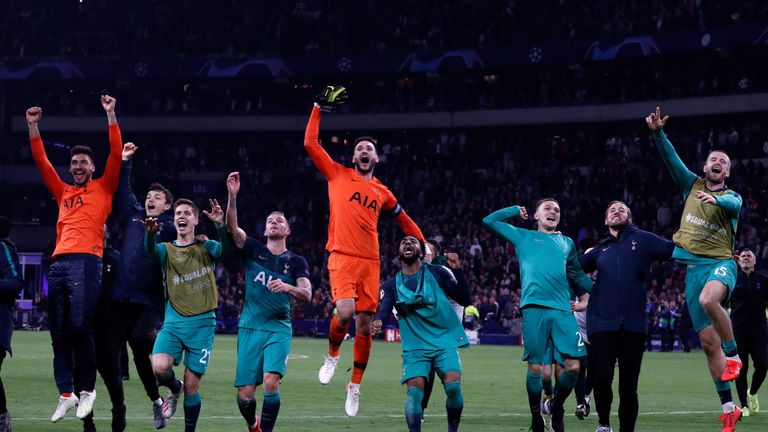 Tottenham's outrageous comeback in Amsterdam was a fitting reward for Mauricio Pochettino's five-year project, writes Adam Bate.
Thank you, football. Those were the words of Mauricio Pochettino afterwards and everyone understood. After Liverpool turned around a three-goal deficit in 90 minutes to win their semi-final against Barcelona on Tuesday, Tottenham pulled off the feat in 45 manic minutes to leave Ajax heartbroken in Amsterdam.
Spurs are in the Champions League final. How improbable that had seemed as Ajax scored not once but twice to extend their lead in the first half. But Lucas Moura then scored three times in the second half - the last of the goals coming in stoppage time of stoppage time - to complete an outrageous comeback.
Emotions were laid bare at the end. Pochettino in tears, the Ajax players slumped. They had hit the post themselves on 79 minutes through Hakim Ziyech and survived a scare when Jan Vertonghen headed onto the crossbar at the other end on 87 minutes. Just when you thought you had seen it all, this crazy drama came up with the showstopper of a finish.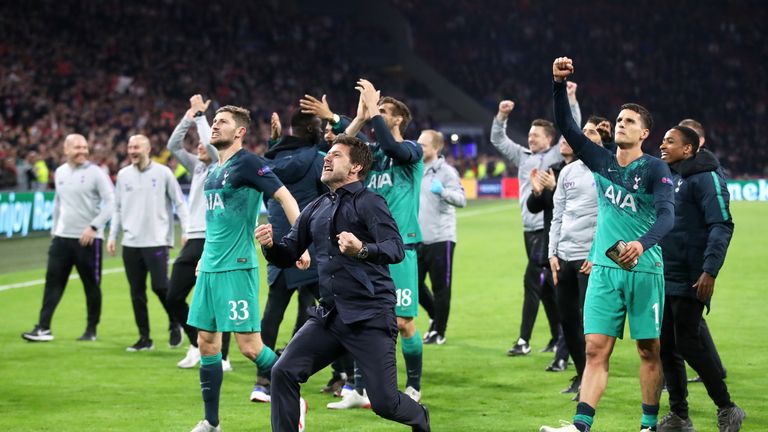 Pochettino had spoken beforehand of his "five-year chapter" at Tottenham but even he could not have written anything like this. Too much. Too football. But while there will be sympathy with Ajax, there can only be admiration for the Spurs story. No new signings. No form of which to speak, with their star striker out injured.
And now a first European Cup final in their long history.
Tottenham have become the 40th club to reach the final of Europe's premier club competition and the first new one to do so in over a decade. Ajax would have been upsetting the odds to make it to Madrid but the same can be said of Spurs too.
But they have been building. Figuratively and literally. Champions League football secured for a fourth consecutive year. A wonderful new stadium. That is the perspective. That is the context. But this would still have hurt. This would still have felt like a chance missed.
How else could they have seen it when three goals down to Ajax in a semi-final. They had gone into the two-legged tie as favourites to progress but did not play that way on home turf. "The approach was really poor from our side," said Pochettino last week. He blamed himself.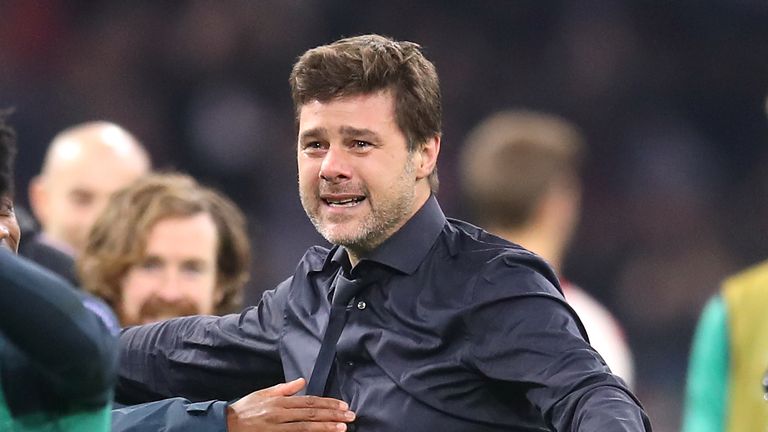 In Amsterdam, the intent was there from the start but the sloppy mistakes that have characterised their performances in recent weeks were there too. Not for the first time in the Champions League this season, Tottenham conceded the early goal.
At home to Barcelona and PSV it had come in the second minute, away to Manchester City it arrived in the fourth. Here, they made it to the fifth minute before failing to defend a set piece properly - Matthijs de Ligt heading the ball into the net after poor marking.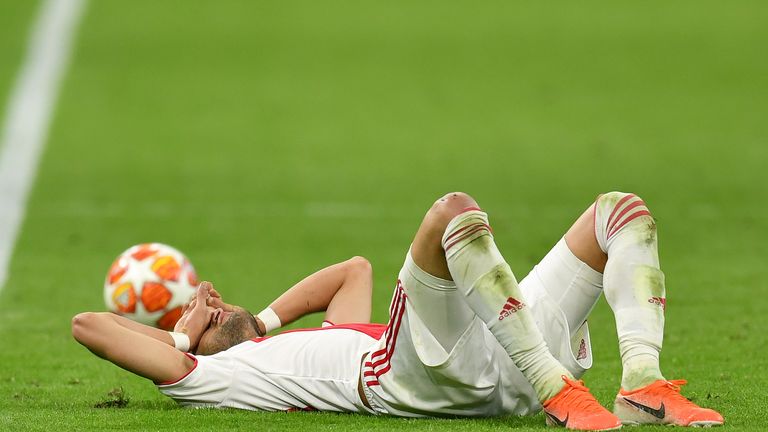 The previous night it had been Ernesto Valverde bemoaning the fact that his Barcelona side had fed the confidence of their opponents. Here, it was Tottenham making the same mistake as Ajax's emboldened young team began to play with swagger. Donny van de Beek produced a pirouette. Dusan Tadic rolled the ball nonchalantly under his foot.
There were plenty of moments for Tottenham in that first 45 minutes. Heung-Min Son hit the post, Dele Alli found space and Moura showed hints of the purpose that was to define the game after the interval. But when Spurs conceded again all hope looked lost.
It seemed that they didn't quite have enough. Alli, Son and Lucas were all guilty of careless touches when one good pass looked like getting it done. Danny Rose overhit a cross. Victor Wanyama and Moussa Sissoko were full of endeavour but nothing was really coming off.
It only made it more frustrating in that period of the game that Ajax looked vulnerable. There were chances to have chances. The door was not quite ajar but nor had it been locked. Spurs just had to push a little harder rather than pick the lock.
Fernando Llorente helped in that regard, not that there can have been any great confidence that he would change it all given the tactic of playing off him had failed miserably in London. But with Ajax defending deeper and the full-backs still getting forward it opened up space.
It took belief to get it done and it took one heroic individual performance from Lucas. The Brazilian was discarded by Paris Saint-Germain precisely because the French club wanted to experience nights like this, but he has got to the big game first and how he deserved it.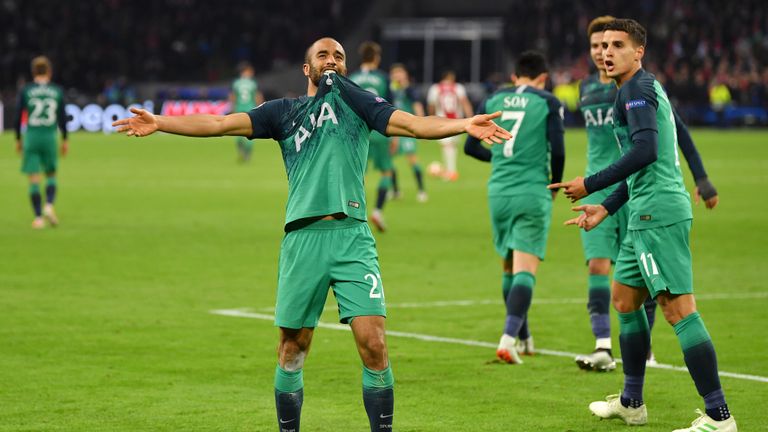 His work rate was astonishing in the second half as the man who remains Tottenham's last major signing some 16 months after his arrival, harried the Ajax defence, winning the ball back, sustaining attacks and going again. His goals required pace, reading of the game and excellent finishing skills - all of them coming with his supposedly weaker right foot.
The last of them must now rank as one of Tottenham's greatest moments.
Pochettino is not averse to musing about fate and destiny, and his emotions after this one were all over his face. The context of this achievement, of course, is that his Tottenham team were finished in this competition more than six months ago. It was, in his own words, "nearly over" when they could only draw 2-2 away to PSV in Eindhoven.
That left them with one point from three games and on the brink of elimination. They had to beat Inter and get a result in Barcelona just to make the knockout stages. Against Manchester City, they needed the intervention of VAR in stoppage time to stay in it. It has been some ride.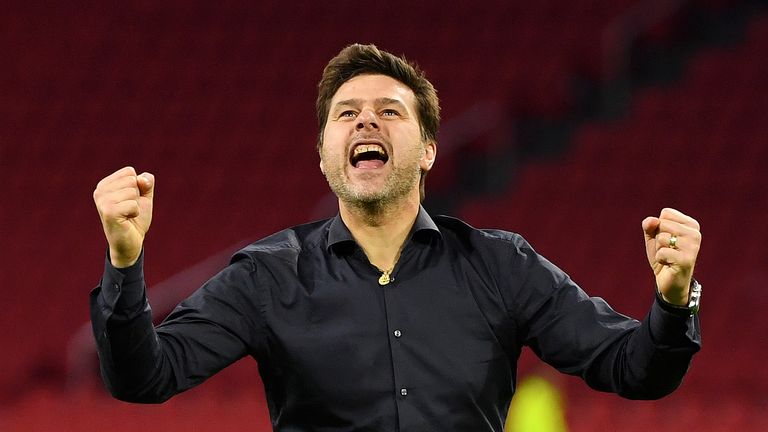 It is Jurgen Klopp's Liverpool who stand in Tottenham's way now. It's a meeting between two coaches whose time in England has seen them receive plaudits but no trophies. For one of them that wait will end, and what has been obvious to anyone with open eyes and an open mind will be clear to all - their fine work has been building towards something special.
Liverpool are entitled to go into that game on the first day of June imbued with a sense of destiny after their Anfield heroics. But with Tottenham having followed them in delivering another of the game's most memorable comebacks, they will not be the only team in Madrid next month with the belief to finish the season as champions of Europe.
"At the start of the season, no-one believed we had the chance to reach the Champions League final," said Pochettino beforehand. At the start of the second half of the semi-final, no-one believe his team had the chance to reach that Champions League final either. But the only people who mattered did believe. Tottenham dared. And they did it.
Thank you, football, indeed.