Champions League draw: Arsenal and Manchester City face anxious wait
Arsenal and Manchester City will be nervously awaiting Monday's UEFA Champions League draw for the knockout phase.
Last Updated: 12/12/13 12:19pm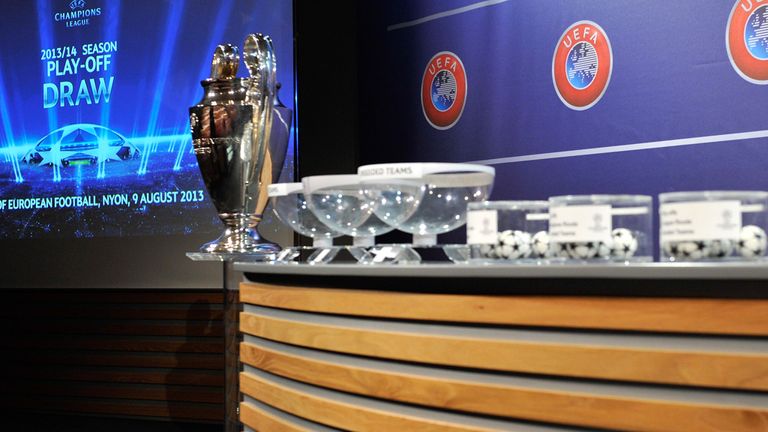 Defeat for the Gunners against Napoli on Wednesday and City's slender win over Bayern Munich has left both sides facing a daunting array of potential opponents.
Fellow Premier League clubs Manchester United and Chelsea will go into the hat as group winners and can expect an easier ride.
Group winners will be drawn against runners-up, and clubs will not be paired against others from the same country, or against those they have already faced in the group stages.
ARSENAL AND MANCHESTER CITY
Potential opponents: Atletico Madrid, Barcelona, Bayern Munich (Arsenal only), Borussia Dortmund (Man City only), Real Madrid, Paris St Germain.
It is hard to suggest there is a favourable draw to be had from this selection, although Spanish superpowers Barcelona and Real Madrid perhaps stand out as the ones to avoid thanks to their dazzling array of star names.
The same might also go for the German sides, but the fact City beat Bayern and Arsenal toppled Dortmund on their travels during the group stages would at least offer hope.
Atletico do not hold the same fear factor as the other La Liga sides, but cannot be taken lightly as they sit joint-top of the table alongside Barca, three points clear of neighbours Real, and also came through Group G unbeaten.
The prospect of facing PSG front pair Zlatan Ibrahimovic and Edinson Cavani hardly appeals either.
CHELSEA AND MANCHESTER UNITED
Potential opponents: AC Milan, Bayer Leverkusen (Chelsea only), Galatasaray, Olympiakos, Schalke (Man Utd only), Zenit St Petersburg.
To see why Arsenal's loss in Napoli and City's failure to snatch a fourth goal in Munich could prove so costly, you need only compare this second group to the the first.
While Chelsea and United will not want to underestimate the likes of AC Milan and Schalke, indifferent domestic form does little to cause trepidation and both showed their vulnerabilities in the group stages. Schalke were comprehensively beaten by Chelsea home and away while Milan played out several draws.
Galatasaray have improved under former City boss Roberto Mancini, but Jose Mourinho and David Moyes would no doubt have been happy to see them secure progression ahead of Juventus.
You can watch the draw for the last 16 of the Champions League live from 10 o'clock on Monday morning on Sky Sports News.