Champions League: Manuel Pellegrini and Frank Lampard hail Sergio Aguero
Last Updated: 26/11/14 1:50pm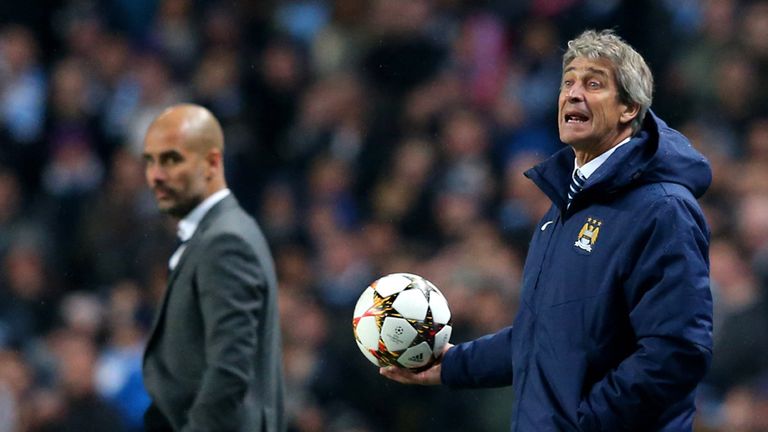 Manuel Pellegrini and Frank Lampard hailed Sergio Aguero after his stunning hat-trick earned Manchester City a dramatic 3-2 win over 10-man Bayern Munich.
City looked to be heading to a costly defeat with five minutes to go as they trailed Bayern 2-1, but Aguero turned the game on its head with two late goals to give City all three points and boost their hopes of reaching the last 16 of the Champions League.
Bayern had to play more than 70 minutes with ten men after Medhi Benatia was sent off, but cancelled out Aguero's early penalty with goals before half-time from Xabi Alonso and Robert Lewandowski.
However, City produced a late comeback thanks to Aguero's heroics and now go into their final game away to Roma level on points with the Italian side and CSKA Moscow. It means City are guaranteed to qualify if they win and the Russian champions fail to win at Bayern - who have already qualified as Group E winners
Pellegrini was proud of his side for the comeback, but reserved special praise for match-winner Aguero
"I am very proud because I thought it was a very difficult game for us after Bayern scored those two goals we didn't find the space to create real danger in their goal so I think the way the team worked, the whole team to minute 95 and in the way we trust in what we do was one of the key factors to win today." Pellegrini told Sky Sports.
Pellegrini also feels Aguero is among the five best players in the world after his treble took his tally to 17 goals this season.
"Well I always say Sergio is one of the best five players in the world so he must believe every time when he plays that he must play the way he did today with the intensity and with concentration," added Pellegrini.
"He is one of the best players in the world."
The equation is still not simple for City with a win or a high-scoring draw in Rome a prerequisite and Pellegrini said: "I am sure that this kind of victory gives a lot of trust to the squad, it is very important, but we will see what happens in the last game.
"I said last week that if we have a mathematical chance to qualify, we will fight to the end. We will see what happens against Roma."
Lampard also hailed Aguero as a 'special' player after he came to City's rescue with a stunning display.
"It was a special night in the end," noted Lampard. "We kept believing even though the clock was ticking it is difficult, but I did feel there were chances in it for us, especially the fact they were down to ten men and there were spaces at the back and thank god we have got that man up front.
"He is something incredible. When he runs through you expect him to score he is at the top of his game and one of the top strikers in the world."
Bayern coach Pep Guardiola felt his side, who had won their four previous games in the competition and are unbeaten in the Bundesliga this season, had gifted victory to City.
The former Barcelona boss said: "I am very, very, very proud of my team. We were playing against the reigning Premier League champions, that is a challenge and we played with 10 men for much of the game.
"But we lost. We gave them the game. Maybe we were tired in the last 10 minutes. We are sad we lost but tomorrow is another day.
"We made two mistakes and that is why we lost. I am sad for the players, they didn't deserve it."