Five questions for the Champions League final
It's an El Derbi madrileño in the Champions League final, but there are plenty of issues for both managers. The loss of Diego Costa and Xabi Alonso, for two...
Last Updated: 23/05/14 2:06pm
1) How do Atletico replace Diego Costa?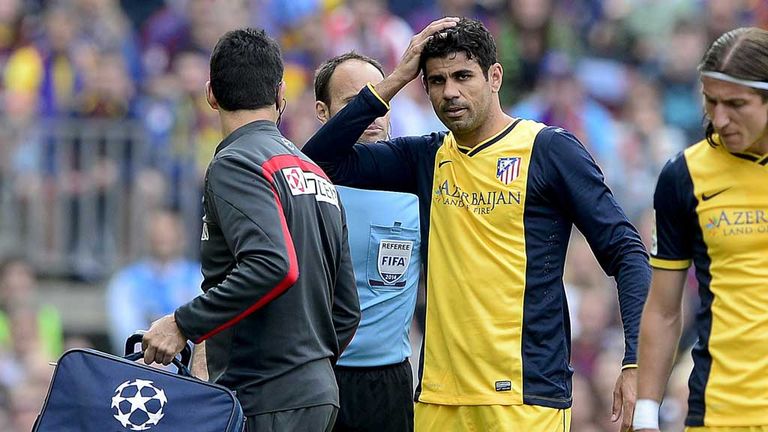 It was the picture that sent Atletico supporters into a worried frenzy. Diego Costa may be set for a move to Chelsea this summer, but he still had work to do before leaving. After 15 minutes in the Camp Nou on Saturday, his league campaign was over. 
Costa's presence in this weekend's Champions League final has now been all but ruled out. This is the same hamstring injury that caused Costa to miss the penultimate La Liga game against Malaga, and it would be a risk for Diego Simeone to build his strategy around a forward that could well be forced to limp off after just a few minutes.
The problem for Simeone is that Costa is as close to the complete forward as currently exists. His pace and power consistently cause problems, and his propensity to drift into wide areas to collect the ball before running at central defenders effectively means that he performs the role of two strikers in one. That only two players in Spain are fouled more times per game than Costa indicates just how much he gets involved in play, and the striker's selfless commitment to drop deep and harry the opposition holding midfielder in possession make him the perfect forward for Simeone's system.
Adrian Lopez is perhaps the best option to replace Costa in a like-for-like role (as much as that is possible), and he was effective at dropping deep to press against Barcelona in the Champions League quarter-final second leg. Coincidentally, Arda Turan was out of that match too and also limped off against Barca on Saturday. Simeone perhaps has a blueprint from just six weeks ago, with Raul Garcia pushed onto the right of midfield to fill the hole left by Turan and Koke on the left in a 4-4-2 formation.
If Turan is fit, Simeone could choose to replicate the formation used against Malaga last weekend, where Koke played on the right, Turan on the left and Raul Garcia operated in support of Villa. Big decisions for the Atletico coach.
2) Can Real cope without Xabi Alonso?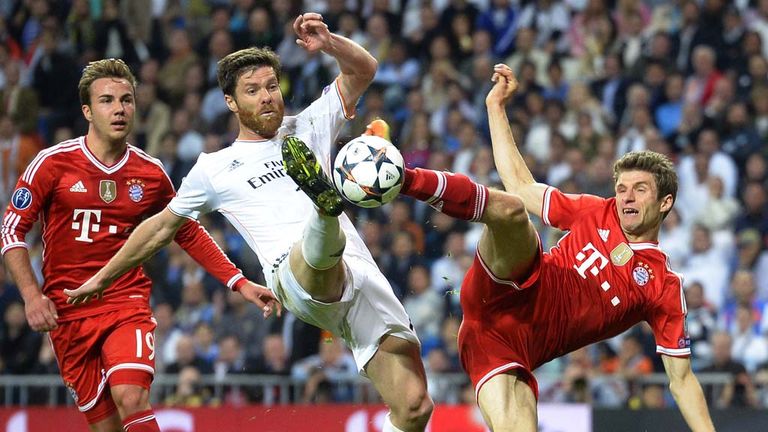 It was not just Xabi Alonso himself left disconsolate by the Spaniard's needless booking in the semi-final second leg. His suspension from the final will be causing both manager and supporters sleepless nights.
Alonso missed eleven La Liga games at the start of the season with a fractured metatarsal, and although Real won eight of those matches, the two they did lose were to Barcelona and Atletico Madrid - these are the results that decide the destiny of the title. During this period, Germany international Sami Khedira was used in the Alonso role, but with Khedira playing only 120 minutes of football since November (and neither particularly effective performances), it would be a huge risk to take to start the German in the final. Ancelotti may have no choice.
Alternatively, the Italian can put his faith in Asier Illarramendi, who started the game alongside Khedira against Espanyol and was actually probably Real's best player. Risking Illarramendi on his own with Modric and Di Maria may be thought of as too great a risk by Ancelotti, but that leaves just four spaces for Karim Benzema, Cristiano Ronaldo, Gareth Bale, Di Maria and Modric. Ancelotti would surely aim to pick all five.
The final option, as Ancelotti opted for against Barcelona in October without Alonso, would be to move Sergio Ramos into a defensive midfield role, and the expected return of Pepe could facilitate that (the Portuguese would play alongside Raphael Varane). 
Either way, Real will be significantly debilitated by Alonso's absence, highlighting the harshness of a rule that punishes him so strictly for just his second booking in nine games and only his tenth foul. None of Khedira, Illarrmendi or Ramos can adequately replace the Spaniard single-handedly, simply because so few players can.
3) Can Real pin back Filipe Luis?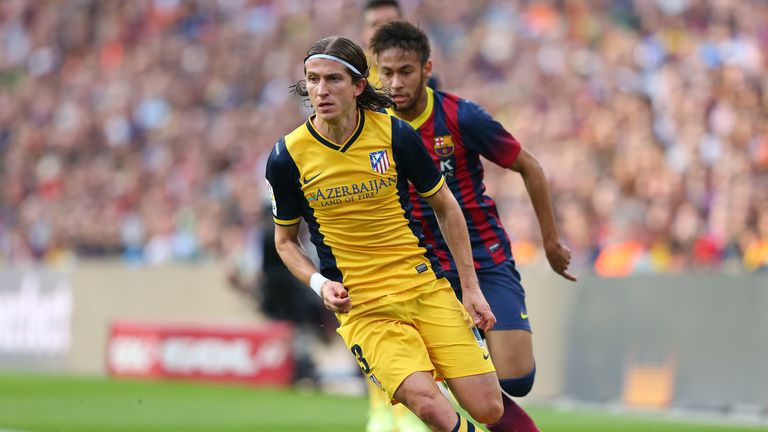 Perhaps surprisingly omitted from similar-namesake Luiz Felipe Scolari's Brazil World Cup squad, Filipe Luis has improved immeasurably during his time at the Vicente Calderon, and has been one of Atletico's undoubted stars of the season, his marauding runs enabling him to effectively act as a 'left-sided player' rather than a full-back. His average position in this season's Champions League is beyond the halfway line, ahead of five of his team-mates, an indication of just how attacking Luis likes to be.
In the semi-final second leg, Chelsea picked Cesar Azpilicueta as a right midfielder in order to provide double cover for Luis's runs, but were then undone on the opposite flank as Eden Hazard failed to track Juanfran. 
Carlo Ancelotti is unlikely to resort to such pragmatism. Gareth Bale operated from the right wing in the away leg against Bayern when Real were so successful, but does that leave Daniel Carvajal too exposed at left-back against a side much quicker on the counter attack than Bayern's patient possession? Or does Ancelotti trust that Luis will have too much to think about in defence to get as far forward?
4) Is Ancelotti brave enough to leave out a big name?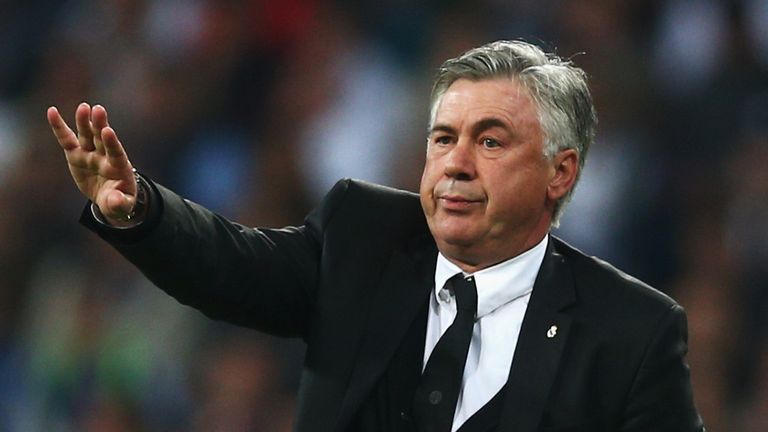 Carlo Ancelotti this week moved to allay worries that both Cristiano Ronaldo and Karim Benzema could be injury doubts for the final. "Cristiano was not comfortable. In training yesterday he had confidence," Ancelotti said. "Benzema as well. When he passed the ball to Bale he had a little discomfort in his hamstring, but neither will have trouble to play in the final. In the warm-up he [Ronaldo] was not comfortable and we decided to remove him from the game to avoid risk. 
"When you have a final we are not going to take risks. If today was the final of course we would have risked Cristiano and gambled, but we did not need to take risks today." Gareth Bale also missed an early training session, but he too will be fit.
With those doubts extinguished, the question now is whether all three will start the match, as in the semi-final in Munich when some reports suggest Ancelotti was instructed to do so by club president Florentino Perez. 
In fact, Ancelotti has a hugely tough decision to make. It would be difficult to leave any of the three out given the emphatic nature of their victory over Bayern, but given the previous concerns over Filipe Luis and the central midfield, the Italian must be considering picking a 4-2-2-2 formation with the added holding player for security. That would leave Di Maria, and Modric ahead of them and Ronaldo and Benzema as a versatile forward line. 
There may well be pressure again from Perez to play the big names in a three-way front line, but given the concerns over Atletico's pressing on Alonso's replacement, Ancelotti may have other ideas. This is not the time for bowing to authority.
5) Will brawn or beauty win the midfield battle?
It is difficult to imagine two central midfields more contrasting that those expected to line up on Saturday evening. Atletico will rely on the brawn and stamina of Gabi and Tiago whilst Real will presumably pick both Angel Di Maria and Luka Modric as part of a midfield three, a combination that's just about as dreamy as can be.
The concern for Real, as became apparent during the 2-2 league draw between the two clubs in March, is whether their trio of passing or creative midfielders will get the time to settle before being pressured by an Atletico approach that will aim to force them into mistakes. Real are at their most effective when Modric is able to turn and pick a pass, and the Croatian has perhaps just enjoyed the best season of his career, but if there is one team that can close down Modric (and the supply to him from the defensive midfielder) then it is Atletico, with not just central midfielders but the wide men too so impressive at strangling a passing side and forcing mistakes.
Much also relies on the ability of Di Maria to find space and create. Of late, the Argentinean has resorted to a more reserved position in midfield similar to that he enjoyed at Benfica and Argentina, and Di Maria has registered four more assists than any other player in La Liga. Fail to cut off Di Maria at source, and Atletico will surely be made to pay.
It is a fairly obvious point, but it is here where the game will likely be won. If Real work their way through and feed the ball to Ronaldo and Bale, Ancelotti's side will cause too many problems for their city rivals. However, suffocate the service to the front men and the frustration (from Ronaldo in particular) will be obvious for all to see.