Cristiano Ronaldo scored the opening goal in Real Madrid's 2-0 win over Schalke in the first leg of their Champions League round of 16 clash in Gelsenkirchen. The so-called drought is over and Adam Bate argues that Ronaldo deserves a little more leniency in future…
So the drought is over. It's a word that scientists claim has over 150 definitions. For Cristiano Ronaldo, it turns out that definition is precisely one month without a goal. In truth, for a player who scored in 17 out of 18 games earlier this season – the other being a dead rubber against Liverpool – it's easy to understand why it might qualify. But it still seems harsh.
After all, that period has included a two-match ban and lasted under 300 minutes of action. Try telling Aston Villa fans that's a reason for panic. But context is everything and it's been a difficult time for the man who picked up a second successive Ballon d'Or award last month. Speaking on the Sky Sports La Liga Weekly podcast, Terry Gibson was even calling for Real Madrid to sell their star player.
"I've looked at the performance of Real Madrid and I think they should sell Ronaldo at the end of the season," said Gibson. "I think his individual obsession with his own achievements is hindering the performance of the team. He has phenomenal stats every year. They get better and better but the all-round performance of Real Madrid is suffering because of his obsession with just scoring goals."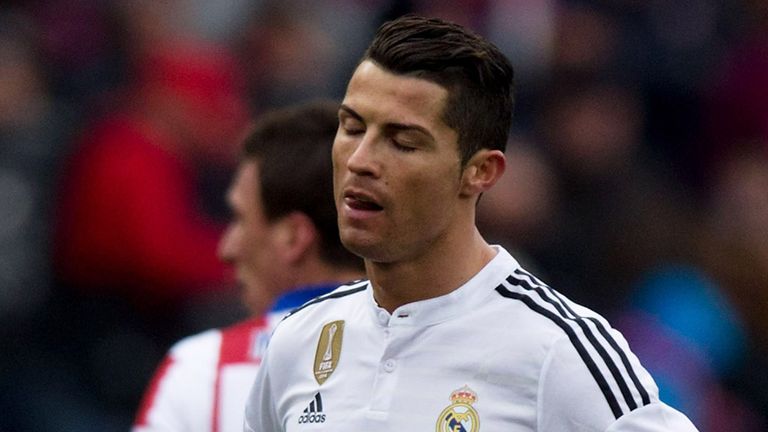 Those words are unlikely to impress Ronaldo's considerable army of admirers but it'd be wrong to suggest they represent a rogue voice. Such is the landscape at Real Madrid. For a club defined by its history, supporters seem determined to live in the present. Club captain Iker Casillas has spoken of how fans began thinking about an 11th European Cup the day after winning La Decima.
Perhaps that explains the boos that both Casillas and the man who guided Real to that trophy in May, Carlo Ancelotti, received last time out at the Bernabeu; or indeed the jeers that have accompanied Gareth Bale's touches – a player who scored in the finals of the Copa del Rey, the Champions League and the Club World Cup in 2014 alone.
There were even whistles for Ronaldo against Deportivo at the weekend. Evidently, demands are sky high at Real Madrid and recent defeats to rivals Atletico have done little to calm the mood. This isn't just a goldfish bowl but a goldfish bowl left on the boil with the heat turned up to the maximum. However, that makes the need for some perspective even more important.
Assists
For example, the argument that Ronaldo is hindering his team-mates through selfishness does not quite stand up to scrutiny. His tally of 10 La Liga assists so far this season has been bettered only by Lionel Messi and has already surpassed the total he amassed in the entirety of the previous campaign.
Moreover, this supposedly dysfunctional side sits top of the league and is now on a record-equalling run of 10 consecutive Champions League victories. Only last month, Real were on a run of 22 wins in all competitions. They remain on course to become the first team in a quarter of a century to retain Europe's premier trophy.
Which is why Ronaldo's header against Schalke on Wednesday night should act as a reminder that this is a special player. Schalke's back line looked untroubled as the ball was played out to Dani Carvajal but Ronaldo sniffed out the opportunity before those around him could react. Frank Lampard, covering the game for Sky Sports, would have been proud of it.
"Before the goal, there was a little bit of frustration and a good couple of strong tackles on him," said Lampard. "He is that kind of player – you look at him when it's not going right and his reactions to it, but the goal came at the right time. He does what he does. He scores goals and he scores every type of goal. The cross is fantastic but he makes it. His movement is perfect."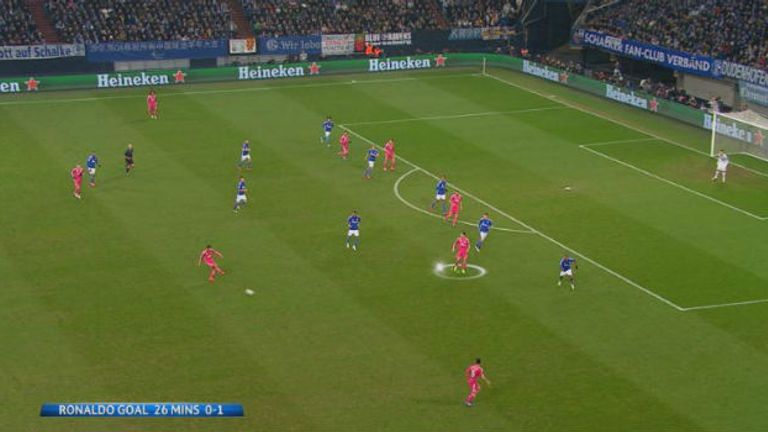 It's movement that has been restricted in recent times. Much is made by opposition supporters of the dramatic recoveries but the muscle injuries are mounting. Ronaldo turned 30 earlier this month and for the first time in his career it feels like he is succeeding despite his physical conditioning rather than because of it. Spanish football expert Guillem Balague has his concerns.


"He has still got pain in his knee that does not let him play at his very best," Balague told Sky Sports. "And if you look at the last year, he was not on top form between March and July. Yes, he was involved in the team's play, but he was also injured for most of that time, or at least suffering from not being at his peak physical condition. This is the first year Cristiano Ronaldo has seen the limits of his body and how you deal with that is not easy."
This isn't Ronaldo at his best but a feature of the very best is to find a way to be the most important player on the pitch when not hitting those heights. With a goal and an assist in a 2-0 win, Ronaldo still had too much for Schalke. "When you are in that patch," added Lampard, "sometimes you have to work through that patch."
If he can manage this situation and come out the other side, then Ronaldo is still on course for a history-making season. It might not be as easy as just turning the tap on, but the drought is over. The rest of Europe should beware of the next Cristiano Ronaldo flood.
Watch Elche v Real Madrid live on Sky Sports 5 HD from 8pm on Sunday