Beating Barcelona: Man City's plan for Champions League success
By Adam Smith & Adam Bate
Last Updated: 18/03/15 7:36pm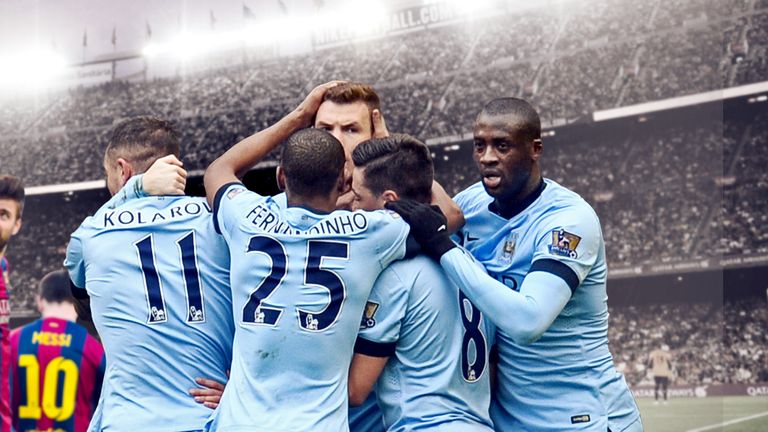 Manchester City need an against-the-odds triumph in Barcelona on Wednesday night after losing the first leg of their Champions League last-16 tie 2-1 at the Etihad Stadium three weeks ago.
The English champions will need to beat Barca and score at least two goals in the process if they are to progress to the quarter-finals – something no team has managed against the Spanish giants at the Nou Camp in over 12 months.
So how do you beat Barcelona? With the help of the Opta data and our team of experts at home and abroad, we highlight some of the key qualities needed if City are to pull off a major shock in Catalonia on Wednesday…
Pick the right team
"The way they set themselves up has not done them any favours," said former Manchester City striker Niall Quinn of his old team earlier this month. "They're getting found out by playing with two strikers against the best teams in Europe. It's alright playing two strikers when you're dominating the ball and you're on the front foot all the time. But if that's not happening, then you need to be a different team. Neither Sergio Aguero nor Edin Dzeko want to drop off and make another man in midfield."
It's a view that's also been recently echoed by Sky Sports pundit Gary Neville in his Telegraph column. "City are unbalanced when they play 4-4-2 with Yaya Toure, David Silva, Samir Nasri and Sergio Aguero in the starting line-up," claims Neville. "They leave themselves exposed too often. The option, which I believe Pellegrini has no option but to consider to have any chance against Barcelona in the second leg, is a change of system."
However, Neville also acknowledges that there is more to the problem than switching between 4-4-2, 4-5-1 and 3-5-2. "It is not the system that is to blame, but the characteristics of the players within it. I've played in great teams that made 4-4-2 work, but fundamental to its success is not only showing the desire to make things happen with the ball, but to be equally combative without it." So what are the traits of a team that can beat Barcelona…
Barcelona home defeats since 2009/10
Barca 1-2 Rubin, October '09
Barca 1-2 Sevilla, May '10
Barca 0-2 Hercules, September '10
Barca 1-2 Real Madrid, April '12
Barca 1-3 Real Madrid, February '13
Barca 0-3 Bayern Munich, May '13
Barca 2-3 Valencia, February '14
Barca 0-1 Celta Vigo, November '14
Barca 0-1 Malaga, February '15

Don't let the possession faze you
Barcelona have enjoyed the majority of possession in every La Liga and Champions League game they have played this season. In fact, they've averaged 70 per cent of possession domestically and 65 per cent in Europe. As a result, even the continent's finest must accept they won't be seeing too much of the ball on their trip to the Nou Camp. But that doesn't mean the task is hopeless.
In February, mid-table Malaga won 1-0 at Barcelona despite enjoying just 27 per cent of possession. The more telling statistic was that both teams had 11 shots on goal with Malaga managing three shots on target compared to Barcelona's four. Malaga boss Javi Gracia said afterwards: "[You have to] control the game through good defensive work, not through possession, because you cannot do that against Barcelona.
"The player who wins the ball back must play it forward immediately, to bypass their initial press. The forwards must be waiting for that moment, to offer themselves in the spaces we know will be there if their full-backs are pushed forward. If you do not break and hold the ball against Barcelona, you never get out. They have possession, possession, possession, and in the end you are exhausted – and then you are in trouble."
Be up for the battle
During Barcelona's defeat to PSG in September, they recorded their lowest duel success rate (43 per cent) and fewest successful passes in their own half (195) in their Champions League run this season. Barcelona only won 49 duels during the entire game – their lowest in this season's campaign. It wasn't a coincidence but rather a product of PSG's pressing, as Guillem Balague told Sky Sports.
"If City want to approach the game like PSG did then that is the way to unsettle Barcelona," said Balague. "There was pressure high and when they couldn't recover the ball early, PSG tracked back as a team. Everybody defended very compact with two lines of four and then they had very fast players up front to counter-attack and use the space that Barca leave behind their defence. That is the way. They have to get at the Barca players and have a clear idea of what they want to do."
That's precisely what Sevilla had when they went to the Nou Camp and won 2-1 in 2010. "The key idea we had was to pile the pressure on their defenders and not allow them to bring the ball out of the back," said manager Manolo Jimenez. "We wanted to make sure that they didn't get the ball to their playmakers – we tried to stop them receiving and playing. We played with great intensity and really went for them. You have to work very hard and not give up a single ball for lost."
Are Manchester City's players capable of playing with the necessary intensity? It's been lacking of late but Neville has a warning for them if they fail to up their game against Barcelona. "They've got to put in a huge performance," he said on Monday Night Football. "The very least we've got to see on Wednesday is them sprinting around the pitch. If they walk on Wednesday they'll get absolutely dissected."
Hit them on the counter-attack
Barcelona's attacking approach can make them vulnerable, something Rubin Kazan exploited in beating Pep Guardiola's team in the Nou Camp back in 2009. "Barcelona like to use the whole pitch," said Rubin boss Kurban Berdyev afterwards. "Their full-backs tend to play wide and leave some space in the centre. We were ready to organise our counter-attack through that area, so we waited for the right opportunity."
Six years on and, as former Barca defender Albert Ferrer pointed out on Revista de La Liga, the same principles apply. "This is where Barcelona can concede goals," said Ferrer. "Everybody is attacking. The opposition win the ball back and the full-backs are up the field. The key for Barcelona is for the two centre-backs to be very concentrated with the help of the holding midfielder. And pray.
"Sometimes the weakest point about Barcelona is that they are not going to change their philosophy. They are just going to keep attacking and attacking. Whoever they play against – even if it's Real Madrid or Manchester City – this is how they're going to play. The full-backs will go flying forwards and midfielders will get into the box. That's a big problem for the opposition but not changing that means they are going to suffer in defence."
Target Barca early on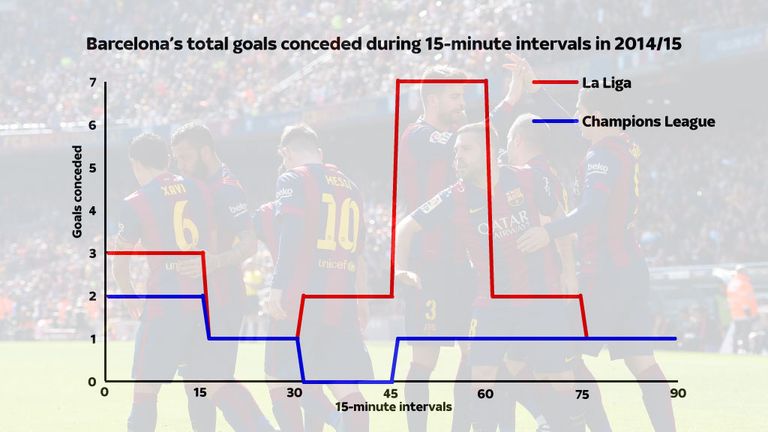 Even so, Barcelona are the hardest team to score against in La Liga, having only conceded 16 goals so far this season. However, they have conceded six goals in the Champions League – more than the likes of Monaco, Bayern Munich, Atletico Madrid, Bayer Leverkusen, Juventus and Porto – so they can be punished when up against Europe's elite.
The statistics reveal that Barca are most likely to concede just after half-time, having conceded 63 per cent of La Liga goals in the second half. They are particularly susceptible between the 46th and 60th minute. In the Champions League, they are most likely to concede within the first 15 minutes.
Perhaps this indicates that the Catalan giants can take a while to switch on and offers hope that Manchester City will get chances if they put the home team under pressure from the outset. However, it would also suggest that teams soon tire against Barcelona's relentless passing machine so the window of opportunity can be brief.
Score from set-pieces
There has long been a perception that Barcelona's lack of height and physicality can be exposed in set-piece situations. Indeed, Thiago Silva's late headed equaliser for AC Milan in a 2-2 draw in the Nou Camp in 2011 was even famously predicted in the commentary box by Carlo Ancelotti. The concern for Manchester City will be that their recent pedigree in this department needs to improve significantly if they are to punish their hosts.
Over 30 per cent of City's Premier League goals came from set-pieces last season compared to just 17 per cent in the current campaign and corners have been a significant part of that downturn. Goals from corners are down from 10 to only two with City scoring from around one in 100 rather than one in 22 last season. It's not merely a case of poor finishing either – the champions rank bottom of the Premier League in terms of their percentage of attempts from set-pieces.
That's partly due to a change of personnel (Alvaro Negredo's exit, for example) but it's something they might look to address against Barcelona. Luis Enrique's team have not conceded a single goal from outside the box in this season's Champions League so penetrating the area is going to be crucial. Corners offer that opportunity but can City seize it?
Get lucky
Theory is one thing and execution is another. While victorious managers can wax lyrical about their successful tactics and pundits can put a perfect system in place on paper, it is clear that a healthy dollop of luck is also needed if a team is to pull off an unlikely victory against Barcelona. At least three of Barcelona's four defeats in La Liga this season certainly owed a little to fortune. 
Malaga seized upon a misjudged Dani Alves back-pass at the Nou Camp last month, while it was a Jordi Alba own goal within two minutes of the start that did for Barcelona away to Real Sociedad in January. Barca even hit the woodwork three times in losing to Celta Vigo in November. "Of course you need a bit of luck," admitted Malaga boss Gracia. The question now is whether or not Manchester City will get it on Wednesday.
Watch Barcelona v Man City live on Sky Sports 5 HD from 7pm on Wednesday
No contract? No problem. Watch Barcelona play Man City and Real Madrid with a Sky Sports Week Pass.