David Ginola reflects on his 1999 PFA Player of the Year Award
Man Utd won the treble in 1999 but the PFA Player of the Year Award went to Spurs' David Ginola.
Last Updated: 03/04/13 10:31am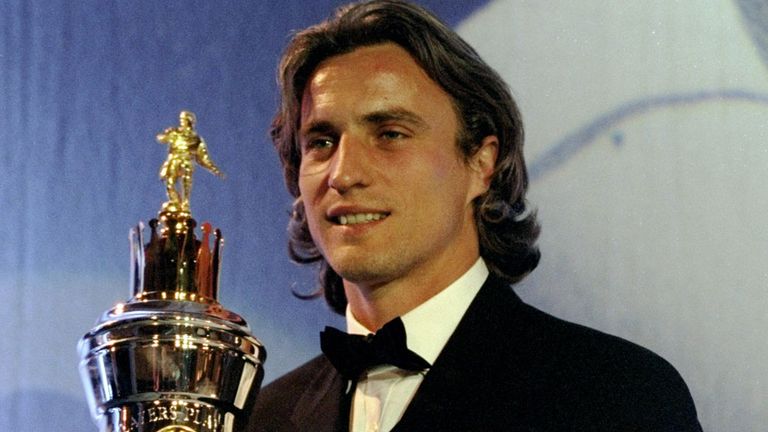 Everybody who votes will be eligible to enter our prize draw to win two tickets to the 2013 PFA Awards ceremony at Grosvenor House Hotel, Park Lane, on Sunday April 28.
Find out more and lodge your vote here.
In the third round of voting we're asking you to make your pick from the players to have won the award between 1993 and 2002. Pot Three: Paul McGrath, Eric Cantona, Alan Shearer, Les Ferdinand, Dennis Bergkamp, David Ginola, Roy Keane, Teddy Sheringham, Ruud van Nistelrooy.
We caught up with former Newcastle, Tottenham, Aston Villa and Everton winger David Ginola to ask him about his award-winning 1998-99 season - a year in which he tasted League Cup glory at Wembley and scored one of the FA Cup's most memorable goals...
What did winning the 1999 PFA Player of the Year Award mean to you and where does it rank in your football achievements?
David Ginola: I think it was probably one of the best achievements of my entire career. I signed for Newcastle in the 1995/96 season and three years later, after moving to Tottenham, I was voted player of the year in this country. It meant a lot to me because when you arrive in a new environment, at a new football club, at a new 'everything', you have to adjust and the award meant that I had succeeded in adapting to my new life. Understanding the way that players play football here was complicated at the beginning because the game here is entirely different from the one we play in France!
It was also an achievement because that year Manchester United won the treble and everybody expected that a Manchester United player would be voted 'Player of the Year'. There wasn't any controversy when I won. When they announced my name at Grosvenor House, my fellow players gave me a standing ovation and said 'David you deserve it because this year you have been amazing'.
When you receive the Players' Player of the Year Award it means that the players in your game, in your job, doing the same thing as you day in, day out, respect what you have done. That means a lot to me.
You won the League Cup that year with Spurs in dramatic circumstances. How memorable was it to play in a winning team at Wembley?
Ginola: It was great, but not only the final game at Wembley. The entire process of reaching the final was complicated because we beat Man Utd and Liverpool, and a number of other decent clubs, on the way. It was an achievement because we didn't have the best team around. We simply tried to play our best football every Saturday but we didn't necessarily have the players and the team to be successful. So to win a trophy that year under George Graham was really cool.
Playing at Wembley is something special. I'd played there once before, for Newcastle in the Charity Shield against Manchester United, and playing there for the second time at Wembley was great because the stadium is legendary. It was an amazing feeling to see our fans there and the atmosphere was fantastic.
Spurs reached the FA Cup semi-finals, too. On that run you scored one of the competition's most memorable goals, against Barnsley. What do you remember about it?
Ginola: I don't remember all my goals but I know this one was very important because we were struggling to put the ball in the back of the net in the game. I realised that the team would rely on me to do something special. We were reaching the end of the game when I received the ball on the left and ran at the goal. Sometimes you try things and they don't work but sometimes they work pretty well and this was one of those times. Football is about instinct - when you think too much, things tend not to work! It's best to let your imagination and your creation do the business most of the time.
At present, who do you think should win this season's Player of the Year Award?
Ginola: Gareth Bale is in a great position at the moment because of what he does every week; it's just amazing. Tottenham are where they are in the table because he has got the key to unlock any situation. He's done it so many times already. When things aren't going right for the team, you can turn to him and say 'we need a bit of magic' and he does it. It's going to be tough because he's up against other great players - Robin van Persie, Luis Suarez - so we'll see but right now I'd say Gareth is in a good position.
Of all the players who have won this award, who do you most admire?
Ginola: That's very difficult because I like most of them! I wasn't watching much English football back in the 1970s because I was a very young man, so my shortlist starts with Kevin Keegan and I'll pick Thierry Henry and Alan Shearer, too.
Where do you keep your trophy now?
Ginola: It's in my house in South Kensington. It's a beautiful trophy; it's not a small thing you can put anywhere. It's a massive trophy with a crown on top with my name inscribed and date on it. I say to myself I'm the last Player's Player of the Year of the 20th Century! It was a great way to end the Millennium!
Click here to cast your vote in our Ultimate PFA Player of the Year Poll