Manchester United defender Luke Shaw is England's best left-back, says Ian Wright
England play Spain and Switzerland in September, live on Sky Sports Football
Last Updated: 31/08/18 10:22am
Luke Shaw is England's best left-back, says Ian Wright, after the Manchester United defender was recalled to Gareth Southgate's squad for the upcoming UEFA Nations League games.
The 23-year-old has played the entirety of United's three Premier League games so far this season and scored his first senior goal against Leicester.
Shaw suffered a horrific broken leg in September 2015, which kept him out for nearly a year, and since returning to action he has received public scrutiny from current manager Jose Mourinho.
England recall Shaw, Young left out
'Give English youngsters a chance'
But his surge into form has seen him included in the England set-up for upcoming games against Spain and Switzerland, and Wright believes Shaw was right to be selected ahead of United team-mate Ashley Young at left-back.
"You can't totally blame everything on the manager [Mourinho] - he hasn't helped - but he himself needed to be a lot stronger in the way he was trying to get himself going and he seemed to shy away from it," the former striker told The Debate.
"He needed to get through that, which he's now done, and we've seen a different side to Shaw which I'm really impressed with. I just hope he can continue doing it because I think, on form, he probably is England's best left-back.
"He came back early in pre-season to work on his fitness and he's seeing the fruit of his labours now. What he's done mentally too, I think we're going to see a really good player from this point on. I thought he was good against Tottenham, going forward positively and it's what you want."
Former defender Danny Higginbotham echoed Wright's sentiments and says Shaw could be in the England first team for the best part of a decade.
"I'm absolutely delighted. When he got that horrific injury against PSV, he was probably performing best on the pitch," he said.
"The one thing everyone has said about Jose Mourinho is he was putting him down, but when they got beaten by Tottenham on Monday, who was the first player he went up to and put his arm around him?
"Shaw is a player I look at and think 'he could be England's left-back realistically for the next six or seven years. He's a young player and he's got everything. Hopefully now, fitness-wise, it's about staying injury free and I think he's an outstanding player."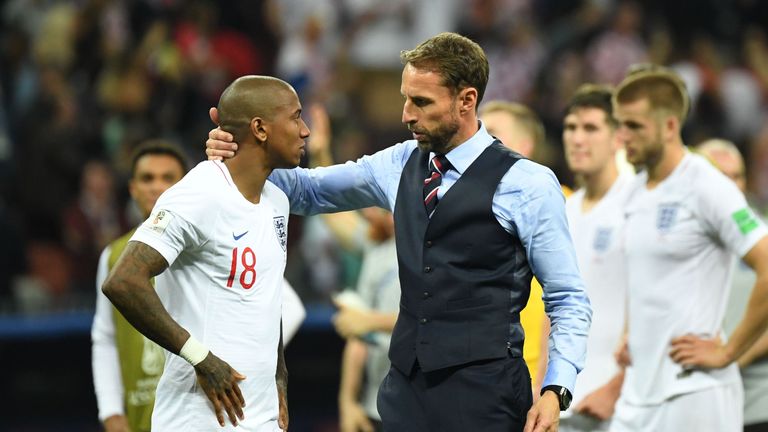 Ex-England Women's international Alex Scott also thinks that Shaw is a missing piece of England's current set-up, despite Young's exploits at the World Cup helping the side into the semi-finals.
"All credit to Ashley Young playing at left-back, but we did lack that natural left footer that gets to the end and straight away, puts a cross in and then Harry Kane is waiting for that. Instead, you've got Young cutting inside on his favoured foot," she said.