Jordan Pickford believes England will take the upper hand from having to play their UEFA Nations League fixture with Croatia in an empty stadium.
No fans will be present for the clash in Rijeka on Saturday due to Croatia serving the second part of their two-game punishment imposed by UEFA after a swastika was marked on their pitch before a Euro 2016 Qualifier against Italy.
The away fixture for England will be played behind closed doors, meaning only players and staff from each side will be present.
Pickford, who played in Croatia last season with Everton in the Europa League, admits the situation will be strange but England can benefit.
"We [Everton] played there against Hajduk Split in the Europa League qualifier and [it was] very hostile, the fans were crazy, I thoroughly enjoyed it and it got me up for the game," Pickford told Sky Sports News.
"But now we've got a 'no fans in the stadium' ban; but I think going away from home you're up against hostile crowds so hopefully this can give us the upper hand.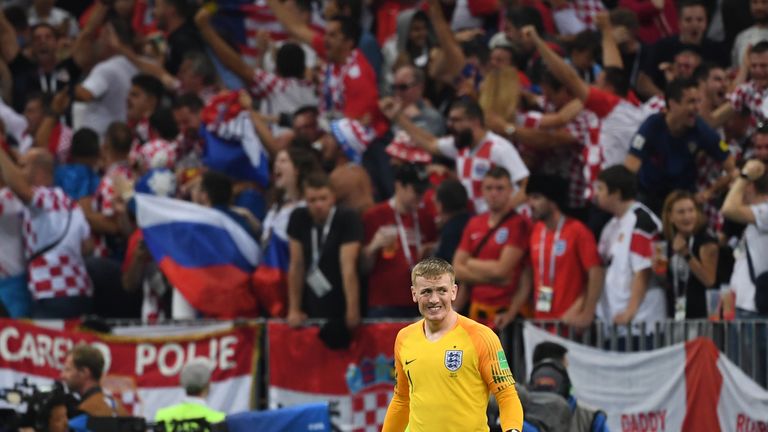 "I think it will feel a bit different, but it's how you react to it."
Despite enjoying a strong World Cup campaign with England, during which he established himself as Gareth Southgate's first-choice goalkeeper, Pickford insists he is not sitting back and taking his status as a given.
"I never rest and hopefully I'm No 1 and I've got the shirt," he said.
"I felt I had a shot at the World Cup to take the chance and I think I took it. The fans will maybe say I did as well.

"But the competition for the goalkeepers is great and I think when I come away here [with England] all four of us enjoy it and we each want to get better as a group and as individuals."
Pickford is set to start between the sticks against Croatia - the game is live on Sky Sports Football - and he says it is a case of victory first over revenge, despite being eliminated in the World Cup semi-finals by their opponents.
"I think we just want to go over there and show the quality we have got and the improvements hopefully we've been making," said the 24-year-old.
"If you win it is a bit of revenge, but the main aim is to get that win and we want to get the momentum going again."