"Lots of emotions about the events that had happened rolled up into one. I knew how proud my family would be and how proud I was in that moment."
It is said, by those who have experienced it, that there is no feeling quite like scoring a goal.
To do so on his international debut brought out some raw emotions in Dominic Calvert-Lewin, scorer of England's opening goal in their 3-0 friendly win over Wales on Thursday evening. His elevation to England striker might appear a somewhat rapid rise to casual onlookers, but it has been a lengthy process to get to this far in his career.


"It's definitely not an overnight success," he says. "There has been a lot of work, effort and concentration to get where I am now. I've gone through different experiences, good and tough, to mould me into the player I am now. I've had my football education in the Premier League in the eyes of everybody to see.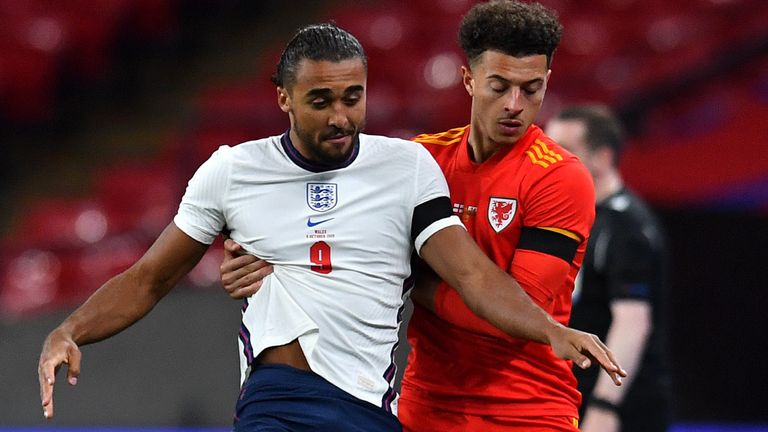 "I'm definitely not the player I was four years ago when I first joined Everton. I've grown and matured since then. I'm 23 now and I always knew it was important that I learnt, even when the chips were down, not to get too caught up in where I was at that time but to focus on where I was going."
Through the tough times to establish himself at the top level, Calvert-Lewin has always kept his eye on the bigger picture, learning from every manager he has worked wit. The presence of Carlo Ancelotti at Everton during this past year appears to have settled any doubts within the player.
"He's not given me anything massive to think about but his whole persona - how cool, calm and collected he is - means he's a man I enjoy playing for," Calvert-Lewin adds.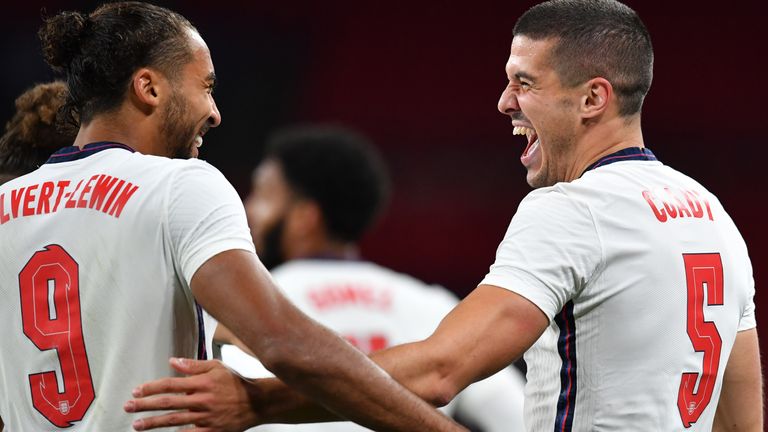 "He's a good guy, first and foremost, I think that's very important. He filled me with confidence straight away. For a manager who has achieved what he has and worked with some great players, that gave me a massive boost. In the system he is playing at Everton it has allowed me to be more focussed on being the focal point for the team and doing my job, which is scoring goals."
So did his club boss make a congratulatory phone call?
"He tried to call me this morning but I was at breakfast so I missed it! I messaged him and said I'd call back after we've had our recovery session and finished this interview."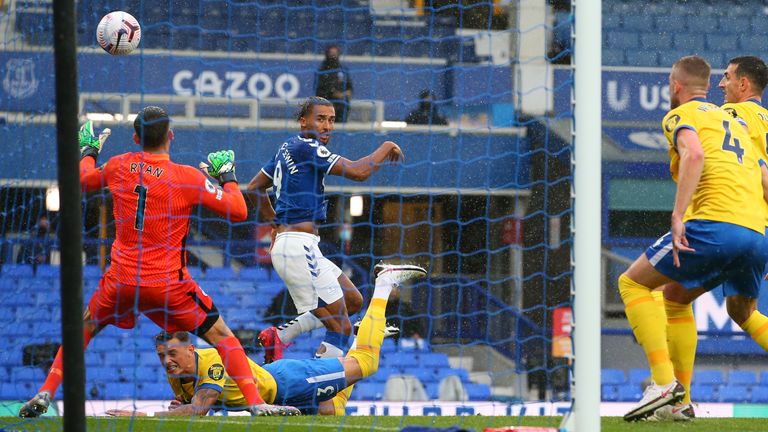 Calvert-Lewin is speaking at the team hotel ahead of Sunday's Nations League fixture against Belgium. He endured a largely sleepless night after the Wales match, with his energy levels not far off the ceiling after his debut goal.
"It's always hard sleeping after an evening game because you have a lot of caffeine for the game and the adrenalin is still going around your body," he adds.
"You go to bed and realise you're still wide awake. I had a little cup of Yorkshire Tea to chill out and relax. I tried to reflect on what had happened. It was a great feeling to wake up this morning knowing I'd accomplished what I set out to accomplish. It doesn't always go that way but it's nice that it did.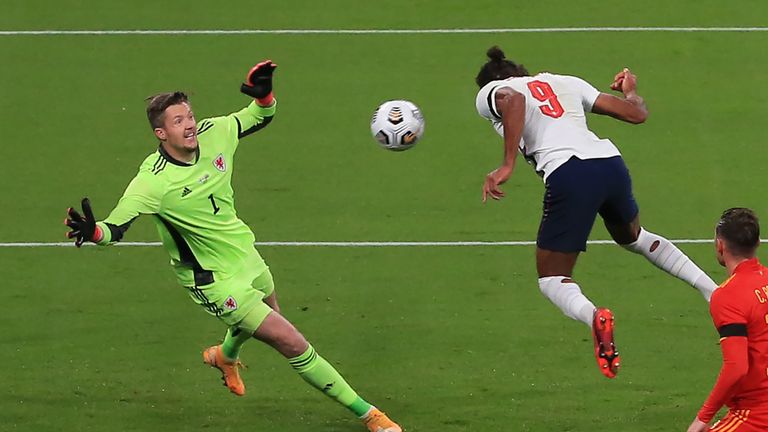 "Timing is important and I couldn't have come in at a better time with the goals I've scored this season. As with any striker, confidence is a massive thing and I'm very confident at the moment and that helps when you get your first call-up.
"For the goal I was thinking I might run across the front post because I didn't know if Jack [Grealish] would be able to reach me with the cross, but I stayed patient and held my position and I'm glad I did because he whipped it in like a player of his quality can do and it was a striker's dream ball. It's strange without the fans as there's no noise, so when you score you can hear the bench celebrating."
The confidence-boosting win over Wales also features a goal from one of his former club team-mates, Conor Coady.
"I was talking to Conor before the game and he was telling me that he'd not scored for ages," Calvert-Lewin explains.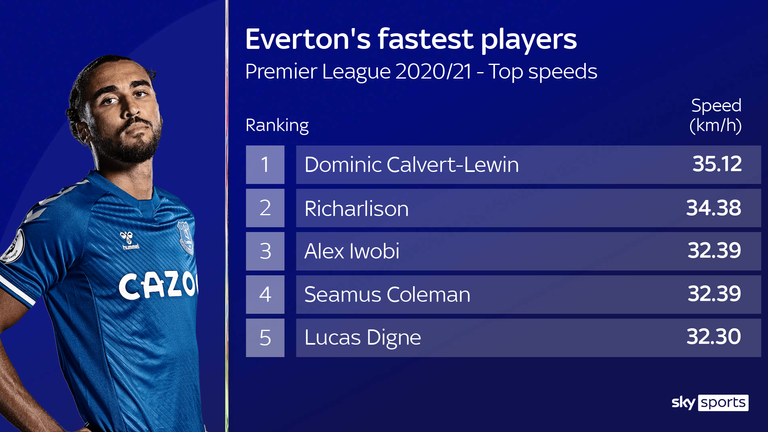 "I told him we'd get a goal from a set-piece today. I was going to go to the back post but I went front and he ended up putting it in. I was over the moon for him, I know him from when he was on-loan at Sheffield United and I was a young boy training with the first team.
"He's a great guy and he's a leader as well. I'm up the other end of the pitch from him and you can hear him talking throughout the game. It makes a massive difference to the lads in front of him and gives off that good energy, and obviously that helps when you go into the game."
With Danny Ings completing the scoring on Thursday night, there was a symbolic feel to the match. Here were a group of players taking their chance in the absence of more established stars.
"It's going to be a big game on Sunday, preparation is key and we're all focused and concentrating well and taking it in," Calvert-Lewin continues.
"I enjoyed the occasion against Wales and if I'm called upon I'll be ready. There's a massive amount of quality within the team. If you look at the players who aren't classed as the starting XI, they are big figures for their club teams so there's competition for places within the team.
"It's a very proud moment to represent your country and we all want to play. That competitiveness brings more quality out of the players. I need to stay consistent, I don't look too far ahead but just affect what I can affect. To be ready in the right place at the right time to put the ball in the back of the net."
Watch the full interview on Soccer Saturday from 12pm.
How Calvert-Lewin output exploded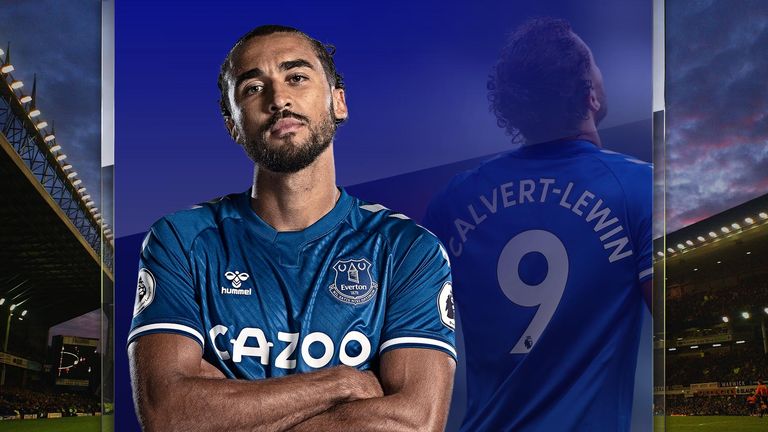 Gradually, then suddenly. That is the line used to explain bankruptcy in Ernest Hemingway's novel The Sun Also Rises. But stocks can rise just as quickly, as Dominic Calvert-Lewin is finding out. The Everton striker is the Premier League's top scorer.
Perhaps Calvert-Lewin would regard another old truism as more appropriate - it takes a lifetime to become an overnight success. It is almost four years since he made his top-flight debut. Over three since he scored England's winner in the U20 World Cup final.
He is no Jamie Vardy, rising from obscurity. His pedigree has long been clear. But nobody anticipated this. Six goals in four games. Nine in six, if his hat-trick against West Ham in the cup is included. At the age of 23, Calvert-Lewin's senior England debut was the next obvious step.