World Cup: England captain Steven Gerrard insists full focus is on beating Poland
Steven Gerrard has played down talk of nearing a century of England caps and says his full focus is on beating Poland.
Last Updated: 16/10/12 6:47am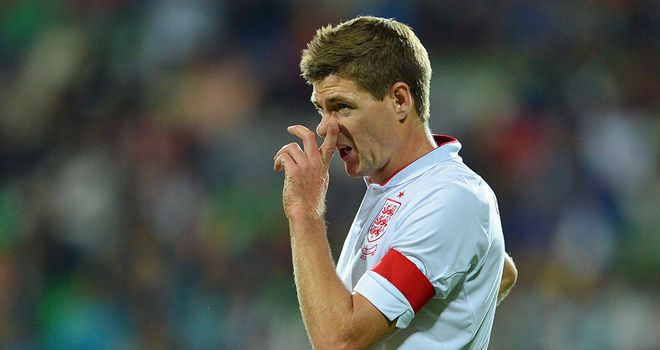 The 32-year-old Liverpool midfielder will make his 99th England appearance when he features for Roy Hodgson's men in Warsaw.
But Gerrard, who made his senior debut against Ukraine in 2000, insists the task at hand is most important.
"Every time you put the England shirt on it is a proud moment," said Gerrard.
"To get 99 is a fantastic achievement for myself but it will only be a good memory tomorrow night if we get the three points that we came for."
Asked whether he could recall his most significant game for England, Gerrard added: "If I was pushed and had to pick one game it would have to be Germany, the 1-5 game away in Munich."
Rooney praise
Gerrard was impressed with Wayne Rooney's first competitive match as captain against San Marino on Friday when he netted twice in a 5-0 win, but insists he has no intention of giving up the armband lightly.
He said: "Wayne did a good job, we got three points, he played well himself, he scored twice, he behaved himself, it was all good.
"But I'm hoping he will have to wait a while (to become full-time captain). I'm really enjoying the role.
"I had to wait a long time for it to come to me. I want to enjoy it before I pass it over."
Gerrard concedes that the young talent emerging in the squad is ensuring he plays at his best to keep his place.
He said: "It is great for English football that we are producing these players.
"They are the players that are keeping the likes of myself on my toes.
"I know I've got to keep a consistency in my game at this level to stay in the team.
"All the experienced players are aware of that."
Big miss
Gerrard is confident England can overcome the recent retirement of former skipper John Terry.
He said: "I would agree to a certain extent that he is a big miss because he is a fantastic player who has been a fantastic servant to Chelsea and England.
"But we've all moved on from John's decision because we have to respect it and hopefully we've got other good players who will step in and do a good job as well, Lescott, Cahill and Jagielka etc.
"We are not short in that area and hope John is not missed too much."