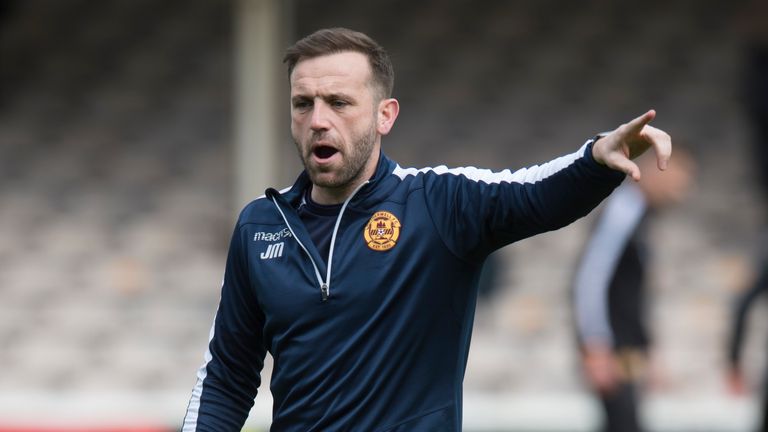 James McFadden wants Scotland to avoid being a warm-up act for countries preparing for major tournaments.
The Scots will face World Cup-bound Mexico at the Azteca Stadium on Saturday night after losing 2-0 to Peru, another country off to Russia, on Tuesday.
Scotland's failure to qualify for a major tournament since the 1998 World Cup in France meant McFadden never got to play on international football's biggest stages, but he is hoping to put that right as a member of Alex McLeish's coaching staff.
"You can see what is possible and you want to be part of it," McFadden said. "You don't want to be, in two years' time, going to someone else's party.
"You want to have your own party, especially with some of the (Euro 2020) games being at Hampden, that gives you the extra motivation.
"Whatever motivates you to do well, you take that and go forward."
While the trip across the Atlantic has been the subject of some criticism, McFadden is confident it will benefit Scotland in the long term.
McLeish's side begin their campaign in the inaugural Nations League competition in September, with the draw having pitted them alongside Israel and Albania.
The former Everton and Motherwell striker wishes he could experience the frenzied atmospheres in Peru and Mexico first hand, but is sure Scotland's squad - particularly the inexperienced members - can learn a lot from the tour.
"Tuesday night was a great experience and I am sure it will be again in the Azteca," McFadden said. "It is world famous.
"I wish I was playing to be honest, but it's great for us to sample these cultures and environments.
"There has been a lot of negativity about the trip, but I think we will gain out of it, I really do.
"The Nations League, that's what matters. We are trying to build a team. Obviously it is a new coaching staff, new manager and we are using new players.
"We are trying to find players who we feel are good enough to make sure we are equipped to go into the Nations League."
McFadden is a vociferous champion of young Scottish talent and was encouraged to see Scotland U21s beat their French counterparts 1-0 at the Toulon Tournament, with Oliver Burke scoring the only goal of the game.
The result boosted Scot Gemmill's side's chance of reaching the semi-finals. The young Scots started with a 1-1 draw against Togo, with their final group game coming against South Korea on Saturday.
"It shows we have players who are competitive at that level and it is great to see," said McFadden.
"It is always good to see Scotland winning and the squad were all watching the game on television as well. It can only be a positive.
"I know we have got good players. I know people are quick to talk our football down and our leagues down but I know we have got good players. I have been watching it. I think we have a bright future.
"It is about getting the young players games in first teams, getting them into the national team and trying to build for the long term instead of just for now."